Description
32 ounces of flavorful hydration
Increase your daily water intake by adding some flavor to boring water with our 32oz BPA-free infusion bottles. With the full-length infuser rod, every last drop will soak up the vitamins, minerals, and most importantly, the delicious flavor you have been missing out on!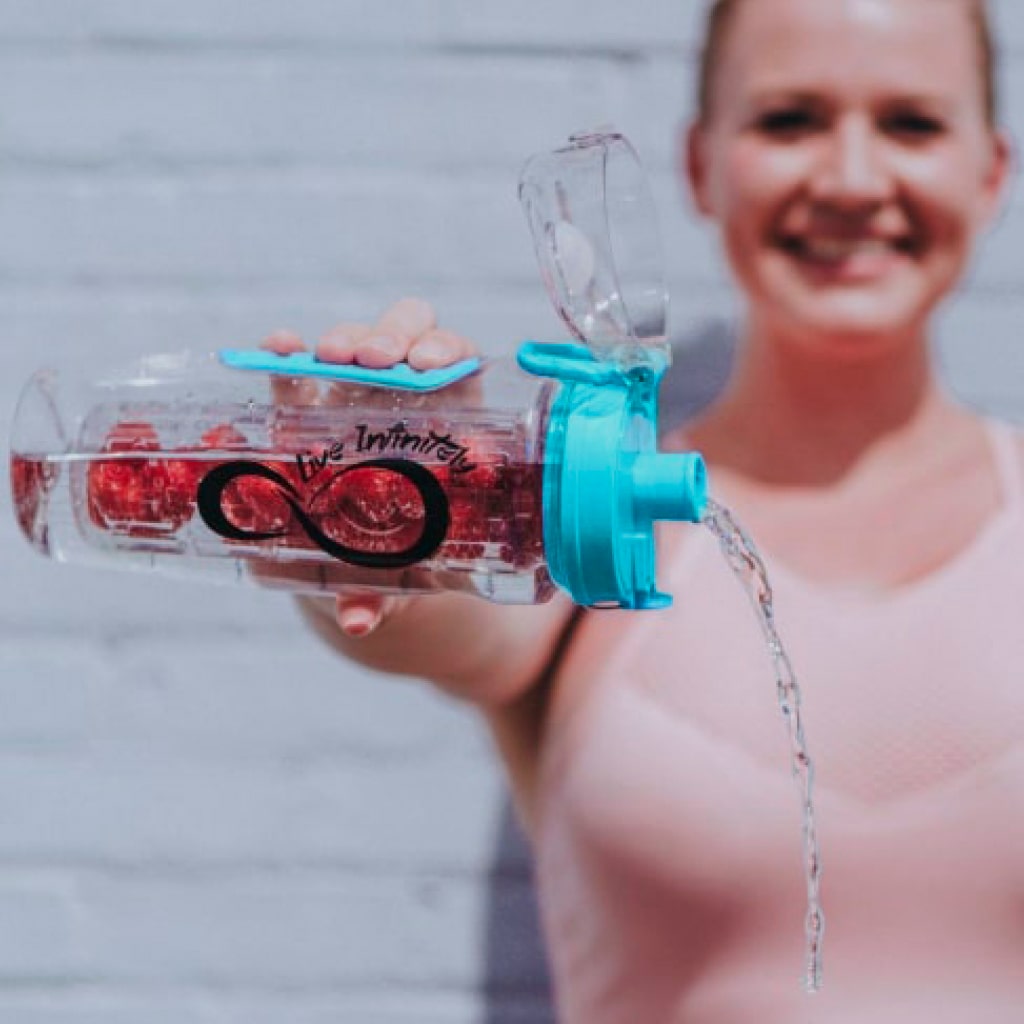 The infuser bottle specifications
Gym bag-friendly lids
This feature still allows for single-handed operation while assuring the bottle never accidentally comes open in a backpack or gym bag
Auto align lid
The lid will center every time aligning itself, so the clear flip top is away from your mouth while drinking. You will surely love it!
Fully flavored all the time
Industry's first full-length infusion rod - toss in as much fruit as you can handle, and you will still have room left over!
BPA-free Tritan plastic on all components
With details like the infuser rod and lid made of durable, BPA-free Eastman Tritan, this infuser bottle is perfectly safe for the users.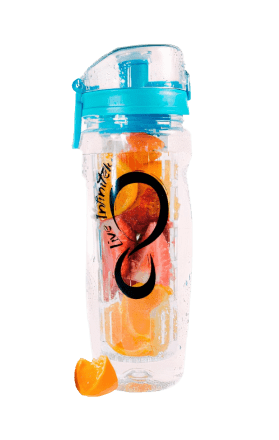 Keep yourself hydrated throughout the day!
Crush your hydration goals with time-tracking water lines from 8am to 5pm to keep you on track throughout the whole day! With the bottle's ability to flavor your water until the very last drop, you will have a great tasting source of fuel all day!
How much does shipping cost?
We are glad to bring our customers great value and service. That's why we provide fast shipping from our Fulfillment Center in California by UPS and USPS.
What countries are you delivering to?
As of now, we're delivering to the United States only.
How can I track my parcel?
Once your parcel has left our Fulfillment Center, you will receive an email with a tracking number to monitor your parcel movements.
Can you ship my order to a business address?
Yes, you can write your business address in your order details if it's more convenient to you.
Can you ship my order to a PO Box address?
Yes, you can select delivery to a PO Box if it's more convenient to you.
Can you ship my order to APO or FPO military addresses?
Yes, we ship anywhere in the United States, and to all US territories and military APO/FPO addresses.
What happens to my parcel if it is delivered while I'm not there?
Depending on the destination and the package size, your parcel will be left in your mailbox or on your porch, or it may be left with a neighbour.
Payment & Security
Your payment information is processed securely. We do not store credit card details nor have access to your credit card information.
Reviews
Our reviews are verified for authenticity
I've had this a week and love it! I normally drink lots of diet coke. Too much plastic, too much money, and carbonation that's not very good for me. So I gave this a try. It looks attractive with cut fruits in it (5-6 friends have asked me about it), it's easy to refill, and the cold water has just a hint of fruit flavor. It's not like drinking a flavored (sugary) drink. But it's interesting and fresh tasting and makes it easier to drink lots of water every day. I'm hooked!

Bottle is well built and sturdy. I really like how it's designed and its very comfortable to hold and drink from. For me personally, this is a game changer - I am able to drink at least 64 oz of water a day thanks to this bottle. It's also fun to get creative and try different fruit combos to infuse with - so far there has not been a bad one.

I mostly use it as just a water bottle without the infusion container. It's easy to carry with the attached loop, and the wide filling opening makes it easy to put ice cubes in it even if they are large or stuck together. It seals well and does not leak, even when full and on its side. My favorite feature is the spring-loaded top that lets you open and close it using only one hand which is great while driving.

I absolutely love this bottle. I had been looking for a good infusion bottle for some time. This is comfortable to hold and there is absolutely no leak. I highly recommend it! The only thing I don't like is the inability to put ice in the bottle. Once the infusion part is in, there is not enough space to drop ice cubes in, and if I put them in before I drop in the infusion part, I can't get the infusion unit in. I have now learned to drop a couple cubes into the infusion part before I put my fruit in, and I add a little crushed ice in the bottom of the bottle, so my water stays colder longer.

This bottle works great! I bought another for my BFF's birthday. I'm drinking twice the water I did before getting it. There have been no problems with leaking - just be sure the lid is Threaded correctly. So far my favorite combo is 1 lemon and 2 strawberries. I put the fruit in the center and fill with water before bed. In the morning I have a delicious drink. I usually fill it again with water during the day keeping the same fruit inside. A pinch of stevia makes it taste like dessert.

I can't say enough good about this infusion bottle! First of all, the top is extremely easy for me to open. That was a big plus, as I have arthritis issues that make most bottles difficult to open. The size of the bottle is large enough for me to have plenty of water, but still comfortable to hold in my hand. The full length infusion rod holds a large amount of fruit, and helps to ensure that all of my water is nicely flavored. The hook on the side also makes it great to take along on a walk! I will definitely be buying these as gifts for my friends!!

This is the best water infuser that I have ever owned. I find that I drink more water than I have in a long time. The place where you put the fruit or veggies is easy to use and it keeps all the pieces in one place. Very easy to take apart and clean. The infuser has a lid so nothing spills out and what I find to be even more awesome is filling it with water after I have already put the infuser in. That way the water pours over the infuser and makes the water taste delicious in seconds. My favorite so far is lemon with mint leaves. YUMMY! Do not hesitate to buy this product. It is functional, has an easy grip, easy to clean, and just awesome to drink from.

After reviewing several fruit infused water bottles I decided on this one. I got it yesterday and love the way it looked and all the good features such as the fruit goes all the way to the bottom, it's easy to carry, it's easy to drink out of. Recommend!

I purchased one of these cups for myself. When the product came it did not disappoint. You press the center button and it opens the top. You only need one finger to do this. That button has a metal ring you can flip up in order to lock the button so you don't accidently open it. Then there is a loop you can use to clip it to a gym bag or backpack if you want. There are plastic grips on the side and bubbles on the other side for your hand to grip. It comes in various colors. It holds a good amount of water. It is BPA free. I have dropped it a few times and it did not break. I ended up purchasing another cup for my husband. I would recommend buying this.

I fancy myself an infuser bottle aficionado. I probably own a dozen, of all sorts. This is probably the best infuser bottle of them all. It it large capacity (32 ounces) and easy to grip. The infuser goes nearly all of the way to the bottom of the bottle. Importantly, the bottom of the infuser is flat, so you can easily rest it upright on the counter while you're stuffing it with whatever strikes your fancy. (A lot of my other bottles have an infuser with a rounded bottom, meaning you have to set in in a coffee cup in order to fill it without holding it in one hand. So why only 4 stars, you ask? Because the only flaw in my otherwise perfect infuser bottle is that the holes in the top of the infuser are a bit large. I normally fill my infuser with herbs -- mint, basil, lavender, etc. The problem is that the holes are large enough that the herbs can escape right into my unsuspecting mouth when I drink from the bottle. Many a time I have been on the receiving end of an unexpected mint leaf "shooter." This, of course, rather defeats the purpose of an infuser bottle. I suppose if you fill your infuser with fruit, you'll have no problems. But the herb peeps should expect sporadic surprises.

I hate drinking water. I have to really make myself do it. So, when I recently stayed in a hotel that had infused-fruit pitchers, I found myself going back for refills. I was thrilled to find the infuser bottle that I could use myself. I filled the container 3/4 of the way full. Then, I cut 5 strawberries in half and added a dozen or so blueberries. Put those into the infuser and popped that into the bottle. Let it sit overnight in the fridge. Pulled it out in the AM and I drank all 32 oz by 2 PM. I am pretty proud of myself :) It's quite a wide bottle, so I am not yet sure if it will be comfortable to carry it around but it's a great thing to have at your work desk. I've knocked it over a lot and no spillage!

I had never used anything like this before but I can honestly say I just love this water bottle! Water tastes very good and refreshing. Do yourself a favor and buy one and try it and I am sure that you will love it. This is a well made quality product and should last for many years.

FINALLY something that isn't junk! Great packaging and fast delivery. I washed it and immediately made my first detoxing infused water. You pull the basket out of the center, unscrew the plastic divider for it and load it up. This particular recipe called for 1/4 orange with it, which wouldn't fit in the basket but because of the divider/separator at the top I was able to put them directly on the bottom of the bottle. The top lid has a rubber stopper that keeps it from spilling and a locking mechanism to keep the lid secure. I really love this water bottle!

I have been using the infused water bottle for about a week and find it really good. I'm really pleased with my purchase and the quick delivery.

I bought this to keep at work and encourage myself to stay hydrated. I'm working in a hospital and I wanted a covered spout that opens easily without being touched. It is great for this purpose, such a great quality for a low price. Highly recommend.

I bought this for my husband who hates drinking water. He carries it around with him all day sipping from it regularly. Result is that he now regularly drinks 3 litres of water a day.

One of the best things I have ever purchased. The quality is very good, and I don't worry about leakage when I put this bottle in my bag. I don't always use the infused part. Now I use it as my daily water bottle. It's a great bottle, especially if you are going to the gym! I encourage my friends to get one of these as it's reusable :)

I bought it for my fiance and she loves it. She uses it everyday! And she's always excited about trying different fruit combos. It's made very well. This infuser bottle is lightweight and comfortable to hold and use. We both highly recommend this product!

It's an amazing bottle! And there are reasons why I gave it a 5 stars rate! Easy To Drink From: ⭐⭐⭐⭐⭐ The drink spout is in the middle of the top and doesn't come out super fast, so even kids can drink from it! Leak Proof: ⭐⭐⭐⭐ Mine leaks from the side on occasion, but I think it's due to user error, as it was filled too much. Easy To Clean: ⭐⭐⭐⭐⭐ The infuser comes out and then comes apart in 2 pieces. There is an elastic piece that could get lost if you take it all apart, but you really don't have to. If you hand wash it, you get it clean faster so you can move on to the next fruity infusion. Overall: ⭐⭐⭐⭐⭐ We actually bought 3 and love them! Pink is mine, Blue is my husband's, and Purple is for our 2 young children to share. "Recipes" We've Tried And Loved: -Strawberries and some lemon juice. Actual lemon slices would probably work better, but we didn't have any... -1 Kiwi and a bunch of strawberries. There will be seeds, so be careful. -1 orange and about 1/2 to 3/4 of an apple, depending how small you cut the apple.

I've been toying with the idea of buying a water infuser for a while now. But it seemed like an unnecessary kitchen gadget, another thing I didn't really need. I told myself I'd just infuse water in a pitcher and strain it... that never happened. So when I saw these bottles pop up during holiday cyber deals, I decided to grab myself and my partner each one as holiday gifts. Now I'm sitting here wondering how I honestly ever lived without it, ha. I normally fill a few aluminum bottles with water to take to work and drink throughout the day but this now goes with me everywhere. The one day that I forgot it, I literally made a comment about drinking boring water before I could catch myself. No, it's not something you have to have to survive, but it definitely makes hydrating more pleasant. And if you're trying to get yourself to drink more water- this is definitely a solid trick! My dude and I are both definitely drinking more water than we were before- and it was already both of our go-to. Lemon, mint, and cucumber definitely remain a cheap and satisfying staple in our household but we're having fun playing with different concoctions. I used sliced frozen peaches and a few sprigs of mint for a refreshing change yesterday and he has been enjoying tangerine water all week. We clean our bottles every night and fill them with whatever we want to infuse with the next day, we leave them in the fridge overnight with water from our filter and just take our usual aluminum bottles full to pour more in throughout the day. I just do one flavor a day and refill, most of the infusions are good all day before they lose flavor or break down too much. I've yet to have any issues, though some fruits are certainly milder than others.