Description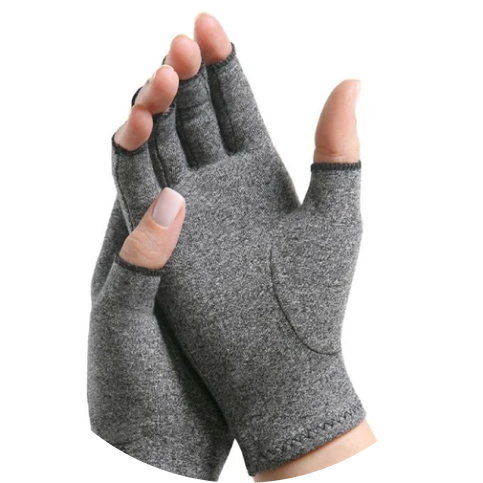 Discover relief with the power of copper
What's so special about copper? The element is believed to help improve blood circulation and increase energy and boost detoxification within the human body. Copper is widely seen as a mineral that can increase energy and mental agility, making it a popular secret element in health and well-being. Our Arthritis Compression Gloves feature copper fibers interweaved with cotton to help stimulate and activate deep repair in the hands to minimize pain and inflammation with chronic wear. 
Maximum flex. Zero burden.
Unlike other thick and stiff gloves out there, our Arthritis Compression Gloves boast thin, breathable cotton for mobile wear. Our fingerless design also allows you to type away on your laptop or tap away on your smartphone with zero hindrance.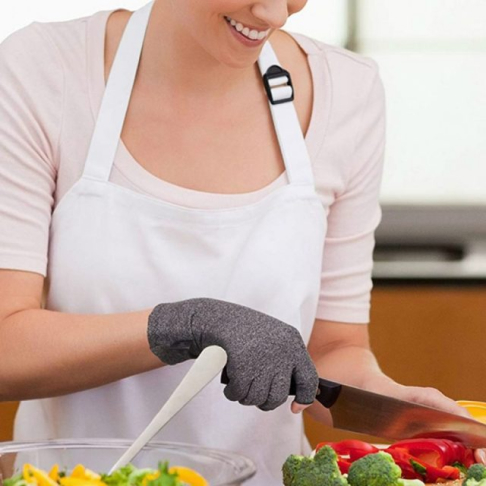 Unisex use. Versatile color.
Our gloves are great for men and women alike, young or old. A gray color also ensures you can wear these gloves with any outfit for any occasion -- from a jog in the park to a casual Friday in the office. You'll never look out of place (and the fingerless design adds some edge to your look). Note that due to photo lighting and natural variations in manufacturing, the color of the actual gloves may slightly vary than how it appears in photos.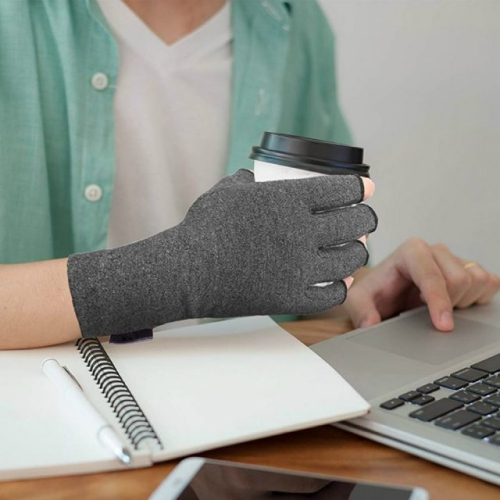 Find your size
Measure the width of your palm, from one end of your palm to the other, to find your glove size. It's that simple and fool-proof. We offer three size selections:
Small: Up to 3.13 in (7.9 cm)
Medium: Up to 3.5 in (8.9 cm)
Large: Up to 4 in (10.1 cm)
The relief you need, anytime
Wear our gloves comfortably whether you're cooking at home, working at the office, strolling outside, shopping at the mall, doing garden work, or really just doing anything (aside from bathing or washing your hands). The more often you wear these Arthritis Compression Gloves, the greater relief you can experience over time.
How much does shipping cost?
We are glad to bring our customers great value and service. That's why we provide fast shipping from our Fulfillment Center in California by UPS and USPS.
What countries are you delivering to?
As of now, we're delivering to the United States only.
How can I track my parcel?
Once your parcel has left our Fulfillment Center, you will receive an email with a tracking number to monitor your parcel movements.
Can you ship my order to a business address?
Yes, you can write your business address in your order details if it's more convenient to you.
Can you ship my order to a PO Box address?
Yes, you can select delivery to a PO Box if it's more convenient to you.
Can you ship my order to APO or FPO military addresses?
Yes, we ship anywhere in the United States, and to all US territories and military APO/FPO addresses.
What happens to my parcel if it is delivered while I'm not there?
Depending on the destination and the package size, your parcel will be left in your mailbox or on your porch, or it may be left with a neighbour.
Payment & Security
Your payment information is processed securely. We do not store credit card details nor have access to your credit card information.
Reviews
Our reviews are verified for authenticity
I have Raynaud's Disease (secondary - came along with Lupus) and even in the summer, my hands are constantly cold. I was getting daily Raynaud's attacks in which I lost almost all blood flow to my hands and they became so cold that they were painful before I bought these gloves. They help so much! They seem to stimulate blood flow enough to keep me from having an attacks. These are great "summer weight" gloves for someone with Raynaud's to wear while just going about their life. I also have joint pain in my fingers from Lupus, and these gloves also help to reduce my pain, although that's not even what I originally bought them for! I attend college classes online, and I have to do a lot of typing and computer work because of that. I always wear these gloves now while I work at my computer, and they make such a difference! Hardly any pain, even after hours of typing! For those wondering about size: When I measured my hand as it says, I was between a size small and medium. Everyone always tells me how small my hands are, but I have chubby fingers, so I was worried the small wouldn't fit. I ordered the small ones anyway. They definitely were tight when I first put them on, but I believe that they're supposed to be tight. If I had gotten the medium, they probably would not have been as effective. I agree with other reviews that they stretch out over a few days to fit your hands perfectly! The material of these gloves is soft and durable. The heather grey color is beautiful, in my opinion, and it makes them slightly more "stylish" than other gloves I've seen, which is nice for a 23 year old girl who has the circulation problems of a much older woman. The finger tips end right at the second joint on my short fingers, and I find this to be the perfect length for typing, using my phone, and other day to day activities.

My spouse recently had hand surgery and these gloves provided the extra compression he needed during recovery. They helped reduce post-op pain and facilitated his daily exercises by keeping his hand warm for better movement. The quality of construction is top-notch and the finger openings allow for ease-of-use when keyboarding or performing other tasks. I bought a pair for myself to use while walking the dog. They keep my hands warm, but don't limit motion. Great gloves if you don't have medical needs, too!

I have Ehlers-Danlos Syndrome, and because of that, I have Osteoarthritis in my hands at 35 years of age. I'm a writer. I have been in support groups for a few years, and gotten tons of adaptive equipment recommendations... this was, by far, one of the best recommendations I have ever gotten! My fingers are long and narrow, with larger interphalangeal and metacarpophalangeal joints. I got the small. The compression is a bit tight over the palm itself, but perfect in the fingers, which is where I really need it for typing and fine motor coordination. I tried at least 4 other types of arthritic and/or compression gloves... save yourself... BUY THESE!

Love these. I used the size guide and ordered a medium, and they are perfect. I like the longer finger lengths that cover all of my joints. The thumb could be a bit longer. The compression is just right, and is not too tight at my wrist. I was skeptical that these would help, but so glad I ordered them and that I could find them in a nice grey color so they don't look so medical-device like. I do a lot of typing, and my hands will ache at the end of the day. These gloves do make movements more restrictive, and my typing speed does slow slightly, but not having painful aching hands at the end of a day is worth the slower wpm. I've hand washed them several times and lay flat to dry and they still look new. I do take them off to use the restroom (this may be TMI, but I was wondering if I would be able to get them off/on easily). I'm able to remove them easily, and put them back on when I come back to my desk. Even with freshly washed hands (because everyone needs to wash their hands after using the restroom!!), they go on with no problems. My dr. recommended compression gloves for my osteoarthritis.

When I opened the package of the size small gloves I ordered per the measuring instructions on line I thought, "Oh my......these are much too small". And they were light weight stretchy things that didn't look impressive at all. Putting them on the first time is a bit challenging because they do go on "tight" and it takes some wiggling around to get your fingers in properly. WHY 5 STARS then? Here is why: My arthritic thumb and surrounding area of my right hand had been swollen and painful for several days - and the ache was radiating all the way up my arm to my shoulder. Capsaicin rubbing compounds hadn't helped. When these gloves arrived I pulled on the right glove and wore it for just an hour and a half. WOW, what a difference! They really do help. The swelling went way down, the arm and shoulder no longer hurt and even the thumb joint felt much better. I do not wear the gloves regularly. I now use them when I need them and they do make a big difference. I can wear the right glove (have not needed the left one at all to date) for almost 3 hours before the seams start to make my hand itch. That is more than enough time to help my problem. I recommend these gloves.

I am amazed how good these gloves worked. These were my last ditch effort to fix my hands. Super stiff in the morning for months (years?) slowly stretch them out, hot shower. I could always feel crud around my knuckles. Doctors had nothing to say so I thought it was just pain. One night with these on, I could feel tingles in my fingers in a good way. The next morning, much less stiffness. Two weeks later, I still feel something but I can't describe it as pain. But the stiffness is gone. My useless morning fingers can open cans again. Now I only use them once or twice a week. These are worth the investment. I ordered the same size winter gloves I wear. Fits great and does not get hot. The fingertip free feature is nice to have tips free to use touch screens.

Great for hand/wrist/finger Arthritis sufferers, post-op and injuries. I had borrowed a glove from a friend and loved it so much, I ordered a pair so I could return hers. I hand wash them. They are durable, comfortable, I like the darker color and the compression is ideal for sore hands/wrists/fingers. (The way they fit, it's a bit difficult to do super fine motor skills. The fingers almost reach to the tips, which can make fine movements a bit harder. They aren't made for that anyway.) They are worth it all. The price is super reasonable. I have tried and been prescribed all sorts of hand orthopedics and these are the best ever!

I suffer from CRPS from breaking my hand a few years ago. I have been wearing a finger-less, so I could still work/type, compression glove to help with circulation and keep my hand warm. I started having issues in my pinky though and decided to try these gloves out to see if the extra compression on my fingers helps. It has worked great. I've had these gloves for ~2 weeks and I've worn them every day. I got the large size (they have a sizing guide on their website) and at first they seemed a little tight (my finger tips were getting discolored a bit even) but within a couple of days they stretched out a bit and feel perfect. They improve my circulation much more than my other gloves, are much more comfortable, and the build quality is much higher. I plan on getting a couple more pairs. If you need to work with your hands but are considering compression gloves stop and get these.

I type all day at work and work very long hours. It was terribly uncomfortable to do this while my hands were simply freezing. I couldn't concentrate or key as quickly because my hands were stiff. After a lot of research, I selected this. I'm really glad I did! The fit is snug, but just right in my opinion. Tight enough that it relieves my joint pain and warms my hands, but not so tight that it constricts my ability to type as fast as I would without them. I also like that these just have the finger tips cut out. I can pull them pretty far down on the finger to just leave open the tips, for typing. This works for me and I'm glad they're long enough to do that. These are high quality gloves with durable fabric and stitching. I'd highly recommend them!

These are amazing. If your fingers and/or wrists ache, put these on, and in half an hour, max, your pain will be greatly reduced. I have a friend who sleeps in his, to keep from waking up with stiff hands. When I wear them, I can hand sew for several hours at a time with no ill effects. They are great for when I am surfing the web on my laptop. In my case, I have enormous hands. My hands are as big or bigger than the hands of any man, unless he is an especially big and tall guy. So I got the large, and they fit snugly. They do fit so snugly they reduce my movement a tiny little bit, but they have never been uncomfortable. I am fairly rough in putting them on, taking them off and tossing them aside, and they have held together fine for me.

I received my order of Compression Arthritis Gloves on a day when I was experiencing significant numbness and tingling in my index and middle fingers and inside of my ring fingers. I'm currently doing physical therapy for carpal tunnel syndrome, and I did not want a compression glove that would cause too much compression in the wrist area, so I ordered a large when a medium probably would have fit fine. I've had significant swelling in my right hand in particular from this issue, and I hoped that the gloves would cause enough compression to treat that. When I put the gloves on, I felt immediate relief. The large size has just enough compression to keep the swelling down in my hand. The gloves are comfortable enough to wear for long periods of time. I'm wearing them now as I type; they don't impede my ability to carry out daily activities. I've tried other gloves that are tighter and less breathable than these. Highly recommended.

With cold weather, I struggle to use my mouse and keyboard at times due to joint pain in my knuckles and wrist. Using these gloves enables me to use my computer comfortably again and I don't need to keep taking anti-inflammatories.

This is my second pair of compression gloves. I have osteoarthritis in all my fingers and these gloves have been extremely helpful with the chronic ache. I wear them while sleeping and my hands are less stiff and sore in the morning. They also help with pain while I'm working as a cashier. I bought this second pair so while one is air drying after being washed, I have the other to use.

Opened package and put the gloves on immediately. Could not believe the immediate relief I received in my hands. Originally bought to sleep in at night but that day, I ended up wearing them all day. And I have worn throughout the day on several occassions since then. As soon as I returned home that evening, I ordered a pair for my 80 yr. old mother who suffers with hand and finger pain as well. Her's delivered within 3 days and she has worn them every night since receiving. She claims they have made a huge difference in her hands and fingers when she get's up in the morning. Although they have not completely eliminated my pain, I plan to order another pair as a back up for when I wash and air dry this pair.

These little gems have been a lifesaver for me. I'm not 100% sure what causes my cold fingers at times. Doctors didn't think I had Raynaud's, but I'm not certain yet one way or the other. Last year, only in the winter, I started having weird episodes where my hands and feet would alternate between being hot and cold. Some fingers would be frigid cold, while another finger on the same hand would be red and HOT to the touch. Very odd. I'm only 37 years old, so it feels kinda of bizarre. I do have Fibromyalgia and sometimes my joints, including the ones in my hands, feel stiff as if I have arthritis.

I have small hands so the small size fits perfectly. They are quite snug at first but, after a few days of wear they relax a bit, still providing the slight compression yet easy to perform tasks in. The first pair I bought from another retailer and the stitching was poor in a couple seams but they still do the job. This pair seems to have no flaws. I've gotten many compliments from fellow employees and customers on my "cool gloves". Highly recommend.

Oh my goodness...what a difference these have made for my arthritic/trigger finger hands. Just by wearing them during non-work hours, I have noticed tremendous relief. I did not have a need to return to my rheumatologist who recommended them :-) There were a bit tight at first but glad I stayed with my original size as they stretched out a tiny bit and became comfortable - a little pressure actually feels good and they keep my hands warm for good circulation. They are super soft and I cannot say enough about them. Able to wear them while sewing, too. BUY THEM WITH CONFIDENCE.

I was concerned with how small these looked when I took them out of the package (I ordered according to the sizing chart) but they fit perfectly! The fabric of these compression gloves is lovely and soft. The stitching all seems strong and all the seams lay flat so they won't dig into your skin and cause irritation. The gloves were a bit hard to get on but that is probably because they're brand new. My hand is just a smidgen over 3 inches wide at the knuckles so I ordered small and it was exactly the right size. The moment the glove was on, I felt almost instant relief from the pain in my knuckles and fingers. The gloves are designed with a left and right hand, rather than a interchangeable shape, which means that they fit properly around the thumb. I really like how the length of the fingers on the gloves comes up so high, providing extra warmth and comfort for the middle knuckle and a bit of the top knuckle too. Keeping the finger tips exposed means that I can type and pick things up without worry. Because the fabric is mostly cotton, it breathes well and doesn't leave you with clammy hands. When needed, hand wash in cold water and air dry so that the elasticity doesn't go out of them, and they won't shrink.

After putting it on, a minutes later, i could feel the wrist joint thumb muscles claiming down (this will help me with workouts that required usage of the hands). I'm going to buy three more to keep on hand. Along with my detox formulae will be able to go a long way. I'm a 90% vegetarian & 95% organic consumer which keeps arthritis down (learned this from an elderly married couple i met when i was 45 & menopausing). They were in their early 70's, looked great, & had more energy than i. Hope this information helps others out there as it did for me.

Instantly supported my joints and took away my hand pain. I wear them at night while sleeping, and I did not wake up because of my hands tingling. They were suggested by my orthopedic surgeon who just diagnosed me with an avulsion fracture under my third knuckle on one hand. Other hand has had a bad thumb joint for years that has gotten worse due to age and wear and tear. Bone on bone. These gloves hold the right position and compression for both my hands to feel pain free. I highly recommend them. A bargain at the price! Size should compress not squeeze. Not be too loose either. If you get the right size, you'll be super happy. I measured right between med and small. Went with the small. Go for it!!! I am a 60 yr old active female and only endorse great things. These are great!

I'm 52 years old and suffer from tendonitis in one finger as well as arthritis in a few finger joints. The more I use my hands the more pain I experience. I've had cortisone shots for my finger w/tendonitis. I take ibuprofen to help with the pain after a long day of yard work or other hand-intensive activity. I saw compression gloves in a catalog and thought I'd investigate. So I did some research and decided to purchase these gloves. I am SO glad I did. After only 1.5 days of use I feel relief. At first they felt a bit odd, but I quickly became used to wearing them. The more I wear them the more relief I feel. I'm planning to purchase a 2nd pair to have as a spare.

I have gone through several pairs of gloves sold at the local "big box" store... they develop holes much quicker than I would like. These gloves are so perfect for what I am using them for... plus these are a heavier material (warmer). Solid gloves. I see people posting pictures of gloves with seams open and some unraveling. My advice is to trim the "nits" instead of pulling them.

Got these tonight, I was nervous at first my hands started to feel sore. But after just a few minutes they felt fine. I like to draw and I've been able to keep up tonight with my art on my computer and my sketches no problem, where before I'd be taking breaks about every 5-10 minutes because my hands would hurt. I'm super happy with these gloves so far

I don't use the compression glove to work with, I use it to keep my fingers straight I can lay my hand down flat with the compression glove on I sleep with it on my hand. I wash it, by hand, and the next day, put it back on. I wear it everywhere and I don't care what people think or say about me Thank You

The material is comfortable, light, soft and doesn't irritate my skin. The gloves are a nice length, too. They cover my wrist area and then some. I can feel the compression, but it's not at all restricting. I strongly recommend this product for anyone, regardless of age, who deals with arthritis, or other hand discomforts.

Comfortable, warm and soothing to wear. Of course I love that my fingertips are exposed so I can use my phone and Ipad for texting or reading. I read a lot so it is nice that I can flip pages without having to take the glove off.

I highly recommend these for hand swelling, limited range of motion ect. I use them when I sleep bc my hands swell badly at night... There is also a sizing guideline to make it easier to figure out your size. :-)

I love these! They keep my fingers warm - and keep me from swelling - yet they don't limit my ability to function. I have short, stubby fingers, but these (mediums) fit perfectly! Lifesaver for a woman with RA who works in an office setting all day. Thank you!

As an arthritis sufferer, I can confirm that having these compression gloves provides comfort and warmth that helps ease the discomfort of stiff fingers. I use these gloves during the workday, and I find that having the fingertips exposed is key to function by allowing tactile sense while using the computer keyboard.

The glove provides compression that is at a comfortable level, not too much and not too little. I feel my joints are kept warmer, which aids in increasing circulation and reducing pain. I also find that I'm not as likely to hurt myself banging an inflamed knuckle into an object with the cushioning of the glove. The length extends about an inch past the wrist, which also helps the wrist. They wash up very well. While these gloves are very helpful in the wintertime, I use them in any season when my hands need some extra pampering.

These gloves cover up to the first joint (I wear a Medium) which is where most of the pain is. They fit like a second skin & the instant they are on the pain is gone. I recommend these to all my arthritic friends. I'd buy them by the dozens if I could!

Love these gloves. When I'm in a lot of pain, they help a little, but when I wear them along with my hand brace, they work great together. I think these will be awesome this winter, when my hands are cold. I mean for in the house, not to wear outside, since they have no finger tips. My hands always get cold when I'm working at the computer. These are comfy & cozy.

I love them, felt the pressure of relief once they were on. Make sure you don't pull them when putting on. This is why some complaints of tearing. When you place on your hands, then push down between each finger then pull lightly over wrist.

Received gloves today. Ordered size according to size chart. Put them on as directed. Not as "pretty" but functional. Hoping they are more comfortable. When I had hand OT my therapist said all compression gloves should be seams out to prevent irritation. Will let you know if this works. Update: with the seams turned out these are AWESOME gloves. No more hand pain at night.

My 86 year old dad has arthritis in his hands and I got him these compression gloves. He LOVES these gloves, wears them every day. He says they are "perfect," which is amazing. I'm ordering him another pair.

Of the 4 different types of compression gloves I've purchased, these are my favorite. The fingers extend almost the full length of mine rather than constructing my knuckles with the stitching that finishes the fingers. They don't shed like some I've used, nor are they cool on the hand like some others I've had- after all, in winter and that little extra bit of warmth is welcome. They're also not too thick so as to impair handling small objects like another type I've tried.

Well, im as skeeptical as they come; i bought these gloves due to my very painful arthrtis in my hands that often keeps me awake nights. I have read about compression and copper and how there is no scientific proof as to its pain relieving qualities; however I had become desperate for relief. When I received them I put them on that very evening while watching TV. As the night went on my hands felt betterbut I didnt give the gloves nuch credence. I have now been wearing them each night for the last week and am convinced they have made a difference in my level of pain and discomfort. I dont understand how they work or if its just psychological but I'll take it! I would have given 5 stars but its only been a week. If it continues toelp I will come back and update. Make sure if you order these that you get the proper size and measure your hands as they instruct. If you guess you could get the wrong size and lose any benefit you would otherwise receive. Its critical to the success of the gloves. Thanks and good luck to you!

I don't know if I can speak for these. I didn't buy them for arthritis. I had a severe hand pain and inflammation around the pinky side of my hand from excessive drawing on my graphic tablet. I thought these would help, but they ended up making the pain worse so I had to stop wearing them. I thought that maybe it'd help wrist pain that was acumulating, but I got the smallest size and althought it fit snug around the hand, it was still loose around the wrist. No straps or anything to tighten it either. Granted, I'm knows for my thin wrists So it's more so my body than the manufacturer. So, they didn't suit my purpose, but maybe they'll suit someone with an actual artheritis case?

Gloves aren't terribly constructed, though I fear the edges will frey with wear. According to the measurements, I fell on the edge of small and medium, but with small hands I ordered down. The gloves gave fair compression through the palms but were baggy loose around the wrists - where I need support bemost - and looked almost full fingered becuse the fingers were so long. Thankfully I could pass these along to my mother, because they weren't what I needed nor expected.

On the first time I wore these gloves they felt fine. The second time I wore these gloves the thumb tore off. What I could feel from the first time was nice feeling though.

The gloves have a very strong compression, which I was really looking for, but my gloves were too small even though I ordered them using the sizing chart provided here. I woke in terrible pain after wearing these gloves to bed because they were way to tight and because the seams dug into my hands like crazy. I do recommend these gloves to help relieve pain and inflammation, but DEFINITELY 1) order a size larger than what your measurements call for 2) turn your gloves inside out so that the seams don't hurt you. Feel better everyone!