Description
Backseat entertainment gets an upgrade
Tired of dealing with a sore, achy neck from staring down at your phone or tablet when riding as a backseat passenger in your family car? Or are you a part-time driver for a rideshare service and want to up the amenities in your vehicle? Our Car Tablet Holder is just the solution for you. Easy to install and use, it'll bring a more ergonomic, luxe in-car experience for passengers usually only found on passenger planes or high-end cars.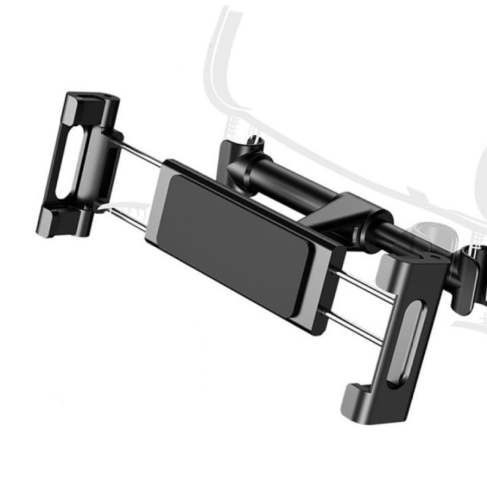 Premium build, easy installation
No screws, no drills, no need to remove your headrest. Our Car Tablet Holder is made of sturdy aluminum and ABS plastic for a vibration-free, reliable hold. It features rubber-reinforced clips that snap right onto the poles of your car's front seat headrests (for no scuff marks). Plus, sponge matting on the device holder clips also ensures a scratch-free grip on your tablet or phone.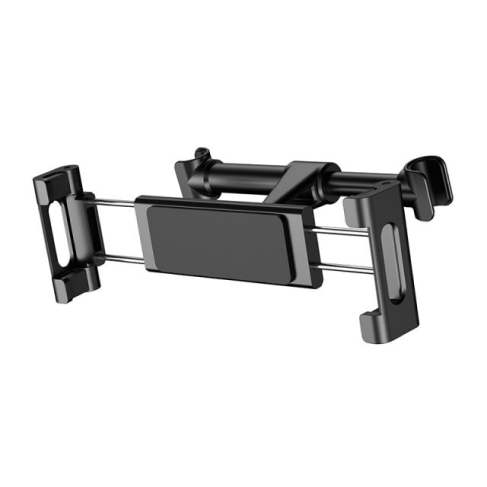 Fits just about any device, phone or tablet
Got a smartphone, tablet, or e-reader that you want to enjoy while on the road? It'll probably snap on just fine: our holder supports devices that are 4.7 – 12.9 inches in height. Note for some devices with covers or cases, you may need to remove them (depending on fit).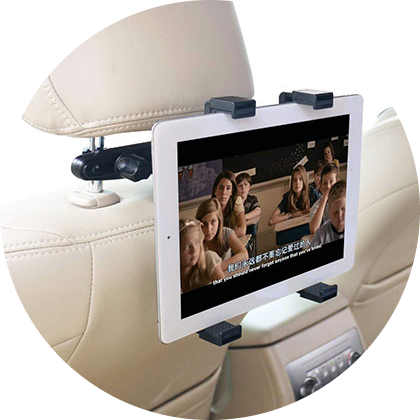 Enjoy content from any angle
Our holder lets you rotate your device 360 degrees for easy viewing.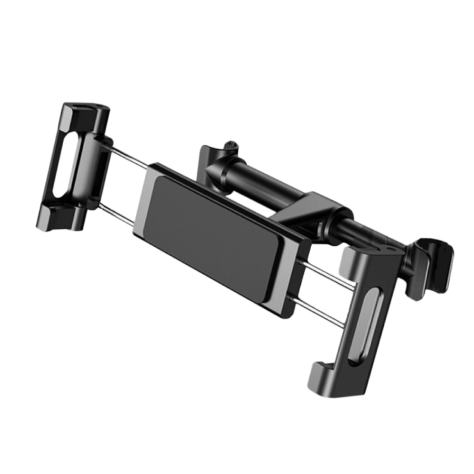 Compact + foldable
If you need to remove the holder, it's easy to uninstall. Plus, it's foldable for easy storage in a compartment or backseat pocket.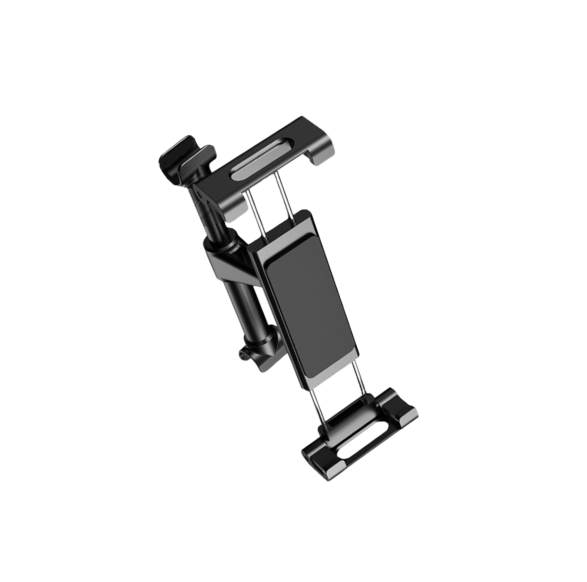 Works for just about any car
Whether you have a sedan, hatchback, or van, our Car Tablet Holder will provide the entertainment convenience your passengers will love. Note though, that our holder only fits cars with 5.5-7 inches of space between the front seat headrest poles.
How much does shipping cost?
We are glad to bring our customers great value and service. That's why we provide fast shipping from our Fulfillment Center in California by UPS and USPS.
What countries are you delivering to?
As of now, we're delivering to the United States only.
How can I track my parcel?
Once your parcel has left our Fulfillment Center, you will receive an email with a tracking number to monitor your parcel movements.
Can you ship my order to a business address?
Yes, you can write your business address in your order details if it's more convenient to you.
Can you ship my order to a PO Box address?
Yes, you can select delivery to a PO Box if it's more convenient to you.
Can you ship my order to APO or FPO military addresses?
Yes, we ship anywhere in the United States, and to all US territories and military APO/FPO addresses.
What happens to my parcel if it is delivered while I'm not there?
Depending on the destination and the package size, your parcel will be left in your mailbox or on your porch, or it may be left with a neighbour.
Payment & Security
Your payment information is processed securely. We do not store credit card details nor have access to your credit card information.
Reviews
Our reviews are verified for authenticity
Product functions as advertised. If you want a high quality, minimalist product design that's incredibly easy to install and helps keep kids entertained in the back seat this is it. Tablet attachment is sturdy. Viewing angle is easily adjustable. Depending on a tablet's protective case there may be an issue maximizing how effectively this tablet holder will secure it. One of our tablets has a very thin polyurethane cover (minimal protection) and it was fine, the other device has a significantly more durable case design (child proof) requiring its removal to effectively secure it in this device holder. Without measuring them, I'd estimate the tablet retention clamps on either side are about .25" thick. We primarily used this product for a lengthy road trip so case removal wasn't an issue, but if you need to use frequently for short trips removing a tablet from its case each time could be a headache. Significant summer temperatures have not seemed to impact the load bearing effectiveness of the swivel connection between the vehicle headrest connection and the tablet support structure - functions like a car's interior rear view mirror adjustment (I haven't bothered to remove them from the vehicle as they are unintrusive). Overall very happy with this product and satisfied with its value/price.

This headrest holder works great with our Kindle Fire in a slim case as well as with iPhones of all sizes. It installs easily and allows the kids to watch shows from the mounted screen. There's no more fishing around the backseat or on the floor because a tablet or phone was thrown by a tantruming child. No more screams of frustration from a child who accidentally exited their show by pushing the home button. It's simple to install and simple to use. The quality is excellent. I originally bought this for the toddler, and now my teenagers are asking for them, so they can have a place to put their phones while they make TikToks.

Just returned on from a 40+ hour round trip to Florida. We purchased this in hopes that this would help our kids with the drive down. My 5-star rating is because the price and what I got out of it was valuable to me. It was easy to install and easy enough to remove the iPad when we left the vehicle. My kids say it didn't shake much. They certainly didn't complain. We thought about installing a DVD player but buying this, a new iPad, and a Netflix subscription that I was able to download a ton of choices was the better way.

Extends easily by pulling out two small ropes, i can help my kid from the front seat to put in an ipad. Good for both ipad and phone.

This thing is really well made. Came nicely packaged and fits our 4Runner perfectly. I love that it's low profile against the seat but has enough room to pivot and swivel the tablet. Fits the iPad Pro 10.5 inch and any smartphone. Best Ive seen so far.

The product did well for holding my kid's ipads. When we went on a long trip they help my kids ipads with cases on them. I didn't give it 5 stars because of the sharp edges. I know that sounds weird but when my kid would bend down to grab something on the floor and come up, the ipad was sticking out and he would hit his head and it would be painful.

This is really easy to install, and works well with smaller headrests. It is a little hard to pull the arms apart with one hand while you hold the tablet if you need to fully extend the arms.

This item is so convenient for my daughter to watch her shows while in the car. Make sure if you have a rear facing car seat that the backseats have headrests that are detachable.

Great idea for entertaining the kids in the back of the car on a long journey with no fighting over who can hold the device or who can't see it properly. The Ipad was secure and didn't wobble about at all. My only issue with it is, I wish it could bend back slightly to make it easier to see in the back seats. It was a bit too close to the kids in the back for them to be able to see it properly from their seats without leaning into the middle a bit. Obviously it's position is determined by how far forward the front seat that it's attached to is but I moved that seat as far forward as I could without crushing my knees and still it was too far back.

quality as expected. i surely reccommend this tablet holder

This item works very well. The only issue that we have with it is that it is a tension bracket. It makes inserting the tablet difficult at times.

My cames in time. I'm really happy! thank u~ Easy to install, even easy to use one handed putting a tablet back in it. Seems really durable and will last much longer than the last couple I've had that just snapped after a few uses.

loved it! Exactly what I was hoping for. It's sturdy and easy to use and set up. Even when not using in the car, it doubles as a great stand. I love it.

super cool ! just arrived

a great one, thx! This is a sturdy well worth it buy. Easy to install will hold phone or iPad with ease. Strong hold and isn't flimsy. Plus built good enough to out last the feet of our toddler now he can reach it.

unrivalled style! I obtained it for my buddy's buddies envisaging how pleased they will be, and it really makes a classy outgiving. in point of fact it is even better than the photograph. It is just cute and makes a wonderful acquisition - the quality is admirable for the price. I will surely acquire one again, and can decidedly recommend it to anyone.

Best tablet holder ! I really think this was the best one car tablet holder !

I bought this to travel to France with a month ago, it was for my 9year granddaughter to use for her iPad to watch down loaded films etc. It was easy to fit and there were no complaints from my granddaughter about vibration.Our journey was from South Wales to the Eurotunnel and down to Cognac and was about 12 hours driving time and there was no "I'm bored" or "are there yet". So I would recommend it.

It's perfect tablet holder for car. Delivery was very very fast comparing to others. It's really nice quality. I recommend it without a doubt.

I guess the seller has kindly set the cheapest price for tablet holder. And the quality is more than great!

couple of best features : I installed it to our car and it holds 7 inch iPad even on bumpy roads. Yet to try bigger screens. Build quality is amazing made for car interior in mind. It seems durable and does its job. Not so great part: It doesn't work when you have iPad cover on definitely depend upon what kind of cover you have. At least the one I have is thick one and I need to remove it before putting it on this car stand. I guess its not a big deal for me.

I was worried about safety of free delivery, but tablet holder arrived in really excellent condition and in time. Thanks a lot!

i am delighted. matches the photo in full

awesome tablet holder, i recommend!

got tablet holder for car recently, wasn't disappointed

i really enjoy it. nice store. thank u

looks exactly like the pic, no worries!

Perfect tablet holder , well match my expectations. Thank You.

It doesn't hold my phone. It is big like tablet

This tablet holder is perfectly made, no reason to worry

Amazing quality and fast shipping

It's actually quite a reasonable price for tablet holder, so I gave it a try. Satisfied :)

after a long search i am sure that the best price for car tablet holder is offered right here. the price is fair for the quality.

really nice tablet holder that fits in any car!

This is amazing. I think I will order another one! Really like the design of this headrest mount. It holds a tablet well and is sturdy enough to hold the weight if the tablet.