Description
Let's have a ball
Playtime takes a punch. Or kick. Or pummeling. Discover the world's most indestructible ball that can handle anything from indoor shenanigans to outdoor fun. Like a mysterious ball of wonder, our Indestructible Bubble Ball wobbles, rolls, floats, dribbles, and spins for quality fun time for kids of all ages (adults can join in too!)
Powered by Xpandium
Each ball is constructed of Xpandium, an incredibly-strong and durable material. It is environmentally-safe and tear-resistant, with no BPAs, PVC, or latex, making it safe for kids or pets to be around without need to worry.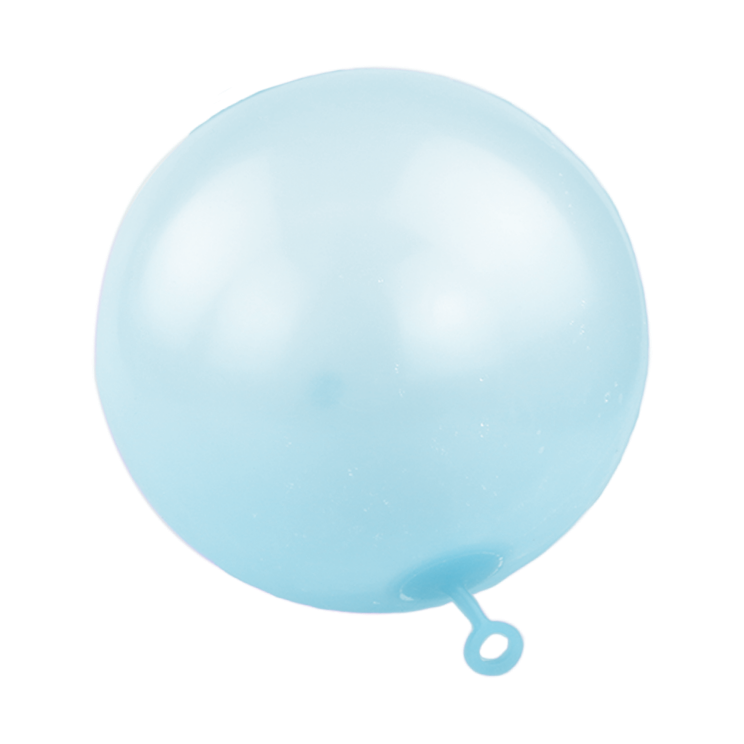 Blow up for fun
Each order comes with a blowing tube. Simply insert into the ball and inflate (the ball will self-seal when done -- no tying required). When playtime's over, deflate with ease.
Bounce. Dribble. Roll.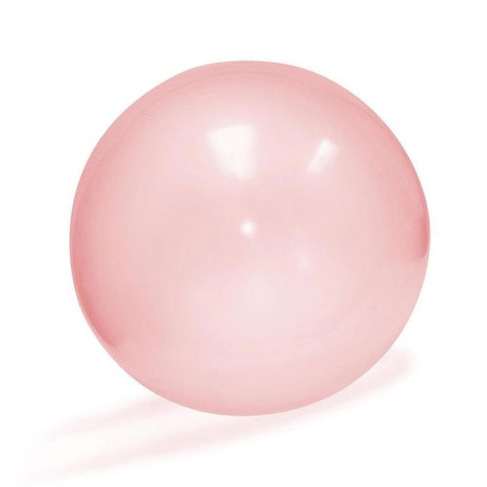 Fun-sized
Each ball measures 70cm / 27.56 inches in diameter when blown to full size, for a massive, in-your-face bouncy ball of fun and wonder.
Hours of fun for anyone
Great for parties, family get-togethers, and more.
How much does shipping cost?
We are glad to bring our customers great value and service. That's why we provide fast shipping from our Fulfillment Center in California by UPS and USPS.
What countries are you delivering to?
As of now, we're delivering to the United States only.
How can I track my parcel?
Once your parcel has left our Fulfillment Center, you will receive an email with a tracking number to monitor your parcel movements.
Can you ship my order to a business address?
Yes, you can write your business address in your order details if it's more convenient to you.
Can you ship my order to a PO Box address?
Yes, you can select delivery to a PO Box if it's more convenient to you.
Can you ship my order to APO or FPO military addresses?
Yes, we ship anywhere in the United States, and to all US territories and military APO/FPO addresses.
What happens to my parcel if it is delivered while I'm not there?
Depending on the destination and the package size, your parcel will be left in your mailbox or on your porch, or it may be left with a neighbour.
Payment & Security
Your payment information is processed securely. We do not store credit card details nor have access to your credit card information.
Reviews
Our reviews are verified for authenticity
The ball was stronger than I expected. My grandson and his brother and sister are giving it a good workout. The ball is providing hours of fun. I am very happy with this ball.

I first saw these when a YouTuber demoed them and I though they'd be fun for my teenage boys. They are indeed reusable, and self sealing. No more picking up tiny pieces of water balloons from all over the yard. These are incredibly durable!

My son got this for his birthday, so far so good! I wonder if people have issues with tears because they overfill it? It's been on grass, rocks, cement... No problem!

My toddler son LOVES this thing! I do have to add that the pump absolutely does not work..I was so sad to think our wubble wasn't inflating because it had a hole or leak.. until I left the valve in it, disconnected the pump, and blew it up the rest of the way with my lungs.. (take a second to push your tongue in the valve for breaks so you don't pass out) then once we got it blown up the rest of the way the pump went in the trash. Otherwise great product! My son just has a blast with it, such a simple way to have a TON of fun! He also has a fuzzy wubble, and that's been great, too.

These were the favorite pool toy of the season for my five-year-old, three-year-old and one-year-old. Older kids wanted to borrow them in the pool too. There are lots of fun and I will be getting them again next year. Great gift idea too!

Kids love for the pool!! The are reusable water balloons. They expand to get HUGE!! They're a hit every summer!! I replace each year because they get 'gummy' over winter.

Ok, I'm giving this 4 stars because I knew what I was getting from reading reviews, my little girl wanted it. Knowing that it wouldn't last I did get her 2 more from another store. So the outcome. We went camping & brought it with us. The ball lasted about a half hour, then it went in the garbage. A lot of small holes all over it. The other 2 was for when we got home. They didn't last very long either. But the short time she got to play with it, she had a blast.

this is the only thing my grandson asked me for as a birthday gift! he loved them!!

This bubble ball provides endless hours of play and excitement for all ages. I purchased it for our 9 yr. old granddaughter. She plays with it all the time and keeps it in a safe place. She plays inside and outside with it. It's a has a nice feel to it and is very buoyant.

I love these… my 6 year old can fill them even. There is very little mess. They can get holes in them, but ours have lasted and lasted. You can even set them in a bucket of water and they will fill up "some."

The ball is amazing. The one I got had a hole in it straight out of the package. Rather than go through the trouble to return it I just got a new one from a local store and kept the pump out of this one. It is so much fun. My kids love it. They sit on it, throw it, kick it, etc. It's light and squishy.

As other customers have said if using as a water balloon battle. Not so much fun. However have your kids bring them to the pool and watch the fun. Kids from 1-20 couldn't wait to get their hands on one. Kids have so much fun! The blue ones is hard to see in pool nut that seems to add to the fun.

Bought these for my grandkids that were coming to visit me and they have been a hit with all of them, ages 5 - 11. They hold up well to various fills and stretches. Today my grandsons took them to the beach and everyone passing by wanted to know what they were. Great fun!

We get these every year my kids use them to the max… they have the most fun playing with them in the pool. They are always a hit at parties and as gifts! They do break but usually after my kids overload them with water and float on them in the pool for hours!!

Super cool. My kids hate regular water balloons because I make them pick up every piece of rubber left afterwards. These allow the fun of water balloons without the environmental impact. They feel like breast implants before you fill them. The outside is soft and they are easy to refill.

Nice stuff! Recommend this

these are soooo fun!! Got them for a pool party & they were a hit! Definately will be my go-to gift for birthday parties this summer! Very easy to fill too, a few popped but the kids filled them waaaaay too full ~ came with 8 balloons 🙂

Everything worked and my granddaughter was very happy with this toy.

Great price, we know the product from the summer. Fun idea, both 2 yr old and 8 yr old like them.

Got one for my son. It popped. Returned it for another. It popped. I think I'm done with this game lol

My son loves to play with these. They have a very intriguing feel. Easy to use and reuse.

My grandson loves it! It was a gift as he kept asking for them and he's been having tons of fun with them.

All the kids at the neighborhood pool loved to play with it. Hours of fun! Beware that they do tear relatively easily!

It was fun to play with. After about 5 days it started to deflate which may have been from not inflating it the right way. Instructions were not clear on how to remove the pump.

Delivered in good condition. Beautiful color!

Arrived on time and neatly packed. An absolute hit. This ball inflates and deflates for easy storage. Love it.

These are a lot of fun. The more you use them, the more they wear and rip. Tears occur at the seams near the top.

Fun while it lasted. It had a hole within the first 3 hours. Patched the hole and it was played with for another day. Wish it would hold up a little better.

Super fun!!! Ours is still in action since X-mas morning! We've refilled with air once, after about 3 weeks. 4 stars instead of 5 because blowing it up the first time is tricky. The trick is using plenty of the "grease" they include and pushing the pump in farther than you think it should go. You think you are popping a hole in it, but really you need to get all the way through and puncture the "belly button" in order to inflate. Otherwise the air goes nowhere. Good times. Dust sticks to it, so after a while it gets a little funky, but lots of fun. We keep it indoors.

My 8 year old used some birthday money to purchase this product. I saw one review that recommended NOT TO OVER INFLATE the ball. We followed that advice and have had my 8 year old daughter, her 9 and 5 year brothers and every kid that comes over, playing with this thing for the last 10 days! So far we have only had fun with it. They sit on it, jump on it, launch one another from it, etc. We don't take it outside, hoping to avoid punctures. The key seems to be NOT TO OVER INFLATE. The bubble ball should be "squishy" and pliable. If you place a hand on each side of the ball, you should be able to press your palms together with some, but not too much resistance. This recommendation is based on our family's experience. I hope that it helps.

Fun, durable product! Highly recommend for any age! We used them heavily last summer as they are reusable so we bought some more this year!!

My six-year-old daughter loves this thing. We've been playing with it outside for a good 30 minutes and it has not popped yet. Very very good toy.

The bubble toy is pretty strong. 2 of my nephews and 2 of their friends were jumping on it and tossing it around for hours. It did finally get a hole in it, which we will patch and see if it still works. We found it to be a pretty good quality and ordered one for our friends' boys, who just turned 9. They are excited to try it

Very fun my grandson and I love them we use w water or just blow them up