Description
Magic Box Backseat Organizer
The Magic Box is a versatile car organizer for comfortable cross-town and cross-country road trips with your family and friends. Organize your car space, eat and play on the go - do it all with just one Owleys organizer!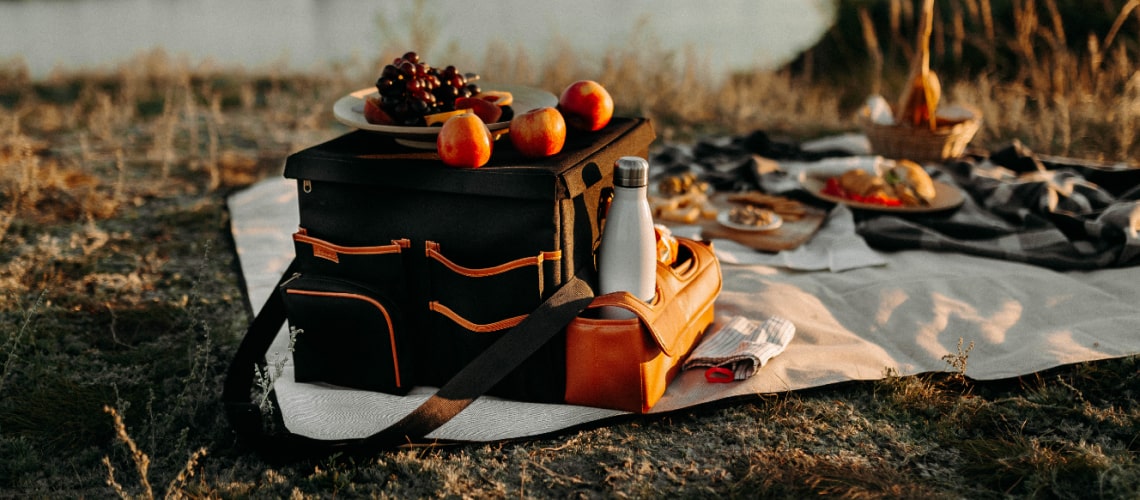 Tidy up your car interior
Make backseat mess a thing of the past
Store all travel essentials
Keep drinks, snacks, toys, books, sunglasses, wet wipes, hand sanitizers, and more close at hand.
No more beckseat mess
Keep your car perfectly clean and well organized with your capacious multi-purpose Magic Box.
Your insulated travel cooler
Due to the temperature-resistant inner lining, the Magic Box can keep the temperature of your food and drinks for several hours.
Tray and table rolled into one
An elastic lid easily transforms the Magic Box into a picnic table or a tray or dining table in a flash - just lift the walls up or simply unfasten it with a zipper.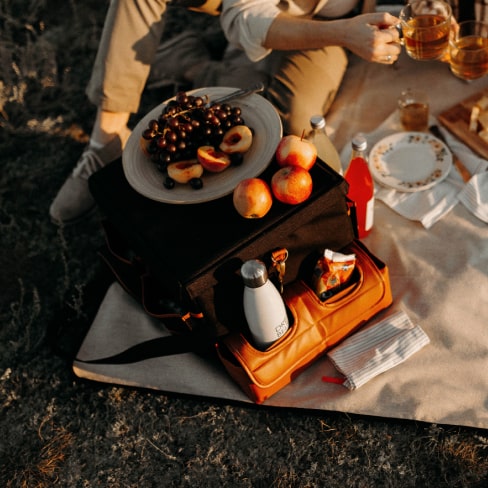 Enjoy peace and comfort
Turn your Magic Box into a backseat play desk for board games, coloring books and toys. Keep kids entertained and enjoy the peace of mind on the road.
Upgrade your travel experience
Whether you are planning a long road trip, camping or a picnic - the portable and waterproof Magic Box will make your travel experience much easier and more convenient.
Smart structure
This organizer is fully collapsible and made from high-quality materials including PU leather, 600D Oxford, non-slip bottom, and waterproof lining. Store it easily in your trunk, in the front or back seats - it fits perfecly between two child seats!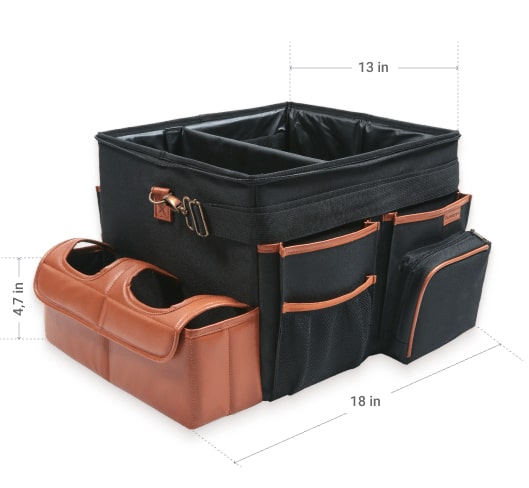 Level up your car space organization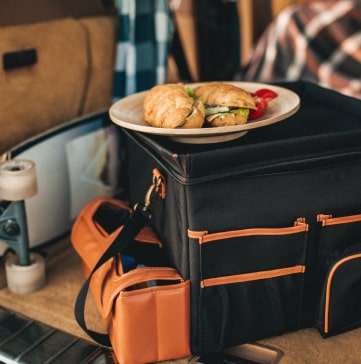 Stable & sturdy design
The organizer has thick walls and keeps its shape firmly - even if you store heavy dishes or books on the top or lean on it.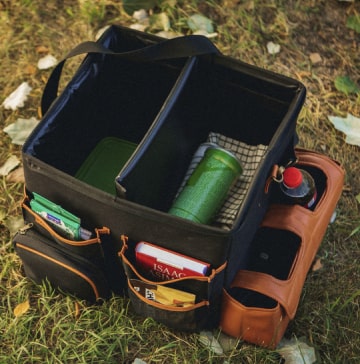 Maximum storage space
Ten pockets for drinks, toys, snacks and books. A deep internal compartment with a removable divider for clothes and food.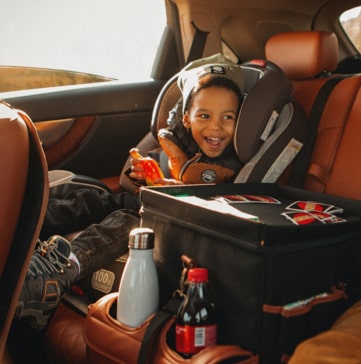 Convenient on the go
The durable textile carrying strap is easy to adjust and remove, making the Magic Box ideal for picnics and outdoor activities.
Improve your road trips with our premium-quality products

FAQs
No, the inner lining is waterproof.
Yes – a special anti-slip coating on the bottom of the organizer helps it refrain from sliding.
Yes, from glass to plastic, the pockets provide a durable hold (best for containers up to 1 liter though).
Yes, but we would recommend using ice packs, as regular ice cubes will sink to the bottom of the container and melt. Despite the organizer being waterproof and able to hold temperatures for hours, this would render your ice useless.
The lid can be fully detached with a zipper. You can remove it or use it separately if needed.
Yes, of course you can – the lid holds steady and firmly for a smooth, impromptu deskspace.
About Owleys
Owleys is a premium car accessories brand based in California. We create accessories for any kind of car traveling - road trips, camping, picnics, nature trips, and daily rides. Our main goal is to bring comfort, convenience and emotions to every moment you spend in your car. We ourselves enjoy traveling with our family and friends, so we have two main product lines: traveling with kids and traveling with dogs. With these products, we want help you take care of your loved ones when traveling by car and spend a great time on a road together. Creating our accessories, we care for both kids and adults - as well as both pets and their owners. Therefore we never use genuine leather and choose PU leather instead. For our products, we prefer using low-maintenance, eco-friendly and durable materials that will withstand your trips with the most mobile kids and pets.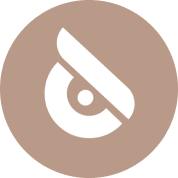 How much does shipping cost?
We are glad to bring our customers great value and service. That's why we provide fast shipping from our Fulfillment Center in California by UPS and USPS.
What countries are you delivering to?
As of now, we're delivering to the United States only.
How can I track my parcel?
Once your parcel has left our Fulfillment Center, you will receive an email with a tracking number to monitor your parcel movements.
Can you ship my order to a business address?
Yes, you can write your business address in your order details if it's more convenient to you.
Can you ship my order to a PO Box address?
Yes, you can select delivery to a PO Box if it's more convenient to you.
Can you ship my order to APO or FPO military addresses?
Yes, we ship anywhere in the United States, and to all US territories and military APO/FPO addresses.
What happens to my parcel if it is delivered while I'm not there?
Depending on the destination and the package size, your parcel will be left in your mailbox or on your porch, or it may be left with a neighbour.
Payment & Security
Your payment information is processed securely. We do not store credit card details nor have access to your credit card information.
Reviews
Our reviews are verified for authenticity
After reading all the reviews and watching the video, I decided to finally order this organizer. When I received it, I was pleasantly surprised. The organizer is awesome! Came in 4 days in a branded packaging. Heavy!! - this already shows that it's not just a cheap rag ... Although the organizer is made in China, the quality is perfect. It has 10 pockets. The bottom and walls are solid. Inside there are 2 large compartments, the divider is removable with Velcro. You can make one big compartment if you want. The organizer is waterproof and with a special lining inside. The lid is removable with a zipper, strong enough for eating or your child wants to draw on it for example. If necessary, it can be folded and then it does not take up any space at all. It's a pity I don't have a car, I'd keep it for myself. But I can only make gifts :) I bought this one for my brother, and now I will definitely order again for my husband. Super hppy with my purchase!

And I am very happy that I bought this organizer, although it seemed a bit overpriced. This organizer does his job perfectly! Previously, we had to minimize the number of "necessary" things for a trip. And the kids were unhappy that they couldn't take all the toys they wanted... Now with this big organizer the problem is finally solved :) It's really big to store everything! The kids are happy and I'm happy with my purchase :)

I work as a driver and use this organizer in the front seat. I store food and drinks in it for the whole day, all the necessary documents and papers, notepads and other things. The organizer has an extremely convenient solid top, I store my laptop on it. It has side walls so that the laptop doesn't fall out. After work, I take the organizer home with me. The carrying strap is durable, for a month of daily use it hasn't stretched anywhere. I highly recommend this wonderful organizer!

I have tried about 10 different car organizers over the years and this one by far the best. I got rid of my plastic seat organizer and bags when got this. The insulated inner pocket works really well! I left my energy drinks there overnight and they were still cold when I drove to work in the morning. Thanks! I love it!

I'm ordering the second one as a gift for my sister :) A perfect storage box if you have two kids. I put it between the child seats, and it has a lot of space for storing toys, coloring books,pencils, tablets, road snacks and other things your kids may need. We're planning to try it for a picnic as soon as we get the chance.

I stored everything and even MORE in this organizer… My kids things, a blanket, a first aid kit, and different little things for the road. The organizer is not bulky, but ergonomic! This one is not my first organizer, so I have something to compare. Definitely recommended, even if you don't have a family you will find it useful!

Past organizers I've had for my kids have torn quickly, but this one looks very durable. Just the right size for two kids in the back! The organizer itself is sturdy and large (big pocket with divier inside + 10 on the sides). Doesn't slip on the seat while driving. Looks very nice in a brown car interior! Came in a branded box, the packaging is beautiful, suitable for a gift.

Very handy back seat organizer! Finally, when traveling with kids, everything is in one place, and not lying all over the back! There are even special pockets for drinks so that children dont have to constantly reach for cup holders!

I guess it's designed for two children, as it has two cup holders. I only have a daughter, but she has a lot of space for all her dolls, books, coloring pages, pens, snacks and clothes. And in the cup holders I put water and juice for her. Thank you!

this organizer is really big and holds its shape well!I have already tried several organizers for my son, but the quality was incomparably worse and they looked cheap and plain. but this organizer is just perfect, and it looks very stylish in my black toyots corolla interior!

Large size, plenty of pockets to fit everything you need for a road trip for a family of 3. Excellent quality materials and workmanship. Can be folded and stored in the trunk, when folded is very compact.

I can only share other admiring comments!! This one is really versatile, neatly made and super handy car organizer! Has metal hardware, not plastic! The inner divider and lid are removable if needed. Everything is thought out to the smallest detail!! Thank you!

A truly versatile organizer! Foldable, portable, has many useful pockets! Inside, there is insulated compartment with Velcro divider, ideal for summer trips to store water. The top can be used separately as a table, for example, if your child eats or draws on their knees.

PERFECT FAMILY ORGANIZER! I definitely recommend this, I haven't found a better organizer for my children! This is a storage box, cup holders, and a table for eating and playing ALL in one! 5 STARS!

Durable and well-designed car organizer ! It holds an incredible amount of stuff and the cup holders work great . There's also a carrying strap so you can take it when camping or to the hotel when you're traveling . Well made product at a reasonable price.

this handy organizer keeps everything my twins need on the go - and I mean EVERYTHING... all the toys, coloring books and gadgets! it has a lot of pockets and especially cool that it has pockets for drinks. my kids are much more comfortable using them than reaching for the front cupholders

Great product. Easy to use and wash. Has solid inserts to keep its shape. Fits in the back seat between two child seats just well. Can hold a lot of items thanks to its large size and plenty of pockets. Received my order quickly

It's great to have in my car when my grandson drives with me. At home, I fill this organizer with things he will need and use the carrying handle to bring it to my car. He can easily get his toys, etc. along with his drinks. Thank you!

I have a car that doesn't have a lot of cup holders or storage space and this works for me. I have a child and I like to keep her toys in one place. definitely a good size and you can place it anywhere

Quite large and fits well between two child seats. My kids are pack rats and they need 5000 things in the car... With this organizer, everything stored in one place and always at hand :)

Decided to buy this and put it in the middle of my bmw x5 backseat as no one ever sits there anyway. I'm happy to say it was a great purchase! I definitely recommend this organizer!

Lots of storage space! Foldable and portable. Keeps things organized and within reach. We use it on the road and for trips to the beach.

Super organizer!! Large and with many pockets for toys, snacks, books, etc. Shipped in 3 days in secure packaging box. Thank you very much

Perfect organizer, nice and big!! And most importantly, my kids love it. Each one uses its own side to store toys and necessary things on the road. The organizer is worth the money!! Thank you!

All as described. Large, durable, convenient for multipurpose use. But in my opinion it would be better without the front cup holders.

It turned out to be the perfect organizer for our family minivan! The quality is top notch! Discovered a new favorite brand of car accessories, thank you for a great product!

Really high-quality and multiuse organizer! Suitable for the back seat and front seat, for trunk and for picnics! Great gift option too 👏

this is the rare case when the reviews are completely true :) this car organizer is really awesome in terms of quality, functionality and design. definitely recommend

good gift option for family. I ordered this organizer for my brother's Kia Soul, he and his wife both love it.got my order quickly plus the packaging was very beautiful-brand paper and box

Quality at the highest level.A bit pricey ,but totally worth the money .

cool box organizer ordered for a gift to my wife she loves it

we use this organizer for picnics in our family of 5, the best replacement for backpacks and bags!!!!

Amazing car storage box! It was too big for my husband's car, but fit my sedan perfectly. Thank you!

Super cute and big-sized organizer!! Glad I got one for my suv 👍

the box it came in was a bit damaged :(

super cute family organizer thanks got my order quickly

Great car organizer!Perfect for a gift!

Good organizer but the price is too high