Description
Glide through tangles and knots without any pain
Ouch! Bristles got your hair again? Stop the pulling and tugging -- and just throw the whole brush away. It's time to upgrade to something better. Enter the solution you've been praying for: our Magic Detangling Brush, specifically designed for ethnic hair that doesn't do well with just any ordinary brush.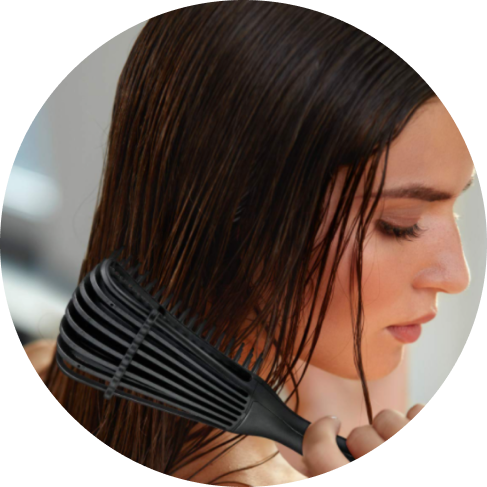 Built to loosen and relax unruly hair
The secret's in our ultra-flexible bristles that are made of nylon. The round shape of each bristle works to detangle and work out kinks without painful tears and tugs. Plus, a layer on the brush for height adjustment allows you to customize firmness of the bristles for a personalized-for-you solution.
Curved design, ergonomic hold
Made of premium quality braided, which makes it more durable and sturdier than normal cables but also flexible tangle free, withstand a variety of everyday connection needs and long-term use.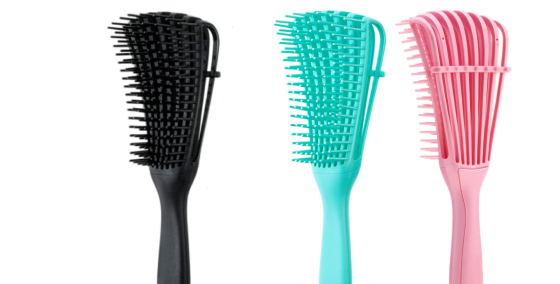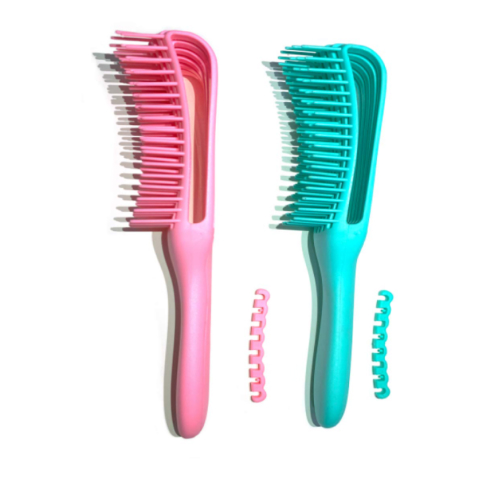 Detangle + massage
Our expert-crafted bristles not only get rid of tangles, but also massage your scalp at the same time for boosted blood circulation and a relaxed hair brushing session (no tears or yelps of pain here).
Three expressive shades of comfort
Choose from mint green, pink, and black.
How much does shipping cost?
We are glad to bring our customers great value and service. That's why we provide fast shipping from our Fulfillment Center in California by UPS and USPS.
What countries are you delivering to?
As of now, we're delivering to the United States only.
How can I track my parcel?
Once your parcel has left our Fulfillment Center, you will receive an email with a tracking number to monitor your parcel movements.
Can you ship my order to a business address?
Yes, you can write your business address in your order details if it's more convenient to you.
Can you ship my order to a PO Box address?
Yes, you can select delivery to a PO Box if it's more convenient to you.
Can you ship my order to APO or FPO military addresses?
Yes, we ship anywhere in the United States, and to all US territories and military APO/FPO addresses.
What happens to my parcel if it is delivered while I'm not there?
Depending on the destination and the package size, your parcel will be left in your mailbox or on your porch, or it may be left with a neighbour.
Payment & Security
Your payment information is processed securely. We do not store credit card details nor have access to your credit card information.
Reviews
Our reviews are verified for authenticity
Quality is satisfying. I recommend.

I have curly hair and I also experience a ton of fallout when I brush it. I've tried so many different brushes and they all rip out more of my hair than I'm comfortable with. Like I would pull out a handful of hair from my brush. Decided to give this one a try and it's the best one I've had. Still fallout but the expected, normal amount.

Thank you soo much!! Quality really good! I'll give this store 5 stars.

It smelled like plastic after I got it, so I used a bit of perfume. It's also a fun way to add some fragrance to the hair. Detangling is okay, but the smell was annoying.

This detangling brush is GOD sent. I literally detangled my 4c hair in 10 min. I took down my bun, sprayed my hair with some instant moisture, stretched my hair and brushed through the majority of all of dead hair without any major pulling or tiring efforts to detangle. After shampooing and conditioning, I detangled with conditioner and this brush raked thru my hair like butter. I also used this on my clients hair, same results and cut down on detaingling time. Awesome products guys.🙌🏿

Glad I could find a proper detangling brush online, recommend

I love these detangling combs. They make the process much easier because the flexible rows of bristles apply tension but loosen if it gets caught. The typical brush only loosens bristle by bristle. You can adjust how much tension by only using the end of the brush or more tension if you brush close to the handle These rows of bristles can also be locked in they the included brace. There are two "settings" to place the brace so you can choose how you want for the amount of curl in the hair. The brush material is a flexible plastic and non-porous, not silicone or rubber. So it can be disinfected through immersion. Overall, this is a good comb for personal or professional use on not just curls, but all hair types to avoid developing traction issues with combing wet hair.

I LOVE THIS BRUSH!! My daughter and I have 4c hair. After washing and condition our hair I use the brush to detangle her hair..what normally take 15 to 20 minutes..it only took me 7 to 10 min ! This is a winner for me.

I purchased one for my daughter and I. Normally, detangling can be time consuming and I dread doing it. My hair felt soft afterwards and I could rub my fingers through.

this brush is awesome, you have my 100% positive feedback

All is OK. Detangling Brush arrived in good condition.

My daughter and I have SUPER curly hair. She's 10 and learning to take care of it herself. She often doesn't get conditioner worked all the way through, resulting in a tangled mess. I ordered this 2 pack so she'd have one brush in the shower (to brush the conditioner through) and one for when she got out so I could make sure she got all the tangles out. We used it last night and it worked PERFECT! I love he fact that it's plastic so I can clean it easily and that it's curved. Highly recommend!!!

Everything is alright. Thank you

It was easy to use on my 3year old daughter's curly hair it didn't take as long as usual.

It really works :) wouldn't use for the wet hair though, if it's thin as mine.

Looks exactly as in pictures.

it looks exactly like the picture and i know for sure my best friend will love it!

using for 2 weeks already. no flaws noted

i'm truly happy to find such a low priced magic brush available online

I definitely recommend for my naturally curly hair women. This helps not only in the shower with detangling but it helps after you put the product in your hair. The brush is so flexible , it glides right through. I have thick curly hair and it works for my texture. It comes in a pack of two for a great price!

Got these brushes and some other one and this definitely works on myself and my daughter's tender heads. Use one in the shower. So easy to clean. I actually untangled my hair quickly too. Split it into 2 sections and was done in about 7 mins. It's great! Definitely recommend. We will holler if we feel any pulling. It's always a struggle finding a good brush for us. I tried the crave naturals one but I guess our hair is too think cause it barely goes through and very hard to get a good grip on that brush, especially with product.

Excellent work, really helps with frizziness

really happy with the magic brush, recommend this store!

This product is terrific! I am never able to completely detangle my daughter's super curly textured hair because it always ends in a crying battle. But with this brush, for the first time in her 8 years, I was able to detangle her hair within 20 minutes without the fuss! The clip that comes with it to stabilize the brush bristles pops off a lot so my 8 year old gave me the idea to put the hair bow around it and it worked perfectly!

I wrote an extremely long review that got deleted before I could post it but to sum it up the brush looks exactly as pictured and works amazing when used correctly. You HAVE to start detangling VERTICALLY at your ends and work your way up then follow up horizontally. This is a must especially if you have extremely thick and curly hair like I do. I got those instructions from another post with the original brush and they really do make a difference. You will love seeing and feeling the brush flex through your hair. This is the first wash day in a long time that I did not have to separate my usual 4 detangling sections into smaller ones to reduce breakage. There was way less shedding and breakage than normal which shocked me and I am very pleased to say detangling took less than HALF my normal time. To give you a picture, I have EXTREMELY thick and tightly curled 4b/4c/3c hair that generally takes well over 1 hr-1.5hrs to detangle not including styling. I used one brush with the attachment at the top for fear of ripping my hair out without it. I will try the other brush with the attachment at the middle of the brush and see if there is a difference. Over all I am very pleased with the purchase and will be referring other people to buy these brushes. For some reason I cannot upload pictures or videos right now but I will check back later.

i really liked this brush, it's better than i hoped

made a nice deal ordering this brush, can totally recommend

Perfect quality for reasonable price! Good deal! Thank you store!

I am blown away by how this brush actually works! I usually spend so much time detangling my hair and as a result, am left with bundles and bundles of hair everywhere- and that's with a wide tooth comb. Used this brush for the first time today, night and day! Would definitely recommend for those with black natural curly hair.

Can't remember where else I was able to buy a professional brush for such price

I am biracial and omg this is the perfect comb/brush. I always broke regular combs even the wide tooth combs. I have really thick hair and it gets tangled. This is definitely the go to brush. I will use this type of brush forever.