Description
Your all-in-one gardening wonder
Forget lugging around a toolbox of different shears and scissors with our multifaceted Professional Grafting Tool. Crafted with #65 high carbon steel double-edged shear blades, sturdy ABS plastic handles, and three different incision grafting blades, you have everything you need to prune, graft, and cut right in your hands.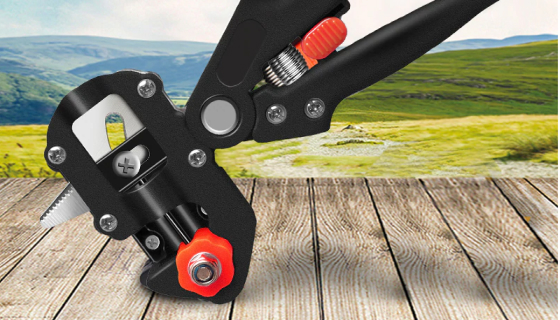 Cut with precision
Our tool's graft-cutting blades cut fruit branches with diameters from 5mm/0.19in to 12mm/0.47in, allowing for precise cutting for improved plant survival. Our blades come in Ω-Cut, U-Cut, and V-Cut to tackle any branch or cut.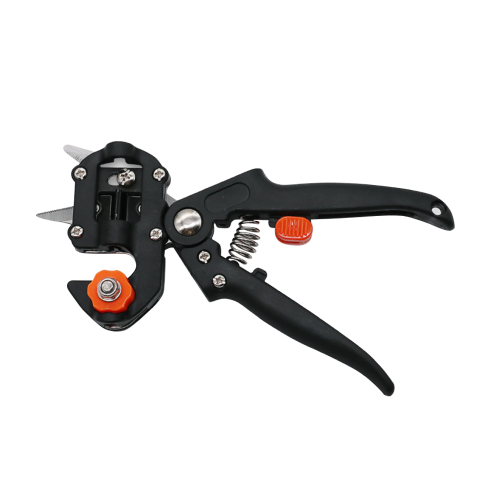 Bonus tools with case
If you order your tool with the case, you score an extra screwdriver and a wrench. More help on-hand, more convenience for you.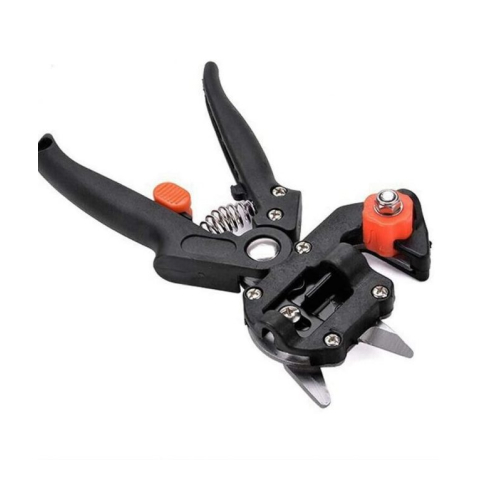 This tool can do it all
Tend to your plants with case
A great gift for all
Dad, mom, coworker or neighbor -- as long as they have a greenthumb, they'll love this amazing do-it-all grafting tool.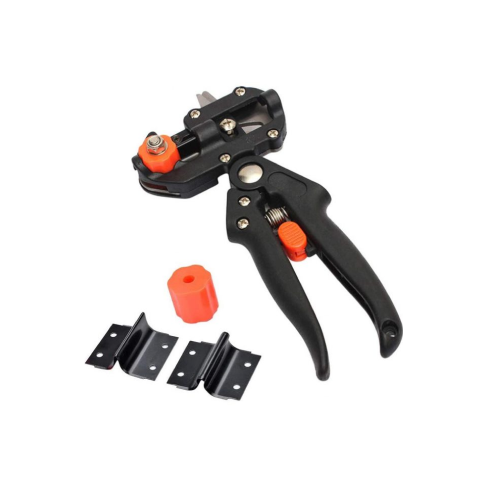 Payment & Security
Payment methods
Your payment information is processed securely. We do not store credit card details nor have access to your credit card information.
---
Security
How much does shipping cost?
We are glad to bring our customers great value and service. That's why we provide fast shipping from our Fulfillment Center in California by UPS and USPS.
What countries are you delivering to?
As of now, we're delivering to the United States only.
How can I track my parcel?
Once your parcel has left our Fulfillment Center, you will receive an email with a tracking number to monitor your parcel movements.
Can you ship my order to a business address?
Yes, you can write your business address in your order details if it's more convenient to you.
Can you ship my order to a PO Box address?
Yes, you can select delivery to a PO Box if it's more convenient to you.
Can you ship my order to APO or FPO military addresses?
Yes, we ship anywhere in the United States, and to all US territories and military APO/FPO addresses.
What happens to my parcel if it is delivered while I'm not there?
Depending on the destination and the package size, your parcel will be left in your mailbox or on your porch, or it may be left with a neighbour.
How to search for products?
Simply type the product name in the Search Bar at the top of any page. Try to enter a general description. The more words you use, the less products you will get on the results page. When you find a product you're interested in, simply click on its name or image for more details.
Do I need to create an account to place an order?
It's not a must: you can place your order even if you don't have an account or aren't logged in..
How do I place an order?
On the product page with the item you like, select the color or other product variation (if there are any) that you like the most, and click on the Add to Cart button.
As soon as you've added everything you wanted to your cart, click on the Proceed to Checkout button.
You will see the list of items you're ordering, and will be able to remove, add, or edit anything if necessary.
Make sure your shipping details are filled in correctly, and click on the Complete Order button. Finally, select the payment method that's most convenient to you, and check out.
How do you protect my personal details when I register and check out?
We offer the highest security possible at all times to make sure the online transactions keep your personal information safe..
Following the industry standards, we use the Secure Sockets Layer (SSL) technology to encrypt the information you share with us such as your name, address, and payment details..
Can I buy your items and send them to someone as a gift?
Yes! Simply use this person's address as the shipping address when you place an order. There will be no price tags on or within the package!.
Can I change or cancel my order?
Yes, if your order has been paid and you need to change or cancel it, you can do this within 12 hours of placing it..
To edit your order details or cancel the purchase, simply use the Contact Us form to send us an email..
An item is missing, wrong, or damaged in my package. What should I do?
We're sorry it's happened to you! Kindly use the Contact Us form to get in touch with us and tell all the order details so that we could sort it out for you..
These grafters are working great so far! They seem to be very high quality and I love how they come with the different blades. These are by far on par if not better than some of the name brand ones out there. 10 out of 10 would definitely buy these again!

The box came in good condition which I was happy about : ) I am going to keep the box as it has printed instructions on what you need to know for whip grafting. I was using grafting knife at first but It turned out to be hard work since I had wasted quite a few woods before a successful cut. This grafting tool is working great especially for a novice at grafting. It takes only a few seconds to make a perfect cut. The important thing of whip graft is matching the diameter of your scion with the diameter of your rootstock. So basically you just visually select the right size of grafting woods beforehand and leave the cutting work to this grafting pruner.

Very nice grafting tool. The package has everything you need. I have done deveral grafts with the omega blade. One thing I just figured out that each blade has two cutting edges. You can switch the blade around to another edge if one edge wears out. So, one blade makes two!

Perfect for what I ordered it for. It makes all the difficult cuts for you. I am sure to make successful grafts with this kit. Great price as well. Comes in its own zipper case and everything is secured in a makes sense format.

Definitely a great tool to have for anyone wishing to graft. Keep in mind though that it's made for small branches. In order words, if you're thinking of cutting your fruit tree that has a fair size trunk to graft scions, then that tool is useless.

Tree and plant grafting is my new hobby and experiment. I'm getting practice before I take this on a mission trip to Nicaragua. This tool worked right out of the case without me consulting the instructions. My son and I have made a total of 12-15 grafts and we're waiting to see if they take. The tool, however, works and makes a clean cut. Note that the cut has to be reversed on the one branch so that it slips into the other (inverted V into a V). It is a great tool for grafting branches the size a little thicker than a pencil and less. Grafting onto larger branches requires a knife and different techniques. It works!

Hi, I'm a farmer. I was very happy with this product. It helps me very much in planting trees. I want to get things like that in the field of tree grafting, too.

I grafted several mango varieties on one rood-stock and so far they look good, this tool is very precious and quick.

An easy to use tool that makes clean well-fitting cuts. This should improve my grafting success. Might help to include instructions for releasing the lock which I had assumed was only a stop, but I guess I'm not as sharp as others.

Just got this tool an love it works perfectly n very sharp. I'll be doing a lot of graft this spring.

This tool makes grafting for beginners easy. So much better than using a knife that cuts so easily.

Cool tool, makes grafting "small" limbs easy. 13 more words required? What more is there to say? It works great!

I didn't use yet, but I like this tool because I 'm beginner, So it's cool when the tool knows how to do things better than you :) Update: I have used it today and I'm strongly impressed- it works just perfectly! I'd recommend to everybody, beginners and not only to them...

After an extensive series of trials with just a knife, I discovered the 'V' notch works better than most other methods for apple. But you can cut yourself repeatedly with a knife, even if the tip is dull and flat (grafter's knife). It came with two other shaped blades, including a "v" and a rounded "v" beside the "omega" and is perfect for rapid bench grafting as it has a spring open. But the extra money here seems more than worth the worry. The handle comes with a handy closing feature for storage that I haven't seen before on other 'spring open' hand tools. Would like to see that more often. The blades are made of 1-inch bandsaw blade stock, so presumably, they could be made in any machine shop and in any shape! It doesn't get any better than that! This IS the same technology used to make jigsaw puzzles, so if you have a jigsaw puzzle maker nearby the shape might be customized.

The tool works fine. I've done several grafts with it, and they look good and have live buds. I would like to be able to tell you how long the blades will remain sharp, but I don't know yet. Finally, no tool will teach you how to graft. You still have to choose a compatible host, cut the scion wood at the right time, store it in the refrigerator, select the right day for grafting, and seal the graft to prevent it from drying out.

Great product for beginners. The pruner and omega style blade perform simultaneously, so there must be little to no branches around your graft otherwise you will cut other branches with the pruner.

Easy and safer than grafting with a knife. My hand shakes quite a bit, and I was uncomfortable trying to graft some avocado trees with a sharp knife. This tool took all the risk away and left me with a clean and easy graft. It took a little while to get the hang of it and to turn the tool in the right direction to get the appropriate cut, but once you have it down, its a piece of cake.

The omega cutter works great. It's very easy to use. It would save you a lot of time. The pruner tool is also good and it's a handy plus.

I think it's the slickest gadget since the toaster and I've become somewhat spoiled - don't want to go back to using the knife.

I do like the idea behind the making of this tool. It is summer now so no grafting would be done, but I will try to update this review during the fall.

The tool is very simple and easy to use. hope my grafting will grow soon.

This is a super bargain and all in one tool. I'm going to take a course on grafting so this is going to work great for that and I will be very prepared! I appreciate the efforts of the company.

A nice set that get your tree grafting endeavor to start right. It has everything you need. I used to do the cut the branch and cion by knife but begin to use this grafting tool for safety and higher probability of having successful grafts. Once u get the matching size for branch and cion, this tool will help get a matching cut that would make the cion fits nicely. Not to mention that this will be faster too. If you are looking into grafting, this is a good set for you. If you are a more seasoned tree grafter, this would allow you to do it safer then using grafting knife, and would make your grafts healed nicely and looking good too. I mainly do grafts for cherimoya and atemoya.

Got it just in time for the grafting season. I used to cut the scions and rootstocks manually using a pocket knife, which was a lot of works and it was a hit and miss. With this tool, I can easily cut precise scions and perfect matched cut on the rootstock to graft them tightly together. This helps increase the chances that they take to each other and grow. The kit comes with complete accessories that you'd need for grafting. Awesome deal!!!

So I have not used this yet since it is winter, but I am excited about using this. My husband will be the main person using this using until he teaches me about grafting. This kit is really good because it appears to include everything you need and the cutters are really well made from what I can see from playing around with them so far. They seem pretty easy to use, and I think I would be able to learn how to do it correctly by just watching some videos online. I am really looking forward to gardening this spring and summer with this tool as it will really enhance my garden.

I'm having a good time practicing pruning and grafting a lemon tree and lime tree at my brother's house. The lemons and limes at his house don't have seeds and they have so much juice. I have been looking for a way to duplicate them on youtube and there are many ways to do it. But the highest rate to duplicate them is using the right tool to do it - per professional Youtuber recommendations. This toolset has every that needed for grafting and makes grafting a job look so easy, can't be more simple. I can either cut the branches with Ω or U or V shape. All these three work well. The shear is great for cutting small branches but not a big one. I don't measure the size when I cut. I just see if the shear can fit the branches, I cut them.

I do a lot of gardening, so I purchased this grafting tools. They are many things I need in the package and they are in the nice tool bag, very handy. It's good to have one and I am happy with my purchased.

If there's anything wrong with this tool it's that the cutter blade is a little thin and it didn't come with any instructions (Youtube took care of that) ...... other than that it's a substantial, fairly commercial-grade tool. I am pleasantly surprised at the weight and how 'hardy' it is... I was more or less expecting something 'flimsy' and hard to use but I was pleasantly surprised by its quality.

Product was exactly as described and came with everything I needed to get started.

I've been wanting one of these for a while and this seems to be the combo I'm looking for. I've used it a couple of dozen times already and I'm satisfied so far. I've not tried grafting before until now. Not sure if any of the grafts I did will be successful but this kit makes it so much easier. The other extra stuff adds value to the kit. I can't wait to see the results this year.

I used to do the cut the branch and cion by a knife but begin to use this grafting tool for safety and a higher probability of having successful grafts. Once u get the matching size for branch and cion, this tool will help get a matching cut that would make the cion fits nicely. Not to mention that this will be faster too.

Great tree grafting tool. It feels very ergonomic when used. I sent a lot of rubber bands, which helped me to better secure the two parts of the grafted trees. The blade of the tool is very sharp, which is very important for the survival rate of the grafting project. Overall, this is a great tool.

Very nice grafting tool. The package has everything you need. I have done about 40 grafts with the omega blade. One thing I just figured out that each blade has two cutting edges. You can switch the blade around to another edge if one edge wears out. So, one blade makes two!

Wish I had found this last year! What an easy to use the gadget and makes grafting so easy in less than a minute! Wow, lifesaver!

Well constructed and easy to use. The instructions are simple to follow. I would highly recommend it. The Price was really affordable.

Wonderful tool. My only criticism is that out of the box the bolts that secure the blades into the tool are extremely tight and we're difficult to loosen initially. It could be easy to damage if not done carefully. But otherwise I was able to change the blades and use the tool with good results. Comes with everything needed for a good graft. Great product.

This item was purchased for my dad and no instruction manual was included in the package. He had to resort to online to get information about it. It would be great if that can be included as well.

Got this as a gift for my stepdad, he hasn't use them yet but I gave them 3 stars because they didn't include ANY instructions on how to use them at all, which is part of the reason he hasn't use them yet.

Easy to use. Made better than expected. Not the greatest but will do the job.

I ordered the product a little late in the season so have not actually used it yet. That being said, it looks to be well made and an excellent value for the price. Looking forward to using it next spring.