Description
Super defrost up to SIX times faster
Yes, that's right. Our Quick Defrosting Tray is designed to speed up your food prep time. No more sticking a steak or chicken breast on a plate or in cold water. Let's get modern with modern kitchen solutions that make meal prep less stressful and more efficient.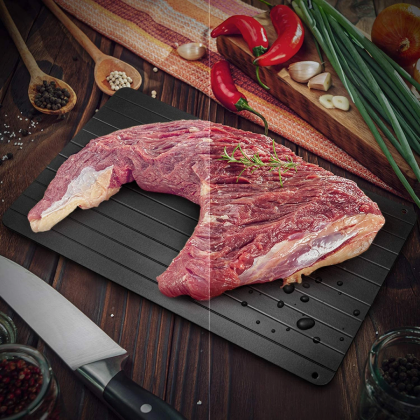 Built for ease + convenience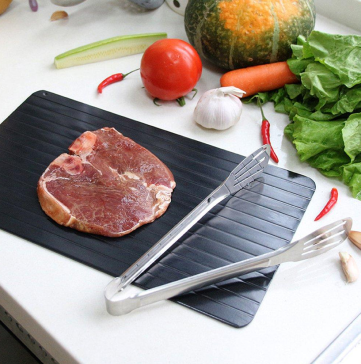 Rapid-heat exchange
Constructed from heat-conducting aluminum and thermal alloy (all with an enamel coating), this tray ensures a speedy defrost for anything you place on it.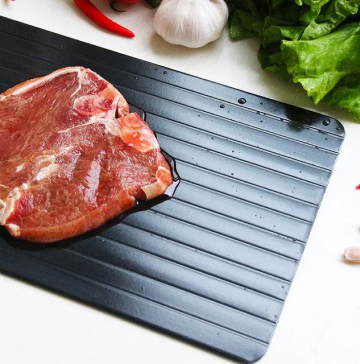 Dishwasher-safe
Done defrosting? Ready to clean up dinner? Hand-wash this tray with ease or just stick it into the dishwasher along  with all your other dishes.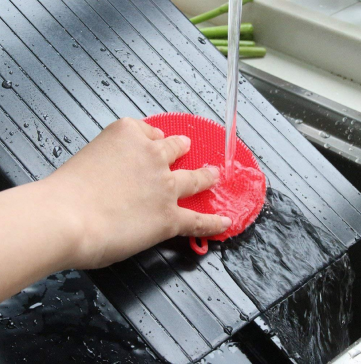 No batteries or plug-ins
Defrosting doesn't have to be tricky or techy. The magic is all built-in, so our tray is fuss-free. No learning curves: just unpack and put it to use immediately.
No more Plan B dinner
Don't panic if you've been ingredient prepping, but forgot to take the darn steak or fish out of the freezer. And put the phone down -- there's no need to call in for last-minute delivery. Dinner is NOT ruined: all you need is 20 minutes, and the Quick Defrosting Tray will bring your main course to life and in ready-to-cook condition.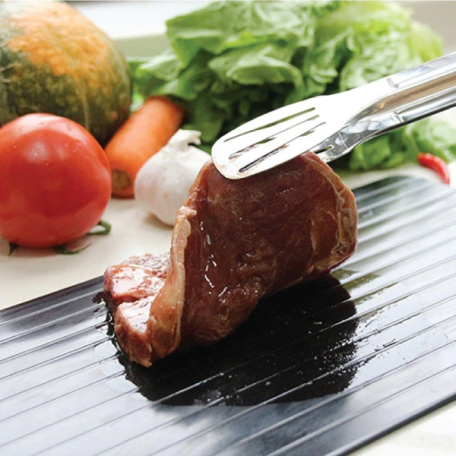 A fresher way to fresh
Some research believes that microwave defrosting can lead to bacteria formation and reduction of natural meat flavoring. Use our smart defrosting tray for an all natural solution to prepping meats and seafood.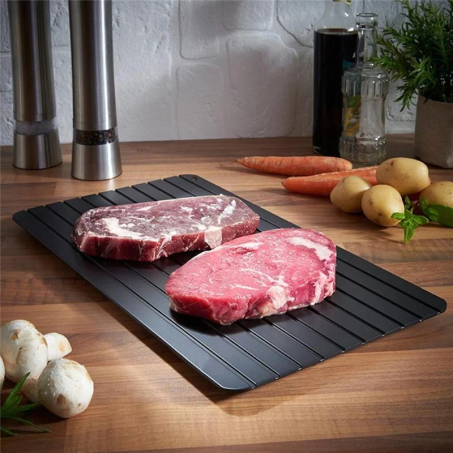 Payment & Security
Payment methods
Your payment information is processed securely. We do not store credit card details nor have access to your credit card information.
---
Security
How much does shipping cost?
We are glad to bring our customers great value and service. That's why we provide fast shipping from our Fulfillment Center in California by UPS and USPS.
What countries are you delivering to?
As of now, we're delivering to the United States only.
How can I track my parcel?
Once your parcel has left our Fulfillment Center, you will receive an email with a tracking number to monitor your parcel movements.
Can you ship my order to a business address?
Yes, you can write your business address in your order details if it's more convenient to you.
Can you ship my order to a PO Box address?
Yes, you can select delivery to a PO Box if it's more convenient to you.
Can you ship my order to APO or FPO military addresses?
Yes, we ship anywhere in the United States, and to all US territories and military APO/FPO addresses.
What happens to my parcel if it is delivered while I'm not there?
Depending on the destination and the package size, your parcel will be left in your mailbox or on your porch, or it may be left with a neighbour.
How to search for products?
Simply type the product name in the Search Bar at the top of any page. Try to enter a general description. The more words you use, the less products you will get on the results page. When you find a product you're interested in, simply click on its name or image for more details.
Do I need to create an account to place an order?
It's not a must: you can place your order even if you don't have an account or aren't logged in..
How do I place an order?
On the product page with the item you like, select the color or other product variation (if there are any) that you like the most, and click on the Add to Cart button.
As soon as you've added everything you wanted to your cart, click on the Proceed to Checkout button.
You will see the list of items you're ordering, and will be able to remove, add, or edit anything if necessary.
Make sure your shipping details are filled in correctly, and click on the Complete Order button. Finally, select the payment method that's most convenient to you, and check out.
How do you protect my personal details when I register and check out?
We offer the highest security possible at all times to make sure the online transactions keep your personal information safe..
Following the industry standards, we use the Secure Sockets Layer (SSL) technology to encrypt the information you share with us such as your name, address, and payment details..
Can I buy your items and send them to someone as a gift?
Yes! Simply use this person's address as the shipping address when you place an order. There will be no price tags on or within the package!.
Can I change or cancel my order?
Yes, if your order has been paid and you need to change or cancel it, you can do this within 12 hours of placing it..
To edit your order details or cancel the purchase, simply use the Contact Us form to send us an email..
An item is missing, wrong, or damaged in my package. What should I do?
We're sorry it's happened to you! Kindly use the Contact Us form to get in touch with us and tell all the order details so that we could sort it out for you..
It's simple to use by putting whatever you want to defrosted on the top of the tray. And the tray is large enough to put more food on it at the same time. This tray saves my time of preparing meal. Also, it's easy to clean and reuse again.

This defrosting tray actually works as described. It comes with a drip tray to keep the countertop clean when defrosting meat. I see there are some negative reviews saying does not work. I think they must compare the defrosting tray with miscrowave. This is not magic and will not instantly defrost the meat. So I am pretty happy with the this product.

My husband loves this thing! It's perfect when you have things to do before you start dinner. Defrosts and stays clean with the holder underneath. I would recommend it.

I have been really happy with this. It doesn't thaw instantly like a microwave, but it also doesn't dry out the edges and cook it like a microwave. It is lightweight and small enough to store and the nonstick surface cleans easily.

I bought this because my husband and I are really bad at making sure our meat is defrosted and ready to cook when we are ready to eat. This product works well and is easily cleaned. I am happy thinking my defrosting problems are done.

I do not know how it works BUT IT WORKS! King of magic. Thanks

I'm a super skeptic of most reviews and wonder if they are legit. But this product actually works. Just received it yesterday and today I thawed 2 fairly thick steaks in about 2hrs and 15 minutes. I flipped them every 10-15 min. Impressive. No idea yet on durability bc I just purchased it.

I am a very forgetful person so I never think about taking anything out to cook. This tray is my life saver. It defrosted faster than I expected. It was easy to wipe off and clean to be ready to use again. I will be telling everyone about this as it has been a big help to my family.

Actually works! Maybe not quite as fast as they say, but definitely helpful when I forget to pull meat out.

I always forget to defrost meat and/or have last minute company for dinner. This little gadget works great. My meat is defrosted perfectly without the microwave rubbery after taste. I highly recommend it. My only draw back is that it had a cover to put over the meat. I don't want kitchen particles or flies to get into my meat as sits on top of this gadget defrosting.

This product is great, works exactly as advertised. I didn't think it would work. I had 2 packages of hamburger I needed thawed. I placed one package on the defrosting tray and the other next to the defrosting tray on my stove. In a little over an hour the defrosting tray had it totally thawed, as if I had just brought it home from the store! No mushy meat, or still frozen in the middle. Worked fantastic, I have since used it on chicken, pork chops, all come out wonderful!

Love this! Can't tell you how many times I forget to pull out chicken for dinner and this is a life saver for those times I forget. Also perfect to defrost frozen burgers to make my teenager a quick "snack".

Defrosted a large chicken breast in under 30 minutes. Haven't tried anything bigger yet, but probably won't because I eat alone. Amazed me!

This was a big helper during holidays. It works good thawing raw foods. It seems like it's made with good quality material. It comes drip tray so there is less mess processed. So far it exceed my expectations!!

Certain things it defrosts fast, like steak and ground beef. But pork and ribs take a little longer than advertised

This kitchen gadget helps me a lot when it comes to defrost frozen meat. I am an easily forgettable person. Often forget to defrost meat for dinner before hand. This plate cut down a lot defrosting time. Great item.

It's great for defrosting something in a very short time.

I have used several defrosting trays before , BUT this tray is faster than other trays.

Worth the money! 10x faster than traditional defrosting. Highly recommend!

Works with meat, cheese, etc. Its awesome, really does cut the time in half. THANKS

Great addition to any kitchen! No more worrying about not taking the meat out of the freezer.

Great tray. There are many days that I forget to take something out of the freezer for dinner. This tray defrosts frozen items in less than 2 hours, like a whole steak

I have to say, I was skeptical buying this, but I tried it anyway. We often forget to defrost things and then have nothing to make for dinner. I have used this a few times now and it has completely, or near completely defrosted entire packs of chicken, turkey and beef in 1-1 1/2 hours. It's truly helpful if you're like us and you forget to defrost things. Super easy to hand wash and can be easily stored.

This is easily my favorite thing in my kitchen right now, I'm in love!! I'm one of those people that doesn't think about what's for dinner until 4pm, only to realize I have no meat thawed. Not a problem anymore!!!!

Works as expected. I am always forgeting to pull something out of the freezer in the morning for dinner. With this product, I can come home from work, pull a steak out of the freezer, put it on this tray, change clothes, walk the dog, and by the time I am ready to make dinner, it is thawed and ready for cooking! No mess, no stress!

I was a little skeptical buying this but I must say I am impressed. I did a trial test using an ice cube and i noticed right away that the ice is melting. Wow! This is very helpful, especially with my busy schedule as there are times that i forget to take out frozen food from the fridge.

I can't believe this actually works! Constantly rushing in the morning, I always forget to take meat out the the freezer to thaw out all day. This has changed my life.

This product really does work. I use it all the time. I no longer have to plan 2 days ahead of time. Most things out of the deep freeze only take 2 hours to thaw. I like mine so much I have already given one as a gift.

I love it and to me it seems to make thawing time quicker.

Suprisingly, it seems to work very well. We have used this defrosting tray a few times now and it definitely speeds up the defrosting process. Easy to clean too.

I'm really surprised how fast my meat defrosts. Wow !!!!

Works as advertized!This little item is GREAT! I have used it a dozen times now and each time it thaws the food quickly and throroughly. Thanks to the seller!

Absolutelly love this product! 💘 Going to buy one more again!

What a great way to defrost your food that is really frozen! I tell you its like magic, what I did was I placed plastic wrap on the board so that there wouldn't be a mess. I walked away for at least 30 mins came back to totally defrosted meat! Before having this product I would have to do any defrosting overnight because it took forever. This product is amazing and I recommend it!!!

Simple design yet promising results. It won't defrost frozen food instantly, but it sure defrosts evenly in about 30 minutes depending on what type of meat and the thickness of it. It worked much faster when I use the tong to turn it over each side for about 20 minutes. I even defrost my frozen berries on this. Using this tray to defrost is much better than using microwave or cold water to thaw any frozen stuff.

Regular burgers and turkey burgers take an hour and a half to completely thaw. I haven't used it for chicken cutlets yet, but I'm sure it's the same exact process. Love these trays! For people that don't want to leave stuff out on the counter overnight into the next day like a solid block of ice, this product is for you. You don't realize how valuable these thawing trays are until you get them.

Thaws food quickly. Rubber sides sometimes fall off when moving it. Afraid they will eventually get lost. It does thaw the meat quickly and it doesn't it grey like in the microwave.

Overall I'm pleased with the tray. It definitely speeds up counter top thawing time. I even put it in the fridge with the frozen food. I use it quite often. Defrosts chicken strips thawed on it in about 45 min. It's not instant but it helps.

Priduct performs as advertised, use it daily. Very happy and satisfied. I highly recomend it.

Lightweight and compact product that easily fits into tight cupboard spaces. I hate having to use the microwave to defrost as it does not do it evenly. With this tray, it really speeds up the defrosting process and makes the meal planning a lot easier.

Smaller than expected but it's fine. Works as described.

Definitely thaws quicker than cold water or the fridge overnight... but items need to be flat on it so as much surface of meat hits it. Not as fast as I thought but definitely good when I think of something last minute or plain forget to take out dinner.

Looks and works as advertised but I'm a bit sceptical about rubber sides, afraid they can easily fall off when moving the tray.

Love this so much I bought 3 one for my son, one for a wedding gift and one for me. Totally awesome!