Description
Liquids. Foods.Everything you need on the go.
There's an easier, less space-consuming way to transport and store your food. Introducing our super-popular Reusable Leakproof Silicone Ziplock Food Bag Set. With 12 multi-sized zip bags, you can store a variety of foods and liquids with ease. Say goodbye to bulky tupperware boxes and hello to more storage space in the fridge, ice cooler, or your lunch bag!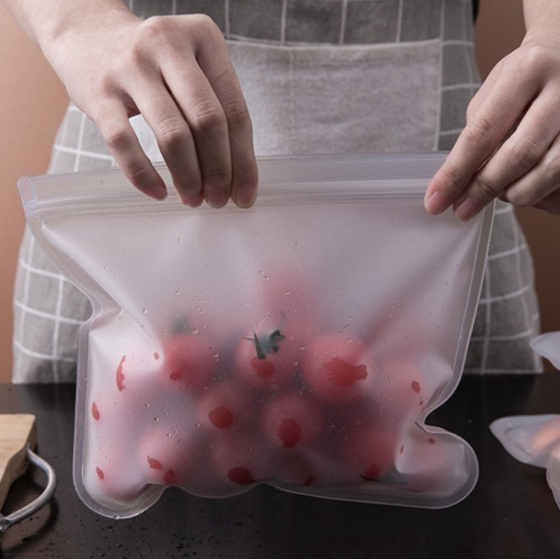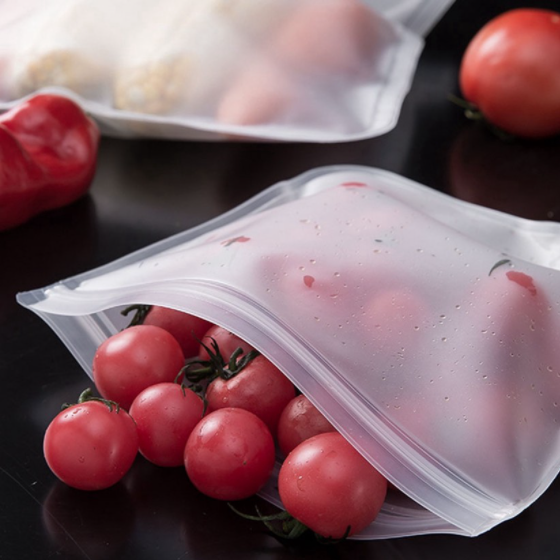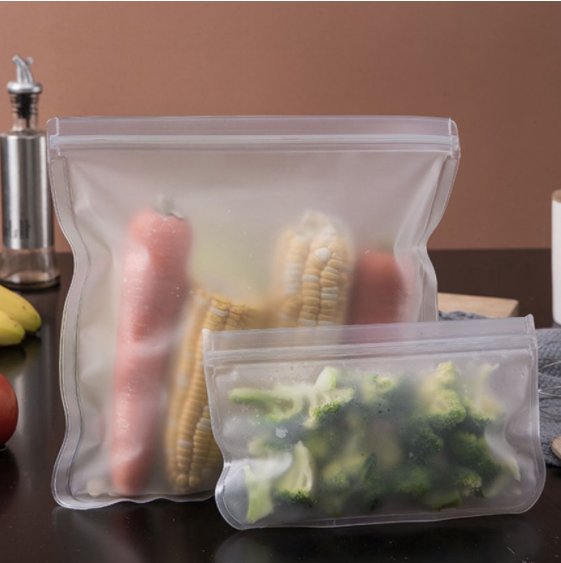 Save over 1,000 plastic bags
Each bag in this set is made from food-grade PEVA material, ensuring that it is biodegradable, BPA-free, and PVC-free. Bid adieu to traditional plastic ziplock bags for a better solution that's reusable, reducing environmental waste -- in fact, all 12 bags in this set are estimated to save up to 1,100 regular plastic ziplock bags.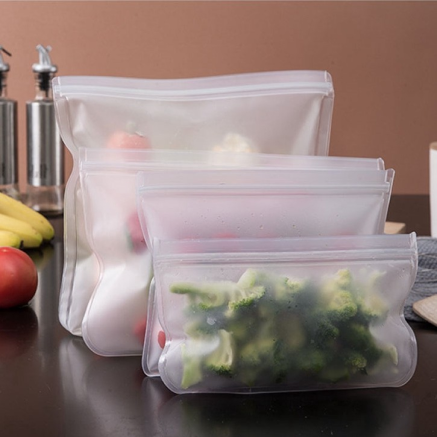 Extra security all around
No leaks here. Our silicone bags boast a double-ziplock closure for an airtight seal, making them perfect for soups or marinated meats or sauces. They are all tear-free, sturdy, and non-slip for secure handling and transporting.
Gallon-Size (11"x11"); Sandwich-Size  (8.5"x7.75");
Snack-Size Bags (8.5"x5.25").
A household must-have
Give the gift of food-storage convenience and planet consciousness with our Reusable Leakproof Silicone Ziplock Food Bag Set. Moms will love it, aunts will love it, newlyweds will love -- heck, even college students and hardcore gym-goers will love it. Simplify meal prep and leftover storage today!
How much does shipping cost?
We are glad to bring our customers great value and service. That's why we provide fast shipping from our Fulfillment Center in California by UPS and USPS.
What countries are you delivering to?
As of now, we're delivering to the United States only.
How can I track my parcel?
Once your parcel has left our Fulfillment Center, you will receive an email with a tracking number to monitor your parcel movements.
Can you ship my order to a business address?
Yes, you can write your business address in your order details if it's more convenient to you.
Can you ship my order to a PO Box address?
Yes, you can select delivery to a PO Box if it's more convenient to you.
Can you ship my order to APO or FPO military addresses?
Yes, we ship anywhere in the United States, and to all US territories and military APO/FPO addresses.
What happens to my parcel if it is delivered while I'm not there?
Depending on the destination and the package size, your parcel will be left in your mailbox or on your porch, or it may be left with a neighbour.
Payment & Security
Your payment information is processed securely. We do not store credit card details nor have access to your credit card information.
Reviews
Our reviews are verified for authenticity
love them. they are great!

arrived much earlier than expected. size, color as mentioned. really leak-proof

Exactly as expected. Works just fine for packed lunch, and also reusable.

Exactly as expected! Now I always have home-made snacks with me. Wish they were bigger.

Excellent product! Really happy with the purchase! Recommend!!

I like the product- my only complaint is it's not easy to open. No way my 8yo can open it for school snacks. I struggle as it is! I wish companies would make an easy-open tab or something.

Super fast delivered, tested with water and does not leak. Product such as description.

This is my second order of these bags, they work really well to replace ziploc bags and they get a lot of use and are very easy to clean.

Very satisfied. My order came in 2 weeks versus 3. The bags are clean, and seem durable.

good material as far as I can see. fast delivery

everything came in, some bags were great, one had a very weak lock, but overall it's okay - I just won't put anything leaky in that one.

Perfect! Just as description and pictures.

Thought I ordered 4 medium got large ones. But except for the size, nice bags.

WoW bravo store! I recommend 200% product arrived in 10 days!!!!!! Miracle! I did the test with water on the three I bought and none leaks! I love them! I wish they were bigger but it's perfect too! I will buy again for sure!

Everything is perfect. Fast shipping.

I was very happy with these bags, more than I had anticipated. They were a lot cheaper than the other bags that were wider too. Super easy to open and store content. also super easy to clean. I would recommend this product to other buyers for sure.

My order arrived very quickly. Use them all the time, all the sizes are great, can put them in fridge or freezer.

I am incredibly happy with the product. A slight smell, maybe of vinegar? But I'm sure after washing it will be gone. They are a good size, I can't wait to use them!

Product looks good, material feels nice and sturdy. I tried to fill it with water and it is 100% sealed, even when I shake it nothing comes out Surprisingly good!

Product as described. Shipping was fast. Thank you!!

Love these bags. They seal well and shipped quickly. Will be ordering more soon.

Products look really great, washed well and will use soon.

The material looks tough and seals very well, I hope they last long and don't hold smells.

Good bags. Exactly as big as the description. Beautiful solid material. Am delighted with it. Thanks!

Great! Have used and washed a few times. A bit hard to dry, also keeps the washing soap smell for a awhile, so mak sure to rinse well.

The bags are more beautiful than the old ones I purchased before. The zipper is redesigned and is much easier to open and close. The leakproof performance is excellent as always. I use them to pack sandwiches and snacks for my kids and store producers in fridge. I also find that the snack bag size is great for storing travel items. There're so many ways to use these bags, I'm glad that they have 12 pcs in one set. I know that the bags are not dishwasher safe, so I just hand wash and then put it on top of a glass to dry. I try avoid storing oily liquid or food in it, that makes the cleaning much more simple. I'm planning to buy a second set because these bags are DEFINITELY worth it.

I have bought these before for my husband's lunch and trust me they have been abused but they hold up wonderfully. I bought more because after a year my husband has managed to lose most of the ones we had but as far as performance they did great. No holes, zip close works perfect still and easy to clean I love that they fit even his big sandwich slices (pepperidge farms hearty white slices) I added a picture of an average size banana again all 3 sizes for comparison.

If you're looking to be more sustainable and less wasteful these are a great way to go. I've ordered a few from other sellers and these definitely gave me far more bang for my buck. Not only is the product well made but it came with a lovely note from the company explaining their beliefs on reducing plastic waste and thanking me for my business. It was a warm feeling to buy a product from a company that has the same hopes as I do for reducing plastic waste and to get an included message thanking me for my business as well. These also feel nicer to me than others I've ordered before and the sizes were perfect, I went with the biggest bundle they offered. The seal on the bags are definitely well made and I doubt and snacks will manage to escape these bags. I tested their ability to retain liquids as well while I was washing them just for the heck of it and boy howdy let me tell you what, when these things are closed, they are not playing around with keeping their contents contained. The only issue I had, which really isn't an issue at all was they are hard for me to open sometimes because of how good their seal is. But I have bad hands so even regular store bought bags were difficult for me sometimes. Long story short I am thoroughly satisfied with my purchase and will definitely be recommending these to some of my other eco conscious friends. 10/10 would buy again.

Would be perfect if it was heat proof. Looks stylish. Not clunky. They do have a bit of a tint so it can be hard to distinguish between similar items from far away.

I got a small little thank you card with my purchase so i just want to leave an honest review. i'm about to wash all of them so I did a leak test with a video and it help up! The price of these compared to some of the other brands is amazing. they are the SAME size as the ZipLock Gallon sized brand, but these are so much better quality, they are safer for hot foods, they're freezer and fridge safe, but most importantly they're safer for the environment for those of use who just don't want to give up out bags. the seal is so strong! I'm about to purchase the small ones now ! I'm so happy i found you guys !

We didn't even know that silicone bags existed until we read an article about them. So we bought these based on price and variety of bag sizes. Now as far as food bags go these are expensive compared to the plastic types. However, if you are reading this you are probably concerned about the amount of plastic already in the environment so there is a massive benefit to buying reusable bags. We did wash out our plastic bags but we were a little concerned with how much plastic was leeching into our food on successive uses. And too many times, even on new bags, we would notice a hole in a corner or leaking at the seams. Not so with these silicone bags. They are REALLY thick! Although we have only had them for a short time they seem like they will be very durable and we're not worried about them getting beat up in a cooler full of ice and other stuff. They have a double ziplock so they should be liquid and air tight. So far we are very pleased and we're happy to be keeping even more plastic out of our ecosystems and food systems.

I like these but I don't love them. The hand washing is a bit tedious. Plastic baggies are great because they are easy and then you toss them no fuss, this just feels less convenient. These have held up now for 6 months. I have no real complaint, guess I just don't like reusable plastic bags.