Description
Dirty paw in. Clean paw out.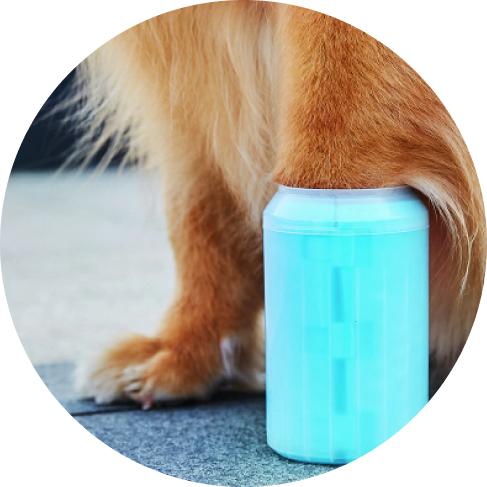 Comfort + clean in one go
Tired of your dog or cat fussing around as you try to clean his or her paws after a walk outside? Relieve your pet's stress with our Soft Pet Paw Cleaner, thanks to soft interior silicone bristles. Baby wipes and mountains of  towels not required.
Each cleaner's soft silicone bristles not only help clean, but also provide delicate pet feet with a gentle massage. Your pet will love the seconds of relaxing bliss with zero pain.
Cleaning your pet's paws is a cinch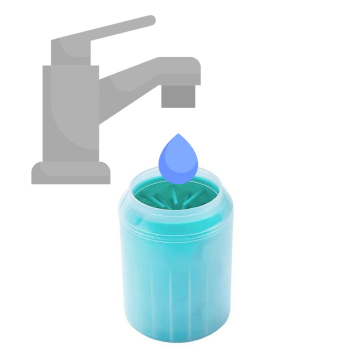 Step 1
Fill up one paw cleaner with warm water (soap can be added too if desired).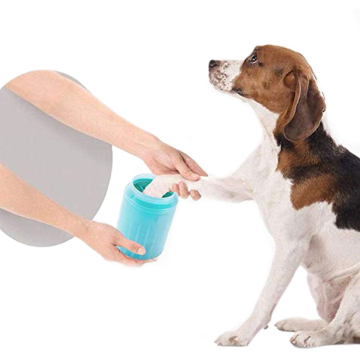 Step 2
Gently insert one of your pet's paws in and brush in an up-and-down stroke motion. Remove your pet's paw when done.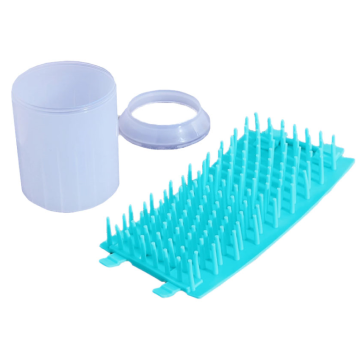 Step 3
Pour out the used water, and flip the cleaner paw inside out to clean out.
Great for dogs and cats alike
Soft silicone bristles mean cleaning that doesn't hurt or scare
It's easy to take anywhere
Great gift idea for pet owners and lovers alike
A built-in lid at the cleaner opening provides better storage and cleanliness
Clean up your pet's paws in seconds while providing a gentle bristle massage
A clean pet is a healthy pet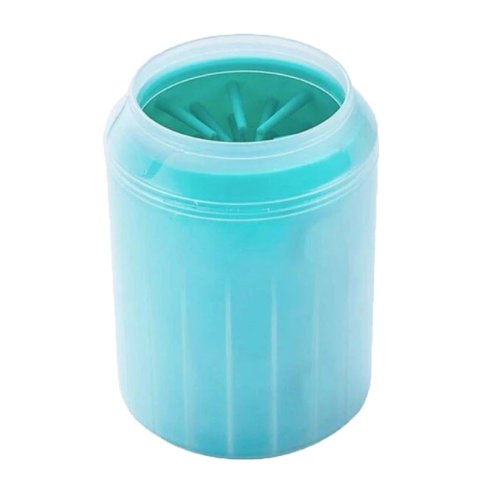 Built to fit
Each paw cleaner measures 6.3 x 8.2 x 11.2 cm / 2.5 x 3.2 x 4.4 inch. The small size ensures portability and an easy fit for your dog's paws.
Payment & Security
Payment methods
Your payment information is processed securely. We do not store credit card details nor have access to your credit card information.
---
Security
How much does shipping cost?
We are glad to bring our customers great value and service. That's why we provide fast shipping from our Fulfillment Center in California by UPS and USPS.
What countries are you delivering to?
As of now, we're delivering to the United States only.
How can I track my parcel?
Once your parcel has left our Fulfillment Center, you will receive an email with a tracking number to monitor your parcel movements.
Can you ship my order to a business address?
Yes, you can write your business address in your order details if it's more convenient to you.
Can you ship my order to a PO Box address?
Yes, you can select delivery to a PO Box if it's more convenient to you.
Can you ship my order to APO or FPO military addresses?
Yes, we ship anywhere in the United States, and to all US territories and military APO/FPO addresses.
What happens to my parcel if it is delivered while I'm not there?
Depending on the destination and the package size, your parcel will be left in your mailbox or on your porch, or it may be left with a neighbour.
How to search for products?
Simply type the product name in the Search Bar at the top of any page. Try to enter a general description. The more words you use, the less products you will get on the results page. When you find a product you're interested in, simply click on its name or image for more details.
Do I need to create an account to place an order?
It's not a must: you can place your order even if you don't have an account or aren't logged in..
How do I place an order?
On the product page with the item you like, select the color or other product variation (if there are any) that you like the most, and click on the Add to Cart button.
As soon as you've added everything you wanted to your cart, click on the Proceed to Checkout button.
You will see the list of items you're ordering, and will be able to remove, add, or edit anything if necessary.
Make sure your shipping details are filled in correctly, and click on the Complete Order button. Finally, select the payment method that's most convenient to you, and check out.
How do you protect my personal details when I register and check out?
We offer the highest security possible at all times to make sure the online transactions keep your personal information safe..
Following the industry standards, we use the Secure Sockets Layer (SSL) technology to encrypt the information you share with us such as your name, address, and payment details..
Can I buy your items and send them to someone as a gift?
Yes! Simply use this person's address as the shipping address when you place an order. There will be no price tags on or within the package!.
Can I change or cancel my order?
Yes, if your order has been paid and you need to change or cancel it, you can do this within 12 hours of placing it..
To edit your order details or cancel the purchase, simply use the Contact Us form to send us an email..
An item is missing, wrong, or damaged in my package. What should I do?
We're sorry it's happened to you! Kindly use the Contact Us form to get in touch with us and tell all the order details so that we could sort it out for you..
Great tool clean well paws without stressing the animal. Size was great for a medium sized dog with 25 kg. THE product material and workmanship is great.

With all the rain we wanted an alternative to wiping the mud off our dogs paws with towels. This cleans the the mud off each paw first, then you just dry them with the towel. Works GREAT!

The product is good, fully corresponds to the description. There is no specific smell. Rubber is soft enough, plastic is durable. I would like the bigger option, like maybe twice bigger would be just right 🙂 for bulmastiff is small 🙁

Paws cleaner is of a cool quality

I have big dogs who just run through the mud, and it gets all in their paws. This has helped tremendously to clean their paws so they can come inside. You just place water in it and then put the paw in and bring it back out. The soft bristles do not hurt the dogs. A great buy!!

We have an 80 lb German Shepherd and a 50 lb hound mix. They come in filthy! Our back yard is mostly dirt from them digging so when it rains their paws are so gross. This paw cleaner is easy to use and clean and does a great job on their dirty paws.

I had a previous version of the paw cleaner. This one is much better- I think because of the way the brushes are placed inside. I have two big dogs- golden retriever and Labrador retriever and they love to run outside. The golden is a digger so her paws are often filthy. The cleaner really helps get the mud out much better than just using a towel and warm water.

Overall, the product works as shown. It is easy to clean and use. It isn't quite as portable as I wanted because of the size, but once we pack all of her toys up to play adding this doesn't seem to make a big difference. It's great to use before coming in the house or getting in the truck cab on a rainy day.

thank you! quality is good! I like it!

This has been a godsend. If it rains even a little, mud will get all impacted in my dog's paws/pads. It drives me crazy. I was staining towels always trying to wipe all the mud off. This is so easy and makes cleaning her feet a breeze. I just dunk each foot a few times and twist a little, dry them off, and voila! I dump, rinse, and refill after each use. It's amazing! No more muddy floors and towels.

This is really handy. My dogs like to run around and play in the dirt, and they always come in with mud caked in their paws. This actually works fairly well to remove it. They got used to it pretty quick. The key for them was to do it without water first and get them used to the idea and give them treats. Everybody loves treats.

This is a GREAT product! I got the large to fit my 2 Great Pyrenees mixes large paws, and it couldn't have arrived at a better time. After a fire on our property burned an area that the dogs regularly go, they came to the door with blackened paws from the soot. Since it is so cold, I didn't want to use the hose to wash their paws. Enter the Dog Paw Cleaner! Filled with warm water, it was easy to dunk their paws in to clean off the soot, The soft silicone bristles scrubbed their pads and in between their toes for a thorough clean. The included towel was a bonus addition to dry their paws before coming inside. Easy to use and even easier to clean up!

My chihuahua reluctantly agreed to let my grandson clean his paws with this paw cleaner. It consists of a sturdy plastic cup with soft, silicone fingerlets inside for cleaning. Just fill the cup about 3/4 full with warm soapy water and put the dog's paw in a few times. The paw comes clean in a jiffy. Repeat on the other 3 paws. It can be used on a little or a big dog. It's portable so it's good to take camping, to the park, or to use at home.

OMG. Does your dog have taco toes? Not anymore with this. Easy, so stupid easy to use. The hardest part of it all was just keeping my dog still. He really didn't mind it once he was used to it. Clean-up of it was also easy. I had NO CLUE how dirty his feet were. The water was disgusting. YOU NEED THIS

This dog paw cleaner is a must have for dog owners. I have a chihuahua and a pit bull and we live in Colorado which has some extreme weather changes. Our backyard is like a mud pit after snow or even a little rain. That being said I am a super clean freak and I like my floors clean. We have 3 children and one is crawling everywhere. I want to make sure my floors are clean so I don't have to worry so much about her putting her hands in her mouth because she is also a thumb sucker. This makes getting the dogs outside and back in super easy with no mess or fuss. My parents were visiting from New Hampshire and they loved the dog paw cleaner. They usually take their camper up and down the west coast and to many beach camp grounds with their Labrador. They brought up a great point about using it dry with no water to just get off beach sand. I have tried that with dry dirt on the paws with my dogs and it works great that way as well. Honestly I am so IMPRESSED! Plus, the shower or dog bath brush is nice because it's flexible and scrubs good without hurting the skin or being to abrasive. Best part of the whole device it is washable you can put it in the dishwasher or it's super easy to hand wash. My suggestion fill it with clean warm water in the morning and have a clean dry towel like the one included by you door and your good to go. Stick the paw in up and down a few times and pat dry…..THAT EASY! The lid pops off to clean and replace water. (Side note: my older Pit Bull has a growth on her paw and the silicone bristles are gentle enough that we can use it on her paw without any discomfort for her) Pros: -easy to clean and disassemble -works for small and large dogs -keeps your house and floors clean of outside mess -works with dry and wet sand and dirt -scrub brush is flexible for easy thorough cleans -bristles are gentle yet effective Cons: -I don't have any! If it helps keep your house clean and makes your life easier I give it 10-STARS

So I'm returning from a short drizzly walk with my pups and noticed the delivery gods paid me a visit. Pretty nice living in a big city close to the post office. It was perfect timing because I just washed my sheets and the boys needed a foot cleaning. I opened the box, took out the tool, and put water in it. 1 minute later, I have my pit bull's feet all nice and washed. I love it already. It has a wide mouth so that even my pit's big paws fit with no problem. Both of my dogs didn't seem to mind it be I will admit that's it's a lot easier than just using a wet towel. It really gets a lot off and I can see it being great with soap for those extra dirty moments. Perfect device that does exactly what you need it to do bad for a great price.

Best. Thing. Ever. This product works like a charm. It gets the sand from between their pads, and is gentle enough that even my most stubborn pup tolerates it! I have a terrier/schnauzer that likes to dig, a mini golden doodle that is prissy about her paws and a standard labradoodle puppy that is still very fuzzy. We have a farm where it is extremely sandy and we stay in a travel trailer. The amount of sand they were tracking in to the camper was driving me CRAZY. It takes me three minutes to clean and dry off all of their paws. Seriously the best purchase I have made!

great cleaner, top service!

Not only is it easy to fill and wash out, it actually works and gets off the mud that my four cats bring to the house from our garden.

Good quality, fast delivery, recommend!

Love it! Great for a lab mix or any fur baby with swimming paws lol

Wow. We just used it past weekend on 8 paws and it made quick work. The dogs don't mind it at all.

It takes a little getting used to, but definitely cleans better than just a towel, especially on caked on muddy paws!

If your dog has a large size and large paws, it may not be suitable. This is suitable for small dogs and medium-sized dogs

I fill it about half way with water, insert the dogs paw and "scrub". We are done in about a minute and the cleaner turned out to be the perfect size for us.

We have a cocker too and it works great!

very good cleaner, simple and useful.

Convenient, cleans paws well. For the Corgi Cardigan is fine.

It does the job well. Even works on toddlers lol

The product is easy to use you just need put water in it and the only thing you need is a towel to dry the paws after cleaning.

This was a great product! I have a Great Dane and a Beagle at home. I haven't tried it on the dane yet but it worked great on our beagle (who gets the dirtiest anyways).

There is no lid. I like to carry as little as possible and was not planning to carry extra bottle of water every time we're going to the beach.

It can get a bit messy cleaning the rear paws if the dog doesn't want to stand up, but otherwise the cleaner is super useful.

Works surprisingly well for how simple it is. Just take it apart and throw it in the dishwasher

Overall does the job if u can get dog to cooperate