Description
Get the scoop on what's lurking behind
For better eyes on safety
Like an extra pair of eyes, our Stick-On Concave Blindspot Mirror helps keep an eye out on oncoming cars or motorists, so you can make lane changes and turns with certainty.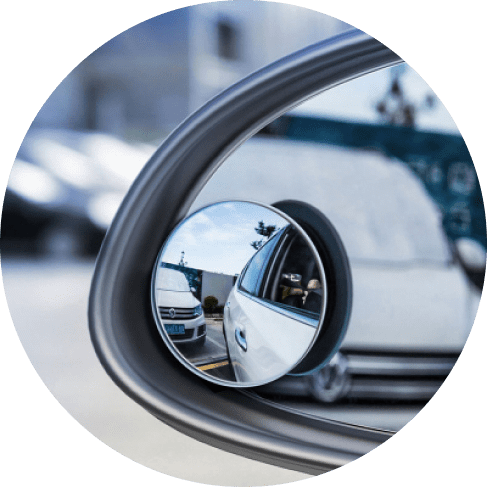 Be sure when you're unsure
One look into our mirror, and you'll know
Small but powerful
With 2" in diameter, our mirror is not obstructive to your normal side-mirror view, but gives a helpful view into what would usually be in your blind spot.
Works for anyone
This Stick-On Concave Blindspot Mirror installs to any side mirror, whether you have a sedan, truck, convertible, or even motorcycle.
Safer driving for anyone
While many modern cars have blind-spot monitoring (optional or standard), not everyone has the latest technology or car. That's why this mirror is still a great accessory for those wanting total peace of mind.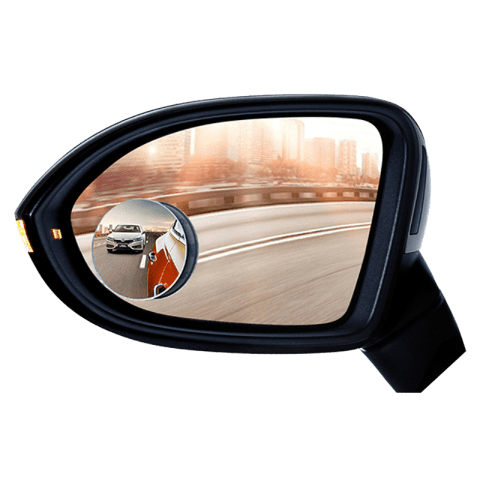 Make moves like a pro
From lane changes to backing up in tight spaces, utilize this wide-view mirror to your advantage for safer driving and maneuvering.
How much does shipping cost?
We are glad to bring our customers great value and service. That's why we provide fast shipping from our Fulfillment Center in California by UPS and USPS.
What countries are you delivering to?
As of now, we're delivering to the United States only.
How can I track my parcel?
Once your parcel has left our Fulfillment Center, you will receive an email with a tracking number to monitor your parcel movements.
Can you ship my order to a business address?
Yes, you can write your business address in your order details if it's more convenient to you.
Can you ship my order to a PO Box address?
Yes, you can select delivery to a PO Box if it's more convenient to you.
Can you ship my order to APO or FPO military addresses?
Yes, we ship anywhere in the United States, and to all US territories and military APO/FPO addresses.
What happens to my parcel if it is delivered while I'm not there?
Depending on the destination and the package size, your parcel will be left in your mailbox or on your porch, or it may be left with a neighbour.
Payment & Security
Your payment information is processed securely. We do not store credit card details nor have access to your credit card information.
Reviews
Our reviews are verified for authenticity
My car stays under the sun during the entire day (I have an uncovered parking lot) for the whole week, the entire month. I work from home, and mostly only move the car at nights. Sometimes during the weekend, but again, the places I visit do not have covered parking lots. I must add that I live in the Caribbean: temperatures get extremely hot here. Even under that extreme condition, these attachments have not broken, and are in really good condition yet. That's amazing. I take the most out of them while parking in reverse as you can be completely aware of your surroundings and it allows me to do precise calculations while entering a parking lot (including being able to see rear tires). Also when turning in narrow turns, and during traffic jamming in my country, where other cars get as close to yours as you could possibly imagine. I totally recommend these attachments.

These l mirrors are the easiest to set for blind spot viewing & accuracy I've ever owned. That said, one fell off within two weeks, so I ordered another one. No adhesion issues this time. These mirrors do have one glaring fault IMO. They are in need of a frame around them so that every time you go through a car wash or otherwise remove moisture from your mirrors, you don't have to readjust them. Without some sort of protective ring around them, they are moved by the slightest touch.

My new-used 2004 van did not have blind spot mirrors. My previous 2004 van had them installed after-market. I search for a long time to find a mirror this small (so it does not take up too much regular mirror) and no wide aluminum frame. I just wanted a mirror, not a chunk of aluminum. I'd recommend these for any older vehicle. BTW, a friend at work has one of these on his computer screen so that when somebody approaches his work cubicle he sees them before they introduce themselves.

This is one of the most worthy purchases I have ever made. It works perfectly as a "rearview mirror" while sitting at my desk at work not doing what I should be doing. If your boss or coworkers have a habit of ninja-ing behind you when you're trying to shop online, google bears doing cool shi*, or looking at houses etc. You should invest in this so you can be ready to pull up a spreadsheet and make it look like you are really dedicated to work 😜😄

These are great to add to your side view mirror if your car does not come with them. I use them all the time while driving. Easy to install, just have someone line it up for you while you are in the driver seat before sticking them on permanently. Has not fallen off, even when going through a drive through car wash many times since I have bought them. They will pivot when going through the car wash, but it is easy to pivot back to the right position.

I have a Dodge Magnum with a horrible blind spot. Ordered this hoping for a little more vision on the driver's side. The mirror was very easy to install, just follow the instructions. The adhesive in VERY strong, so make sure the mirror is exactly where you want it before you stick it on. A bonus I wasn't expecting was that the mirror is adjustable. I'm super happy with this.

The size is nice, adequate for the average passenger vehicle. I drive an SUV and while I have great visibility out my windows, I wanted the extra perk of having blind spot mirrors. I don't get very much use out of them while driving around. They're great parking mirrors for backing into tight spots or reversing around obstacles.

I actually got this mirror to affix to my monitor at work since I hate not knowing what's going on behind me. It's a good size for the corner of my monitor and the wide angle gives me a perfect view of what's going on behind me in all directions. Maybe not its intended use but it's good for what I need it for.

I purchased this one because there is no bezel that takes up space when the rear view mirror is already so small and you'll need whatever space you can get. The angle is also adjustable. Of all the ones I've purchased, this seemed to fit and look the best.

These blind spot mirrors are super helpful with parallel parking, blindspots and seeing if you are in between the lines of the space you parked in. Love them