Description
Keep your dog entertained
There's only so much you can do by throwing a ball back and forth, right? When fetch gets boring, it's time to change it up. Our Tug-of-Floor Dog Toy is an item that allows the dog to play with him or herself, other dogs, or you.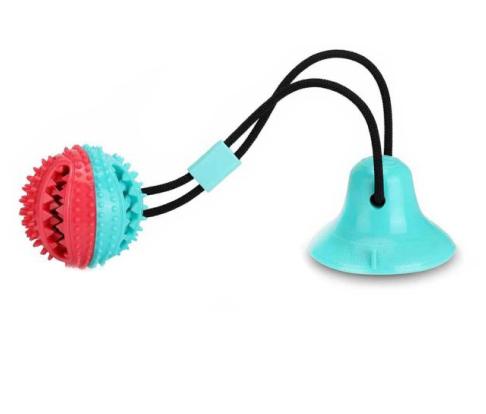 Just suction and let the fun happen
With our tug-of-floor toy, all you need to do is stick the suction cup to a solid, smooth surface to lock it down. The stringed spiky ball will then be free for your dog to chew and pull on for hours of enjoyment. If you have more than one dog, you can watch your pooches fight over the toy, or if it's just you and your dog, you can remove the suction cup and hold that end in your hand while your pooch tugs and bites away at the serrated ball.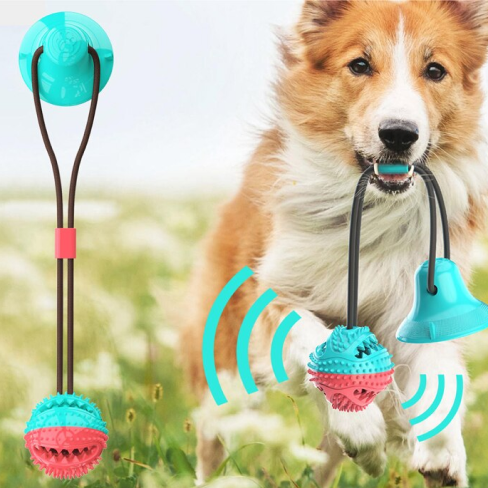 Designed for surprises
With a spiky surface for your dog to gnaw and slobber on, the ball of this toy is irresistible -- and you can take the fun factor to an even higher level by filling it with dog food or a snack. Watch in delight as your dog exercises his or her teeth and mouth biting away to release the niblets. Our ball and suction cup are both made of non-toxic rubber that is safe for your dog to chew on and bite, while the string is made of thick cotton-fiber rope that won't come apart with chewing.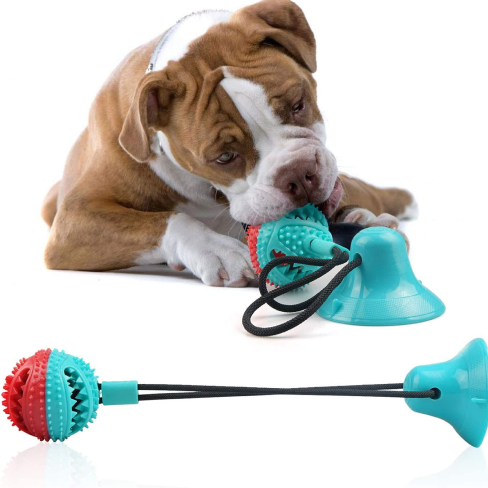 A multifunctional wonder that lets your dog: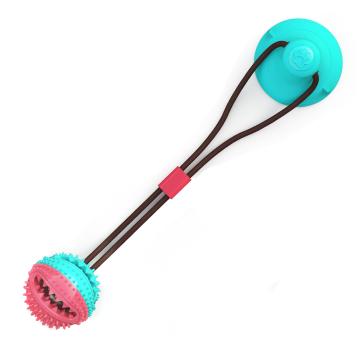 Sized + made for fun
When fully pulled out, our Tug-of-Floor Dog Toy measures 18.1 inches in length: the ball measures 3.1 inches in diameter and the suction plug measures 3.7 inches. The ball is serrated on both sides for ease of access to any food you hide, while multiple spikes all throughout allow your pooch to gnaw and chew away with wonder.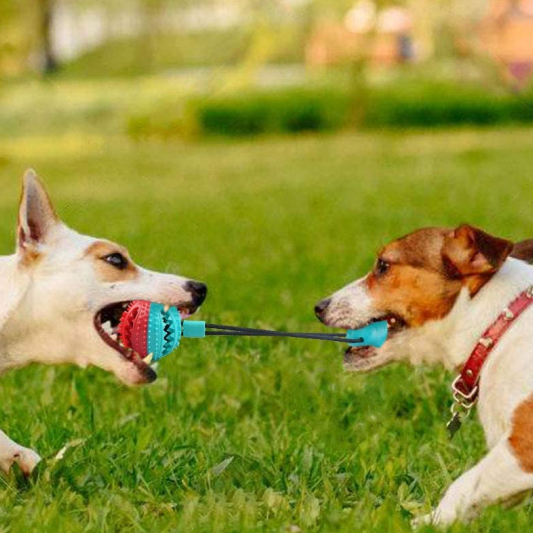 Payment & Security
Payment methods
Your payment information is processed securely. We do not store credit card details nor have access to your credit card information.
---
Security
How much does shipping cost?
We are glad to bring our customers great value and service. That's why we provide fast shipping from our Fulfillment Center in California by UPS and USPS.
What countries are you delivering to?
As of now, we're delivering to the United States only.
How can I track my parcel?
Once your parcel has left our Fulfillment Center, you will receive an email with a tracking number to monitor your parcel movements.
Can you ship my order to a business address?
Yes, you can write your business address in your order details if it's more convenient to you.
Can you ship my order to a PO Box address?
Yes, you can select delivery to a PO Box if it's more convenient to you.
Can you ship my order to APO or FPO military addresses?
Yes, we ship anywhere in the United States, and to all US territories and military APO/FPO addresses.
What happens to my parcel if it is delivered while I'm not there?
Depending on the destination and the package size, your parcel will be left in your mailbox or on your porch, or it may be left with a neighbour.
How to search for products?
Simply type the product name in the Search Bar at the top of any page. Try to enter a general description. The more words you use, the less products you will get on the results page. When you find a product you're interested in, simply click on its name or image for more details.
Do I need to create an account to place an order?
It's not a must: you can place your order even if you don't have an account or aren't logged in..
How do I place an order?
On the product page with the item you like, select the color or other product variation (if there are any) that you like the most, and click on the Add to Cart button.
As soon as you've added everything you wanted to your cart, click on the Proceed to Checkout button.
You will see the list of items you're ordering, and will be able to remove, add, or edit anything if necessary.
Make sure your shipping details are filled in correctly, and click on the Complete Order button. Finally, select the payment method that's most convenient to you, and check out.
How do you protect my personal details when I register and check out?
We offer the highest security possible at all times to make sure the online transactions keep your personal information safe..
Following the industry standards, we use the Secure Sockets Layer (SSL) technology to encrypt the information you share with us such as your name, address, and payment details..
Can I buy your items and send them to someone as a gift?
Yes! Simply use this person's address as the shipping address when you place an order. There will be no price tags on or within the package!.
Can I change or cancel my order?
Yes, if your order has been paid and you need to change or cancel it, you can do this within 12 hours of placing it..
To edit your order details or cancel the purchase, simply use the Contact Us form to send us an email..
An item is missing, wrong, or damaged in my package. What should I do?
We're sorry it's happened to you! Kindly use the Contact Us form to get in touch with us and tell all the order details so that we could sort it out for you..
The idea is great and would be good for a smaller dog. My dog is way stronger than this toy's suction power. It's sturdy and he plays with it.

Such a fun dog toy. My dog is very very energetic and needs lots of mental stimulation. This is a great toy because I can put a treat inside and she can chew on it and play with it for awhile. It has a little bell on the inside of the ball so it makes it sound every time she touches the ball. It was pretty easy to suction it down to my tile floors. This kind of rubber toy is also great for her teeth. It seems to be made really well.

I have a dog who is fluffy and adorable, but is also a power-chewer and needs toys that are durable and won't get destroyed in a day! So I bought this dog toy. It definitely helps to keep my dog busy for long periods of time. Once getting the item, I followed the instructions and opened the strip gap of dispensing ball to put dog kibble or treats inside. Then I stuck the suction cup on the floor (make sure the floor is clean), and let my dog go to town. When my dog plays with it, the food comes out, which is fun and rewarding for her. I like the fact that this toy is made of high qual

With the Pandemic chaos, I've been working from home exclusively and thus have a ton of Skype meetings. So, I needed something to keep my puppy engaged. He's a professional time and energy robber (I haven't filed charges….YET lol). Finally, this is it! We put it in a divided area so that when I need to focus, I can bring him in that area. So, it's a once in a while reward. Otherwise, he'd become used to it and it wouldn't be as appealing. Our puppy feared the toy initially, but as we expected, he has become obsessed with trying to pull both the ball and suction cup end up. Since he's a MEGA CHEWER, he would have discovered a way to tear it off. So, my husband and I carried out an Executive Decision to sacrifice one tile. We epoxied the suction cup to the tile and it's worked really well. We knew if he didn't have it up in a day or two; it wasn't moving! Mission accomplished.

My dog love this, but if I put it on the floor he can pull it right off of the floor. I recommend that if you have a big dog to put it up on something because it won't last long on the floor. Small dogs you can put it wherever. Also if your dog is a chewer like mine watch them play with it just in case if they tear into it. And train them to not bite the suction cup.

At first, I was a little skeptical because of the other consultations, especially since our dog likes to break all the balls she gets her hands on. That's why I'm pleasantly surprised that the toy still holds after a week. The suction cup is very strong. She got it every now and then, but it can be quickly attached to the floor. The ball is actually a bit thin, but it holds. We didn't put any goodies in it. I think the ball wouldn't have lasted long with ours.

Bought this for my dog who loves chewing up his toys. He pretty much destroys every toy we've bought him within minutes of getting it. I had issues getting this to suction to our hardwood floors so I did put it on our glass door and we had some fun with it. He would play for a while, get bored, and frustrated but then would come back later for more! I worried about him pulling too hard on the glass door so we did find an area in our mudroom where it worked on the floor.

My dog destroys and eats every toy I have gotten her. I was looking for a good toy that would withstand her destruction and I believe I have a winner it's been easily over a week and she still can't destroy it!!! I have put food and snacks inside and she gets the food but still fails to destroy it!! I love the fact also that she hasn't been able to pull it off the floor. I put a little Vaseline and it was a wrap++++ if your pet ever loses interest, change the location and the snacks and it will be like a new toy all over again. 😃

I have a 2 yr. old Toy Poodle who chewed through the rope in about a week. I do not recommend this toy for "AGGRESSIVE" chewers! The ball is durable & the suction cup is GREAT! This just didn't work for us.

My dog loves this toy! I put treats inside the ball and it keeps my dog entertained through the day. There is a bell inside the ball that is THANKFULLY easily removable. The toy doesn't squeak or make any other noises so it's not annoying.

Ha...just noticed my dog looks kinda like the one in the picture for the product! Anyway, she likes this toy. I did figure out that I could put it on the window, and that worked out just fine. She's feisty and loves tug of war, so this is a toy that can take me out of the equation for a little while. THANK YOU! But it is also fun to hold on to the suction end myself and have her play with me. (I'm just glad I don't have to do that alllll the time anymore.) She enjoys tugging at the ball, and also just messing with and hitting the ball and watching it swing. She's so weird. But if she likes it, I love it! This dog will find a way to destroy ANYTHING, and she has not yet been able to kill this toy, so that's a plus.

Absolutely hilarious toy! Our 1yr old GSD/Boxer mix is obsessed with it, put it on any flat surface and he'll try to get it off. If you have a larger breed or smart dog, keep an eye on them! They'll figure a way to get the toy off!

Works great on a tile floor. My border collie enjoys trying to pull the ball but does get bored with it pretty quick.

Bentley loves his new tug toy! It suctions well to hardwood. This keeps him busy for a long while. The rope is not elastic but still seems to be a good toy for tugging.

my dog is picky very very picky 🤦🏼‍♀️. She will barely touch it when it's suctioned... take it off and leave it laying she will play with it for hours!!!

My dog loves it!!! My dog is a bulldog and extremely strong. When I put it in on the kitchen floor he couldn't take it off which was great. I also put it on my window. He had a blast. For some reason it won't give me the option to upload any pics or videos... which i had, i hoped to show everyone..

I bought this toy for my pitbull since I've seen so many like it on the internet. It doesn't really hold to the floor very well but again that could be the type of flooring I have along with my dog pulling super hard.

Stuck it to my wood door. Really strong hold so be cautious. Took a few good tugs before my dog finally got it unstuck from the door. We tried the floor too but walls and doors work best. Worth the price.

This product is great, my boy Moose absolutely loves it.

Definitely READ what it can and cannot stick on first. I tried to put it on my wood floor and it would not stick good but then i read the description and put it on my door and now it works wonders! I love this toy and I really got it for self play and it's great

Saving in my dogs stocking for Xmas and every day I think about opening it. I know my pup will LOVE IT!

Very good for a flat floor. Works ok on hard wood. My dog stays occupied for literally hours. We love it!

This product has made playing with my dog so easier even though im not there playing she just starts playing by herself because she likes this toy if you want to have your dog have fun but have to do important things and cant be there i 100% recommend buying this toy

Great idea. Dog lives it for about 3 minutes until she gets it lifted and runs off with it.

Great for active, young dogs! It is sturdy and attractive...dogs go for it.

My dog loves this toy! Just add a little water to the end so that it suctions to the floor and will keep the dog entertained for hours!

Our puppy lives to destroy. This is a dog that eats the outside of our house. She eats rocks, the underbelly of chairs, wooden porches...nothing is safe. She is the godzilla of small towns made of dog toys. We made bets on how long it would last -- 15 seconds being the favorite choice. This is her favorite toy.

I bought this dog suction rope toy for my dog.rubber is strong enough to last a long time without damaging it.This is a good dog chew toys for my dog.Usually, the dog chew toys don't last long after use.But the toy is still good.

Absolutely hilarious toy! Our 1yr old GSD/Boxer mix is obsessed with it, put it on any flat surface and he'll try to get it off. If you have a larger breed or smart dog, keep an eye on them! They'll figure a way to get the toy off!