Description
Bid adieu to spills, lost items, and frantically searching for essentials
Now your must-haves are all within reach of your arm. If you've ever found yourself frantically reaching across the passenger search or rummaging through your center console for something -- while driving -- stop. It's not safe. Let our Universal Car Storage Mesh hold all your must-have items in one place.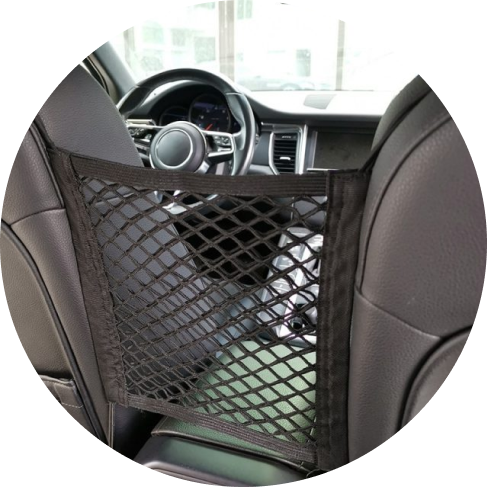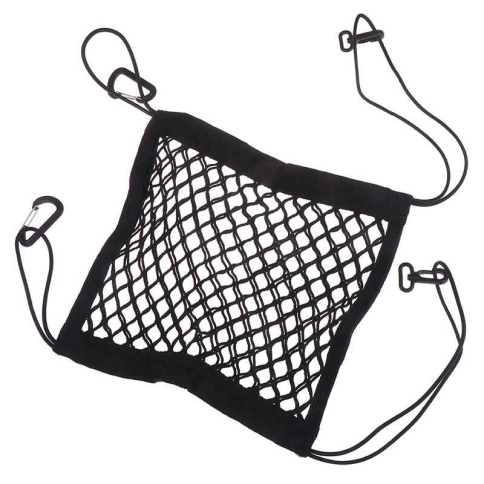 Simply hook and you're done
Our net is designed with two hook strings with D-ring carabiner clips you attach to your front headrests and two buckle clips to clip under the bottom of your two front seats
A great storage net for ultra convenience
When installed, you get 9.8 x 98 in / 25 x 25 cm of black nylon mesh that securely holds magazines, water bottles, sunglass cases, kids' toys, tablets, snacks (and so much more). Gain extra space in your vehicle without over-cramming compartments and backseat pockets.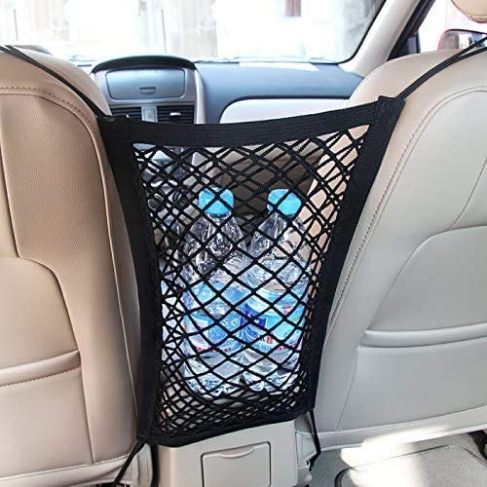 Great or busy parents and outdoor adventurers
For those with fast-paced, on-the-go lives, this net is a great addition to your vehicle. It works on sedans, coupes, trucks, and vans alike. From children's frequently-reached-for after-school snacks to your daily morning vitamin or favorite pair of sunglasses, keep everything securely in place (and within safe reach) when behind the wheel. The net also makes it easy for backseat passengers to find their own essentials, all without disrupting the driver.
How much does shipping cost?
We are glad to bring our customers great value and service. That's why we provide fast shipping from our Fulfillment Center in California by UPS and USPS.
What countries are you delivering to?
As of now, we're delivering to the United States only.
How can I track my parcel?
Once your parcel has left our Fulfillment Center, you will receive an email with a tracking number to monitor your parcel movements.
Can you ship my order to a business address?
Yes, you can write your business address in your order details if it's more convenient to you.
Can you ship my order to a PO Box address?
Yes, you can select delivery to a PO Box if it's more convenient to you.
Can you ship my order to APO or FPO military addresses?
Yes, we ship anywhere in the United States, and to all US territories and military APO/FPO addresses.
What happens to my parcel if it is delivered while I'm not there?
Depending on the destination and the package size, your parcel will be left in your mailbox or on your porch, or it may be left with a neighbour.
Payment & Security
Your payment information is processed securely. We do not store credit card details nor have access to your credit card information.
Reviews
Our reviews are verified for authenticity
makes a perfect gift. couldn't be happier! This fits in my 2020 Honda Civic Touring nicely. It keeps my purse from shifting onto the back floorboard when accelerating off the line. It also keeps my little Shih Tzu from jumping up front while traveling

I got this to try and help keep my puppers from jumping in the front seat as soon as I close the door. As you can see from the pictures, there's almost a 6 inch gap on both sides of the net which renders it almost useless for keeping my puppers at bay. I figure that with a normal-sized car or small SUV, the seat gap is not a problem as it is with mine. This product is stretched for all its worth in my truck (Silverado). I got tissue and a can of disinfectant in there, but it's t-i-g-h-t. I'm going to use it until it snaps, which looks like it could happen at any moment, honestly. I just hope it doesn't hit me in the process. With the small size out of the way, it was still easy to install and I don't feel like the hooks would come loose on their own. I think this would work great on something smaller, but it definitely is not made for what I drive.

Perfect fit (Jeep Wrangler 4 Door) Exactly what I needed to keep my two Shih Tzu's in the back seat and not jumping up front and throwing the car in Neutral doing 70! The net is nice and thick. Top goes around your head rest. Bottom, depending on your car could be a little more difficult to configure. I had to really stretch this to the max to get it around the bottom of the seat sliders. Otherwise, no complaints.

there's no reason to compare Mesh Car Seat Storage with anything else, i'm genuinely happy with the purchase

I bought this for my Jeep Wrangler Rubicon 4x4. This is my rugged, dog car. I take it on road trips with the boys (my two dogs) and they love it. However, they always want to come in front, which once they do, they then want to be in my lap while I'm driving (One is a Pitbull so that won't work out so well). Plus they get their hairs everywhere. So, I stick them in the back with the seats down. Then, a new problem arose. They would stick their head between the two front seats and hover or stand on the middle console. My pit would drool all over it too. So, I needed something that would keep them from doing all of these things, which is when I found this. This product has worked beautiful. They can't squeeze through or go over it. The perfect barricade. Plus, it has pockets! I feel like that girl who gets a cute dress, and someone compliments her on it, so she puts her hand in the pockets and says "Thanks, it has pockets" all cute and proud. They can hold magazines, books, grocery totes, you get the picture. Pockets are everything.

Perfect little gaget for long road trips! I travel alot and when you're in and out of the car as much as i am, its really easy to misplace things like your phone or your wallet. This uliminates that issue. It has 2 pockets for storage. It fits perfectly. Im very satisfied!

It's actually quite a reasonable price for Mesh Car Seat Storage, so I gave it a try. Satisfied :)

I attached this to the seats as instructed but found that things could fall behind the consol. This was remedied by weaving a ribbon through the mesh and around the hinge to my console. It's make a perfect perch for my purse! The mesh organizer had enough elasticity to push my purse into it and it stays without falling on the floor or getting in the way of me or any passengers! I can also get into my console if needs be! This has been just what I've needed for a long time!!

Product really beautiful, thank you very much)

Looks like on picture. Thanks! Fitted in seconds to a Subaru Forester. Great extra storage space without breaking the bank.

I can't believe I didn't purchase one of these sooner. The bottom clips under the seats, as I had purchased a different one previously and wasn't able to use it due to how my center console opened up. It's perfect for keeping my gigantic purse in between the armrests without falling over or falling into the back seat. I only wish that I could adjust the length of the straps so the mesh part sat a little lower, but other than that, this is really a great product.

reviews show that it's a nice item, and the seller is also awesome

So far I love it! It keeps my 35lb cocker spaniel in the backseat. I haven't tried store anything yet, but it works great. My only complaint is it did not come with instructions on how to attach the bottom of the seat. Which was actually kind of difficult without instructions. I did get it attached, but that's the reason I'm only giving it a 4 star is because it took a while to figure out where the bottom was supposed to attach to.

quality super! Mesh Car Seat Storage is true to description.

I have this strung (as in product photos) between the seats of our 2019 mustang convertible and it just looks cool. We don't put anything in the webbing "pockets" but instead use it to support a folded front windshield sun shield. It blocks the wind from buffeting so much. It works super for that. I could see it keeping your pooch in the back seat as well. Personally we keep chickens back there and they just jump over. The installation was a breeze, and was just as it showed, is good quality (as best as I can tell) and I would buy again (if someone steals this one). Just remember that the more you have to stretch it between your seats the tighter it will be and that much harder to actually put stuff in the "pockets".

I thought this looked too small when I took it out of the package. But, when I hooked it into my car, (the hooks on the headrest were easy to find. I had to do a little feeling around at the bottom to hook them to the sliding mechanism for the seats) it fit perfectly with just the right amount of stretch so I can use the pockets for an umbrella, a flat box of tissues and some other small items. It is doing a fine job of keeping my dogs from invading the front seat, even though they are hooked into the back, there is some leeway in the leashing, so this provides a flexible barrier.

unmatched style! I bought it for my girlfriend's pals thinking how enthusiastic they will be, and it undoubtedly makes a gorgeous bounty. in effect it is even better than the illustration. It is just cute and makes a fine deal - the quality is admirable for the price. I will undoubtedly buy a second one, and can surely recommend it to anyone.

good quality! I bought this for a long trip I was taking with my dog. Though she was harnessed securely in the back seat I felt there was something else I could do to set boundaries and offer a tiny amount of safety in the car. This was the perfect solution. She could still put her head over the mess to look out the windshield and be nosy but kept her front paws in the backseat. I like that this also offered a little more storage as well. It was super easy to install.

I bought this for my 2016 chevy colorado extended cab to keep my 70 pound dog from from standing on the center console while I was driving. Super easy to install and does exactly what I need it to. There's enough stretch on the material to where both the driver and the passenger can adjust and recline their seats without the divider interfering which was a big concern of mine. The only reason I gave it 4 stars was that that the 2 storage pockets on it are small and aren't very functional.

A reasonably priced item with an excellent quality. That's a bargain!

Quality of Mesh Car Seat Storage is OK! Thank you very much!

I don't have any doubts where to buy online anymore. it's now my favourite store ever

Thanks to the store! very beautiful and fast delivery! super!

Thank You so much for this product. Good quality and good price. I recommend this Store :)

I love this. My cat sits on the front passenger seat (strapped in) but she likes to try and climb into the back sometimes. I got this to stop her and it works a treat. There's also two pockets on it which are handy. Because I'm short, my driver seat is quite far forwards whereas the passenger seat is usually further back - this isn't a problem for this product as it's very stretchy. The only thing I have to be careful of is that because it goes directly over my drinks console (behind the handbrake), when the passenger seat is far back this could knock a drink out of its holder.

It was my third order in this store. Thanks!

so cool Mesh Car Seat Storage, thanks!

I use this to keep my dogs on the back seat even tho they are harnessed to the seat belt they like to try to get in the front. Also helps keep the car tidy. I put a flat box of tissues in the mesh and poke a tissue through so I have tissues to hand when travelling.

I loooove it!! It has some small problems but it's still perfectly fine! Thank you so much for such great Mesh Car Seat Storage!!

maybe not the lowest price for Mesh Car Seat Storage, but the best quality for sure

I bought this to keep my Pitbull from climbing up to the front seat and scratching my center console. I haven't really but anything in the mesh yet except hand sanitizer for the Covid-19 stuff going on. It took a minute to install, looks just like the pictures advertised. Keeps my Pitbull in the back seat so I call it a win. I actually bought a second one for my husband's car too bc he thought it was cool.

I really like this product it works great on my pickup truck. the only concern I have is that the clips too attached to headrest and under seat are made out of plastic. I believe these clips flu time are going to dry rot and break off. It would have been nice if they were made out of a sturdier material like metal of some sort. But this is a great product and a highly recommended

Wonderful organizer for the car. If you are like me, there's never enough storage space in the car, especially space that you don't have to dig through. I originally bought this for my Prius C, and now I got it for the Honda Pilot. Very different vehicles, works great in both.

This mesh organizer is definitely useful. It lets you use otherwise unused space. The only reason that I didn't give it 5 stars is because the holes in the mesh are very large

Didn't really work for my car, gave to husband.

This is great to keep little ones and pets in the backseat. However, we got it to have a central location for Kleenex as we are a family with allergies. The only kleenex box that fits in here is tiny. But again, this has been super helpful to keep the kiddos and dogs in the backseat so that rates 4 stars in my book alone.

Had to make some adjustments to the installation. Works well at keeping my Great Dane in the back!

It's OK. There is not much slack with the top hooks. I have a Subaru Impreza and it pulled tight when I attached it to the head rests. It could be problematic with bigger vehicles. There are no adjustment buckles, which would have been nice but maybe unnecessary.

This product is a great idea however it isn't tall enough or fit as snug as I thought it would. It does serve the purpose, I just wish it was i bit bigger and taller. I have a KIA Sorento.

It is a small size so I wish it were bigger, but I've had it for a while and it gets the job done. Unless you're going to fit a bunch of stuff in it, I do recommend it. Did help keep my dog from trying to jump across.