Description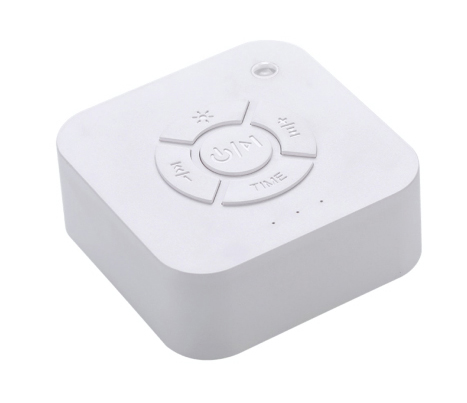 It's time to relax and fall asleep easier
Tossing and turning at night? Can't fall asleep for that afternoon nap? Tune out the rest of the world -- and immerse yourself in the sounds of nature or still, white noise with our soothing White Noise USB Machine.
Stress less and transport yourself to a different place with over 24 hours of sound-play time. All it takes is 1.5 hours of charging time to fully power up this white noise machine. Power up your device to relax during a stressful afternoon, lazy Sunday on the couch, or just to add some relaxing noise into the home during dinner prep time.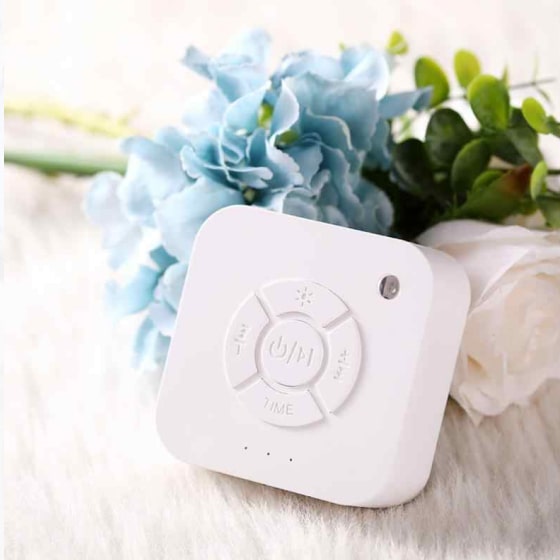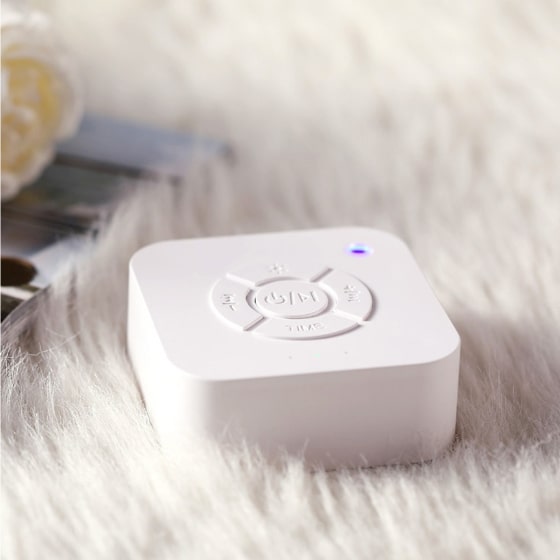 Tranquility is yours with nine soothing sounds: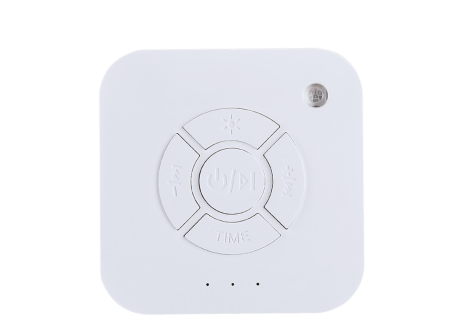 Leaving the noise on throughout the night? Sleep with ease -- our machine has an automatic power-off timer you can set -- 15 minutes, 30 minutes, or 60 minutes. You can also just let the machine run throughout the night.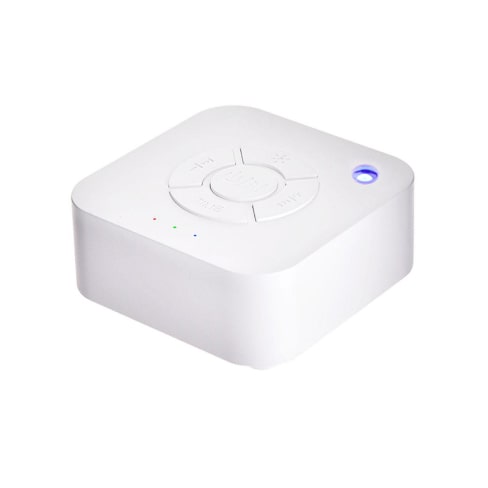 A mini built-in LED breathing light illuminates along with your sound of choice for an ambient atmosphere. From meditation to a much-need massage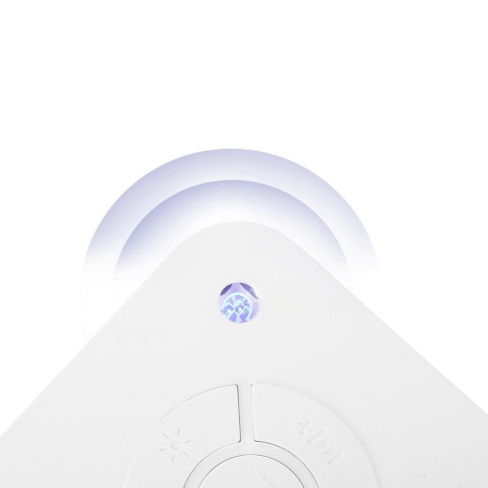 Easy to use and control
Power on/off the breathing light
Customize whether you want the blue light on or not.
Choose from 15 minutes, 30 minutes, or 60 minutes for a cycle of relaxing sound.
Go forward or backward/raise or lower volume
Cycle between sound choices and volume level.
Play your sound of choice or put it on a brief pause for a call or when you have to leave the room for a few minutes.
Unlike other bulky sound machines out on the market, ours cuts down on size without compromising on quality and function. Our White Noise USB Machine measures just 3.14 x 3.14 inches with 1.3 inches of thickness, making it fit for the most crowded of desks or right on your bed nightstand.
Easy to charge
Completely USB-chargeable, our machine uses a built-in lithium battery that you can conveniently  power up. The machine is compatible with any standard USB charging cord (one is included with your purchase) so you can plug into your laptop, portable battery pack, or wall outlet.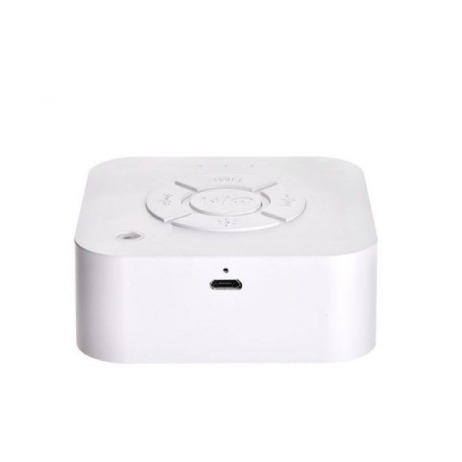 How much does shipping cost?
We are glad to bring our customers great value and service. That's why we provide fast shipping from our Fulfillment Center in California by UPS and USPS.
What countries are you delivering to?
As of now, we're delivering to the United States only.
How can I track my parcel?
Once your parcel has left our Fulfillment Center, you will receive an email with a tracking number to monitor your parcel movements.
Can you ship my order to a business address?
Yes, you can write your business address in your order details if it's more convenient to you.
Can you ship my order to a PO Box address?
Yes, you can select delivery to a PO Box if it's more convenient to you.
Can you ship my order to APO or FPO military addresses?
Yes, we ship anywhere in the United States, and to all US territories and military APO/FPO addresses.
What happens to my parcel if it is delivered while I'm not there?
Depending on the destination and the package size, your parcel will be left in your mailbox or on your porch, or it may be left with a neighbour.
Payment & Security
Your payment information is processed securely. We do not store credit card details nor have access to your credit card information.
Reviews
Our reviews are verified for authenticity
It's small and it promotes sleep.I used to get up at night and go to the bathroom and not be able to sleep.Since using it, I always sleep at ease, but sometimes my heart is not quiet, want to check the phone, so Now I always listen to it to sleep at ease!If you suffer from insomnia, I recommend it!

I did a lot of research in order to find the best white noise machine for my first purchase, and this was my decision.It got a lot of vibes based on the fan and switching controller which gives the noise a depth. For the light sleepers, It can change to wind sound that fantasticly imitated the natural wild field wind and the night sky. Really gives a home nature environment. Being able to fall into a long night sleep was a god's gift, and thanks to the extraordinary white noise machine I'm once again visiting my lost dreamland.

Very cool thing, it helps us to put the baby down!

Good sound quality, the battery lasts for a long time, melodies and sounds are realistic and pleasant. Can take

it looks like picture and coresponds with the description. Works nicely :)

got this to use for my daughter when she arrives in september. so i haven't gotten use out of it yet. but the sound gets loud which i love and it can be adjusted. the little light is a nice touch as well.

I just received the machine today and already love it! There are so many sound options to choose from. There are some unique ones. I wish the nature and lullabies were split up, but it is still a good deal.

I've only had this product for a few days. I got it to put in my daughters room hoping to keep her in her room longer at night. It can get loud but the volume is easily adjustable.

I've been borrowing a white noise machine from my brother-in-law to help my baby sleep.

Nothing negative to mention about it.

The price is awesome for such a nice unit.

I took one star away since I don't really like the white noise setting... the ocean/wave setting sounds more like white noise to me and is much more pleasing!

The variety of sounds are great and it is decently loud

This is a great, lightweight, surprisingly good-sounding white noise machine.

This white noise machine helps to tone down vehicle sounds and give us a more restful sleep.

Well made and cute white noise machine. I got it for my baby and he likes it.

It blocks out my kids stomping down the stairs, my neighbors kicking and snoring, and all other sleep-disturbing noises.

The volume control button is so easy to use and gets quite loud for a tiny speaker box. I was very impressed.

hard buttons with loud click-needs to be a softer button push

This is a great little white noise/sound machine for the money.

the white noise setting is a bit high pitched. A deeper/more rumbling brown noise would really be preferable

The sound machine sounds great, and the battery lasts 12 hours if the volume is low and the light isn't on. I am happy with it at this point.

This little white noise machine is so cute. It not only looks nice but ita super easy to use and it's super practical. My children enjoy the a lullaby sounds best. This white noise machine has become part of our night time routine. I will say the fan sounds are a bit off or maybe it's the bass. Other than that we really love this little sound machine.

I have gone through many different white noise machines and this is by far the BEST!

Got this for my 1 year old son for when we travel. It's a lifesaver and I'd definitely order again, even given a couple flaws. Cons: volume - I feel like it's loud. The lowest volume is too low, but going one up seems like a big jump. Doesn't seem to be too loud for my son though so it works.

My wife has a very hard time falling asleep. She has multiple fans running and she cannot go to sleep without it. I don't like the fans running which makes my respiratory system dry and allergies. This machine does the same noise without the wind and its a Win Win for both. Love that it has so many noise options and a timer. I really recommended for anyone who has issues falling asleep.

I have a hard time falling asleep at night. I thought maybe a sound machine would help and I read a ton of reviews. So we got this little machine and it is great. I listen to the ocean waves to go to sleep and i find i am falling asleep much more quickly, so for me this was a great investment. I will take it on trips. it has a cute bag to put it in for travel. happy with purchase. would recommend

Very easy to use, worked so well. I purchased a 2nd one.

This white noise machine has been great!! I'm a very light sleeper and my boyfriend is a very loud individual. This little machine frowns out his banging doors, slamming the microwave shut, the TV, etc. I am actually able to get a good nights rest on the days that I have to work early in the morning.

We use this daily and nightly.

I've had about 4 different models of white noise machines so far. My important things that I look for are how loud it is, that it plays all night, and that there is battery backup (Nothing worse than a power outage and your child wakes up in the middle of the night when the sound goes off). I haven't used this one for very long yet but it does play all night and has battery backup. The sound could definitely be louder but it's okay. I've had such a hard time finding the perfect white noise machine. I wouldn't say this is it, but it'll do for now. I will update this review further if I have any problems as I use white noise all night every night!

This noise machine is amazing I for one am one of the people who sleep with a fan on all the time just for the noise. Also I love the sound of rain it always puts me to sleep as well this machine does it all. I love this machine it works great.

haha! FINALLY SOMETHING THAT WILL HELP ME WITH SLEEP ISSUES!!!