Description
Hold it down. Patch it up. Handle anything.
Behold the super power of our ultra-versatile, do-it-all Aluminum Foil Repair Tape. No more pesky glues, industrial-grade cements, or anything messy. Discover one easy at-home product to handle cracks, leaks, and also help stick anything together whether for home renovations, school projects, or urgent repairs.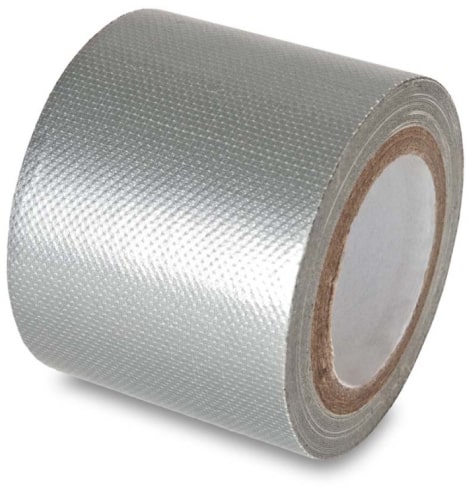 Tape it down (or seal it shut)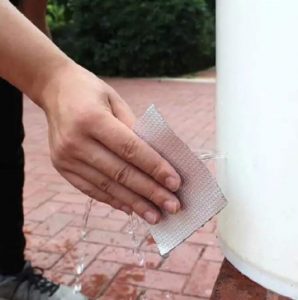 Patch things up
Got unsightly road cracks and pits?
Tape it all up.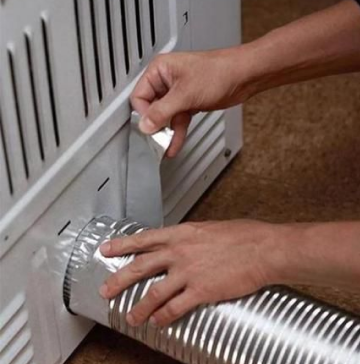 Let's bond
Stick anything together for a rock-solid hold, from piping to panels and wood.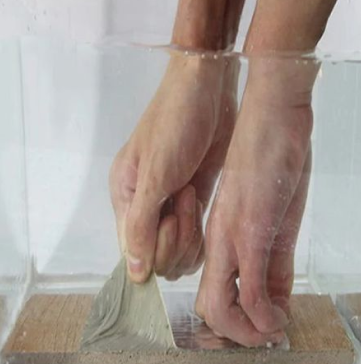 Stay dry
Keep out moisture, water, and air by using our tape as a sealant.
It's easy to use
Four steps to solid adhesiveness
Step 1
Remove any surface dirt or dust at desired site of application.
Step 2
Measure and cut the tape and align it to your targeted spot.
Step 3
Carefully remove the protective film from the piece of tape.
Step 4
Carefully apply the tape, using even pressure to ensure no air pockets or unevenness.
A one-hit wonder for anything: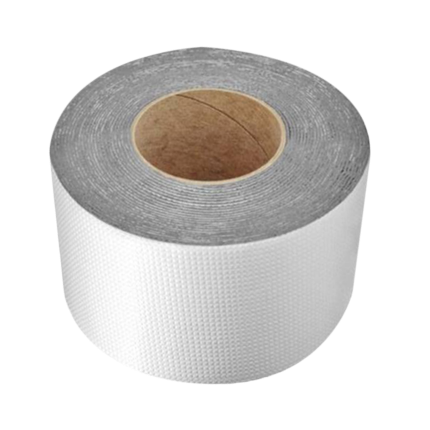 Built to exceed expectations
Made of high-performing butyl rubber and aluminum foil, this Aluminum Foil Repair Tape is the most sturdy item of its kind that you'll ever meet (or need). Discover a permanent fix for airtight sealing of broken windows, leaking boat sealing, patching of rubber roofs -- and so much more.
Tough but flexible for every need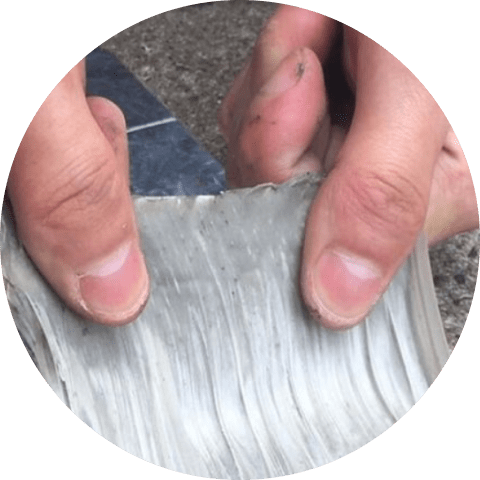 Our XL Aluminum Foil Repair Tape measures 7.9 x 197 inches. Weather-resistant and able to withstand temperatures of 40°C to 120°C (104°F to 248°F). Resistant to UV rays (no peeling or flaking here).
 Easy to use – just peel off the film layer and seal the butyl tape anywhere you need it.
How much does shipping cost?
We are glad to bring our customers great value and service. That's why we provide fast shipping from our Fulfillment Center in California by UPS and USPS.
What countries are you delivering to?
As of now, we're delivering to the United States only.
How can I track my parcel?
Once your parcel has left our Fulfillment Center, you will receive an email with a tracking number to monitor your parcel movements.
Can you ship my order to a business address?
Yes, you can write your business address in your order details if it's more convenient to you.
Can you ship my order to a PO Box address?
Yes, you can select delivery to a PO Box if it's more convenient to you.
Can you ship my order to APO or FPO military addresses?
Yes, we ship anywhere in the United States, and to all US territories and military APO/FPO addresses.
What happens to my parcel if it is delivered while I'm not there?
Depending on the destination and the package size, your parcel will be left in your mailbox or on your porch, or it may be left with a neighbour.
Payment & Security
Your payment information is processed securely. We do not store credit card details nor have access to your credit card information.
Reviews
Our reviews are verified for authenticity
The paper backing allows the thin tape to have a stronger adhesive than aluminum tape without the paper backing. It was used to seal around the mating edges of an insulating cover installed over a hallway pulldown stairway. The foil tape adhered securely to the attic wood framing and to the foil of the insulating cover and conformed well in the corners of the joints.

The tape works well thanks. I am a intermodal truck driver and at times I encounter holes in containers that Ive had unloaded and the next customer to load it refuses it due to the hole(s). The tape is good enough for a quick fix.

Same as the picture, good quality, right size and very fast shipping

Great performing product. I used it to seal the air leaks between my furnace and plenum duct work. The tape is strong and conforms well to odd shapes. It adheres well. I recommend cleaning the surface first.

I finally got around to using this tape today and it worked real well to seal the duct connections and the few leaks I found. It's a bit tricky to separate the backing, but I saw a tip form another reviewer who used masking tape on each side to put it apart. I'll try that next time. It will stick to itself easily so you need to keep the backing on an peel it off as you go. Only cut off what you need to use in at one time and even apply it in small strips if there is not a lot of room to navigate. Once you do a few it gets easier. I was surprise how well it sealed around screw heads and other imperfections. Very flexible for metal tape. I plan to do all the connection points so I will get getting more. Good value.

It arrived in perfect condition. The backing is a little difficult to pull off, but not hard enough to warrant any star loss: I really don't mind it. It is VERY sticky, so it stays in place like a charm. Doesn't even want to leave my fingers once it gets a grip on them. I bought it to tape up the mesh lid on my snakes terrarium and it has done wonders at keeping heat and humidity in without melting near my heat lamp, so it does it's job well.

tape is actually thick and durable went felt by hand....adhesive is also very good and able to withstand harsh conditions - i have used this tape to patch up and holes inside a server case - in which internal server temperatures are generally about 68 +/- degrees Celsius on average

For the price and length, I was expecting a thinner tape, but this is nice and thick with good adhesion. It repositions well for redirecting, but I have not tried removing any that was firmly attached. Very nice product all the way through.

This tape was used for my daughter's school project where she needed to make a background with silver lines and squares. The tape is very shiny/reflective. it has a very strong stick to it and is easy to peel and use.

So much nicer than regular duct tape because it looks great and should be more durable in some situations. Very sticky. It is hard to get the backing off. I cut a shallow line in a corner and then bent the metal part back, sort of like some pills are accessed. I got foil wrapped flexible duct and used this tape. I also used foil insulation on the furnace outlet box and with this tape it is dazzling. My utility room is a sparkling joy now, totally spiffy.

I am not an HVAC person, but I ran across aluminium tape for the first time about 2 years ago. It is so handy in crafting and miniatures, especially when you need a metallic base. This roll will last forever; it had much more than a similarly priced roll in the store!

Had to tape up an air handler on an HVAC system. This stuff worked great and was easy to apply on and the finished result looked like it was professionaly done. Would recommend

Used to cover the seams on kraft faced R 30 attic insulation. I also used in around vapor barrier and mylar foil faced foam board. Strong adhesive stuck to pretty much anything. Great price point and prompt service. I have purchased several rolls over the months and will continue buying more. I am a professional contractor.

What can I say- The aluminum tape was everything is should have been. It is also relatively thick compared to some others that have been used, and i noticed a greater resistance to tearing when trying to apply it (a good thing). Recommend. In my experience, this type of foil tape is superior to regular duct tapes because it does not dry out and fall off.

Exactly what I needed. Part of my skid guard on the underside of my car got knocked loose. My car is so low to the ground you can't fit under there to fix it. I bought to tape that part back up until I can make it into the Mechanic. It works perfectly. Has great adhesion. I didn't have any issues getting the backing off, but I saw some great tips in the reviews about putting a little piece of some other kind of tape on both sides and pulling if you have issues. All in all, very satisfied

Some have complained about getting the backing off to expose the adhesive side of the tape. I just used the point of a carpet knife along the edge to separate the backing from the tape. It sometimes takes a few tries, but really isn't all that difficult. The adhesive is pretty good and the tape works well.

The thickness is just right. I had concern that it would be flimsy because a mils measurement means nothing to me. It isn't rigid and it goes on without a problem. And it sticks/stays where you put it. The protective backing comes off relatively easy! I was surprised. That makes a HUGH difference when the project requires lots of taping. This product is a winner.

This is the best overall aluminum tape on the market. The overall quality is excellent. The paper backing makes it easy to measure, cut and affix to your project. I used this tape to install dryer ducts and then used it to insulate my garage doors. I just ordered another roll because I want to be sure this is available for future projects.

I used this item to affix a ceramic fiber blanket between my wood furnace and blower unit. The two are not from the same manufacture and there was a small air gap. The tape stuck well to the unit. The only down fall is you need a little patients to get it started. If the manufacture could install a small tab for starting then it would be excellent.

with a discount was a really lovely purchase. i am sure i will order again next month

No need to buy the expensive tape as this is just as good and for the price it's an awesome value!! I use this stuff EVERYWHERE so finding this alternative brand is going to save my bank account..

Very sticky. Once it sticks you can peel maybe very quickly after, but very sticky. Sturdy too.

This is like sticky really thick aluminium foil. I used it to tape a wrap around my dryer vent pipe. It was easy enough to work with that my project looked really good. My husband even said "good job". Which is unheard of. I saw someone had issues with the backing. It took a tiny bit of finagling but it was not so frustrating as to make it an issue. It is just the right thickness to me so when you need to fold it a little to shape it doesn't look messy.

Excellent high quality product. Worked a charm for me as I needed to tape a gap between the hot water tank vent pipe.

I taped several HVAC seams in my attic. Easy to use, easy to apply, and so far, the tape holds as I require. If you need a product like this, this is a quality product and will meet your needs, it met mine.

This is the perfect Foil tape. Not so wide to be unwieldy and not so thick that it is hard to work with unlike the 3M. Still very strong and adhesive is also powerful. Did an entire HVAC system with it this weekend. Highly recommend this product and will be buying again

I purchased this foil tape a little while ago but just got around to using it today. I did a flexible duct for an AC floor unit to a window. I took it down last Winter and am putting it back up now that Spring is here. This foil tape worked perfectly for my needs. An easy way to peel the foil from the paper backing is to bend a small corner back and forth and the paper will slightly separate from the foil at the edge of the fold line to make it easier to get started. Also, when applying to an angle (such as where the duct meets the window), I found it easier to fold the tape to the approximate angle before removing the backing. That probably seems obvious to some but it wasn't to me!

I took a while to write this because I've always felt something Must be based on its merit, especially in business. That's how true success is built, so I needed time to accomplish this. Now, I used the tape to seal the border of an 4ft. X 4ft. Square of wire window screen, to avoid its ability to snag, tear, scratch and especially poke you to the point of bleeding. I made the border for my screen about 1 week ago and I have found it to be Exactly as it was from the start. Usually, if tape isn't that good, you will put it on something and a short time later, hours or just a few days, on you need to run your fingers back and forth, across the tape, to get it to seal well again. Well folks, I made sure, when I'd first applied it, that it had been sealed well to start with and a week later, I have checked it out and find it to be perfectly sealed as day one. You will find it to be Very sticky and tough. You actually need to be careful in handling it due to how well it sticks. That's a welcome symptom to me. I haven't used other aluminum tape products enough to compare, but I've used vast amounts of tape products in life from being involved in all aspects of construction and I'm known as a "jack of all trades". So, simply based on how frustrated I've been after using junk tape, I have been extremely happy with this product. Also, the picture doesn't seem to do it justice for its shine, so for those which want it to look good too, I find that it looks good but it actually polished up even more, to look quite nice. I like to see small companies, with a good product, to succeed and thrive. With the customer service they seem to have, I believe they'll do great!

I purchased this to replace vinyl cloth silver duct tape as I was constantly having to replace the tape after heat would break down the adhesive and cause the tape to stretch resulting in heated duct air escaping. This stuff works great for adhesion and is thick enough to make a good seal around joint connections. I would recommend this for light to medium jobs as I have used thicker aluminum tape in the past for heavy duty jobs, but it worked great for what I needed it for.

A friend recommended this tape because I am remodeling a vintage camper and the wheel well had a split in the metal cover. This stuff works great!! It adheres excellently and stays!! Easy to apply. Just what I needed. Highly recommend!!

Not much to say. It's aluminum tape. The glue holds up great in all weather. It seems to bond to just about anything. I've used it to hold extension cords in place, taped up against the side of a trailer. I've used it to hold aluminum siding in place while working alone so I can then secure it with screws. (You then remove the tape.) I've used it plug holes in aluminum rooves, and it keeps the rain out. (It's rooves not roofs, like wives, knives, and lives.)

Used this tape on an interior wall as a foundation to run LED lights. It was easy to use and I think stuck better than the lights would have. I think it offers some reflection to increase the lights and some insulation

Purchased as a safe was to secure some items for a terrarium. Sticks well and doesn't get hot. Doesn't leave glue on the glass.

This tape sticks extremely well and helped seal the vent in my above range microwave. This tape help make my amateur work look cleaner and professional. It's difficult to remove the paper backing but besides that I love this stuff.

I used this tape to repair a 14 year old custom sun shade that had cracks because I couldn't find another custom shade that would fit my vehicle perfectly. The shade is constantly folded and the tape is sticking.

Stops all the unwanted escaping air from your a/c and funace. Saves alot of $$

Easy to use. Has held up perfectly, even in the extreme heat of an attic in Texas!

Having to peel the backing as your trying to wrap it around a duct in a hot attic while standing on a ladder just plain annoying

Strong and easy to apply, backing comes off easily allowing for smooth application. Adheres good and not easily removable. Basically what you're paying for.

I used this tape to seal the edges of my attic stairway cover. The size works well and it sticks firmly, but to separate the foil is a bit tricky.