Description
The mini garden of your dreams is possible -- no need to dig a plot of land in your backyard. The flower or vegetable garden that you've been wanting for forever is easier to get set up than you think. Just buy a Garden Grow Bag, fill it with dirt and your plants or crops of choice, and get started!
Designed for living and thriving
Constructed of porous, non-woven geotextile fabric, our bag allows for the flow of oxygen for your plants to breathe and grow. Any excess water from watering or rainfall easily drains out and dries. Fabric is UV-resistant and sturdy.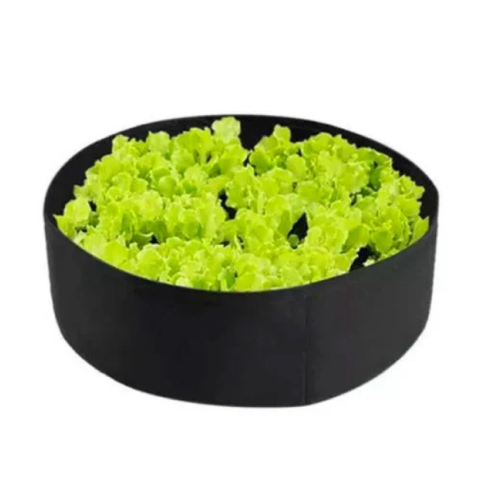 Grow anything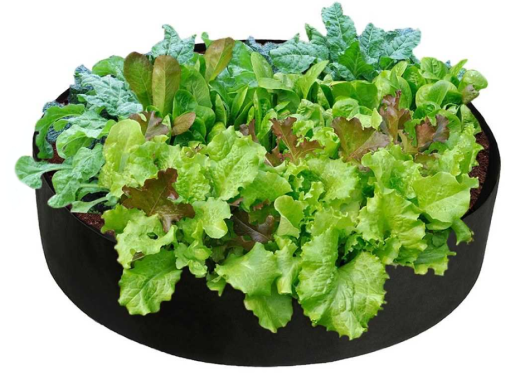 Use indoors and outdoors
There's no need for plant pots or fancy urns. Our Garden Grow Bag houses all the nurturing you'll need in a portable circular vehicle. Once the growing season is over, you can simply dump out the dirt and wash and fold away the garden bag.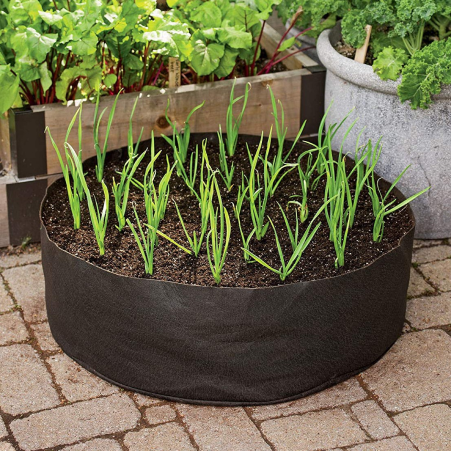 Fit in a touch of nature
Our XL-sized Garden Grow Bag measures 35 x 12 inches so you can set up your corner of greenery anywhere, from the backyard to your front porch or balcony.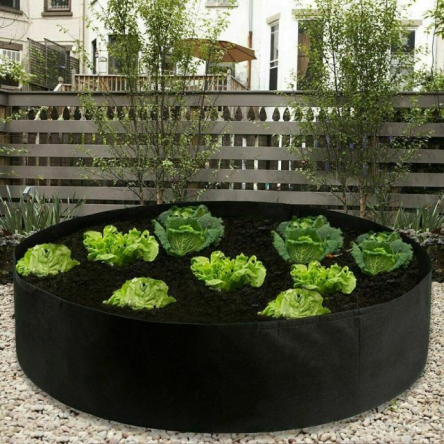 Payment & Security
Payment methods
Your payment information is processed securely. We do not store credit card details nor have access to your credit card information.
---
Security
How much does shipping cost?
We are glad to bring our customers great value and service. That's why we provide fast shipping from our Fulfillment Center in California by UPS and USPS.
What countries are you delivering to?
As of now, we're delivering to the United States only.
How can I track my parcel?
Once your parcel has left our Fulfillment Center, you will receive an email with a tracking number to monitor your parcel movements.
Can you ship my order to a business address?
Yes, you can write your business address in your order details if it's more convenient to you.
Can you ship my order to a PO Box address?
Yes, you can select delivery to a PO Box if it's more convenient to you.
Can you ship my order to APO or FPO military addresses?
Yes, we ship anywhere in the United States, and to all US territories and military APO/FPO addresses.
What happens to my parcel if it is delivered while I'm not there?
Depending on the destination and the package size, your parcel will be left in your mailbox or on your porch, or it may be left with a neighbour.
How to search for products?
Simply type the product name in the Search Bar at the top of any page. Try to enter a general description. The more words you use, the less products you will get on the results page. When you find a product you're interested in, simply click on its name or image for more details.
Do I need to create an account to place an order?
It's not a must: you can place your order even if you don't have an account or aren't logged in..
How do I place an order?
On the product page with the item you like, select the color or other product variation (if there are any) that you like the most, and click on the Add to Cart button.
As soon as you've added everything you wanted to your cart, click on the Proceed to Checkout button.
You will see the list of items you're ordering, and will be able to remove, add, or edit anything if necessary.
Make sure your shipping details are filled in correctly, and click on the Complete Order button. Finally, select the payment method that's most convenient to you, and check out.
How do you protect my personal details when I register and check out?
We offer the highest security possible at all times to make sure the online transactions keep your personal information safe..
Following the industry standards, we use the Secure Sockets Layer (SSL) technology to encrypt the information you share with us such as your name, address, and payment details..
Can I buy your items and send them to someone as a gift?
Yes! Simply use this person's address as the shipping address when you place an order. There will be no price tags on or within the package!.
Can I change or cancel my order?
Yes, if your order has been paid and you need to change or cancel it, you can do this within 12 hours of placing it..
To edit your order details or cancel the purchase, simply use the Contact Us form to send us an email..
An item is missing, wrong, or damaged in my package. What should I do?
We're sorry it's happened to you! Kindly use the Contact Us form to get in touch with us and tell all the order details so that we could sort it out for you..
I was just tired of all of the romaine scares lately since I eat salads daily, so I bought this for my indoor garden and it fits almost perfectly in my geeenhouse. I have multiple kinds of lettuces starting to sprout and I can keep them all in this large fabric bed. My only criticism is that the sides are quite flimsy and don't hold their shape well, not to mention those sides being very tall. I just folded the sides down in half all the way around and it's been great!

This is such an awesome product. I used it to plant a small bed of lettuce and it worked great! Highly recommend as it is sturdy and can be reused over and over again.

After getting nowhere bugging my hubby to build me an above ground area for my garden I started searching for a pre-built one. This is when I came across these grow bags. What a wonderful thing!! I purchased the bags and they arrived exactly when expected. After a trip to my local nursery and a purchase of three bags of organic soil I was ready to fill the bags and start my garden. No more fighting with the underground tree roots! Boy do I wish I had heard of these ingenious bags before. I am now able to move the bags around the garden so that my newbie plants get the best angle of the sun. What I love most about these bags is that they are durable and can be used Year after year with just a bit of new top soil added to the older soil. So convenient and easy to use.

I think these are great for indoor or outdoor use. They are firm without being course or hard. Will stand upright empty. Good stictching, and breathable. I've got everything from herbs, and wildflowers, to small fruit trees. Ordered multiple times, no trouble with the seller, shipping, or packaging.

I ordered two 5 bags. I bought soil at a local home improvement store and it must have been 12-13 gallon bags because each one filled two of the grow bags. They are pretty floppy when not filled so I rapidly gave up on trying to shovel it in. I sliced the end of the dirt bag open then stretched the grow bag over that end. It filled it as I lifted the soil bag out. Much faster. I'd ordered a variety of vegetables in dwarf/miniature/planter varieties from Burpee. We planted them without much expectation...obviously the pots were much more densely seeded than recommended but it was an experiment so who cares. So far everything has sprouted and we've been thinning them out as needed. The bags are easy to work with and we put a different vegetable in each one so it's easy to keep track of them. It's better to water less at once and do each bag a couple of times to let the water sink in deeper. Overall I'm very happy with these grow bags and we look forward to working with the veggies throughout the summer. My niece has basically lived in a 6th floor apartment her whole life so this is a fun and easy way to bring the garden to the city. Already the radishes and their growth rate is a huge source of fascination.

These are very nice quality fabric pots. They work exactly as they are supposed to. I've found that root systems in fabric pots tend to support larger plants topside than solid-walled pots of corresponding size.

These are awesome. I planted my leftover starts from seed in these late in the season. My starts were root bound and half dead, well the are all full of life and fruiting. Tomatos and peppers. I move my plants constantly to mow, no issues with the handles. Better to move them before watering they are much lighter then. One issue I had is that they are not animal proof. Nieghborhood cat or bunny dug a whole in my pot with carrots.

My Wife was looking for an easy way to plant some Strawberries, wanted a planter that was not too big but also looked nice, and wanted something that was lightweight and easy to move around. We purchased a 5 pack and are very pleased with the purchase. My wife was skeptical when they arrived, however, after filling them with soil, she really liked being able to move them around using the handles. The bags, once full, are about 12 inches tall. They sit very nicely on a bench on our deck and best of all, my wife can move them on her own! The even look good and the plants look nice and neat in them. We have had strawberry plants in them for a few weeks and the bags are holding up well and still look excellent. We put a tomato plant in another and some other plants as well. Overall, very pleased with the purchase and will get these again. These pots were used outside the entire growing season and also watered regularly. No issues at all. No tears or rips or issues with the handles. I look forward to using these again next year. Still very pleased with the purchase.

I bought these to grow container figs in a cold climate. Figs become root bound easily and the fabric prevents the roots from winding around the pot. I keep them hydrated by placing a hot water heater tray under the pot and watering from the bottom. The only draw back is that, being fabric, you have to be careful not to drag the pot on a rough surface or you'll tear a hole (that's I was able to stitch back together with needle and thread).

I am using these bags to grow tomatoes with marigold. The bags are well sewn and seem breathable. Perfect for beginners like me. They are great for patio container garden. definitely will buy more as I hope my thumbs turn green. Bags are easy to move about for sun purposes. Great investment.

I wish I had tried these before using regular ceramic pots. My plants in the regular pots would drown in the rain. I had to drill ugly holes in them. My plants in the grow bags are thriving.

These things are perfect for deck flowers and vegetables that may need to be transported for safety or cleaning!

We are very pleased with these bags. My 10 year old wanted to plant a garden but our soil is super hard so these bags allowed her to plant a small garden on our deck.

Rating based upon general appearance upon opening. I previously used smart pots and they seemed to be a bit thicker but I am not sure. These are giant and double stitched with reinforced handles. I will update at tge end of the growing season. So far I think they will work well for two tomato plants. I may try Carrots in one.

Just received, very excited to start my garden. It was my dream. The bags arrived quickly, later I will write about my experience

At first look they feel very sturdy. I will update later after using it.

I was totally not in favor of growing my veggies, and plants in bags. Now I,m hooked on them, I don't have to dig a hole, all my good soil stays in one place!!! All in all I am happy with the bags! Higly recommend

My whole garden is smartpotted. I use an assortment of sizes depending on what I'm planting. 19.6 x 7.87 in for herbs and my young 27 x 12 in old dwarf blueberries, 50 x 12 in for potatoes, tomatoes, zucchini. No matter what you want to grow there's a smartpot for that! Save yourself the aggravation of plastic and also your plants will thank you, get breathable pots like the original smartpot. 10+ years of use no kidding

After going through several reviews, videos and recommendations from friends, I have gone ahead and purchased few of these Smart Pots to do some R&D and some beta-testing :) These smart pots work and plants seem to like growing in them a lot. I have gotten several garden bags and planted a tomato plant in each and at the same time planted couple of tomato plants on the ground. I have used a signature blend potting soil from a local landscaping store with lots of useful stuff in them as that was much cheaper than buying from bigger stores. The ones in the smart pots both have gotten very big and started fruiting, while the ones in the ground have not grown as big and only one of them have started bearing fruit while all of them had the same kind of soil. I also observed the roots at the bottom of the tomato plants within 3 weeks and that shows the healthy root growth of the plant. These smart pots kind of air prune the roots so that the roots are confined and are not out grown crazily outside the pot. I occasionally move the pots from one location to another so as to not attract any kind of bugs under the pot. See the attached pics to see the difference in the growth b/w ground vs garden bags

It works well for plants that needs air at its roots. Helps prevent overwatering. Material is reusable but it is hard to get rid of excess salt built up from previous plant. A couple of good wash does it. The plants loved it see a difference compared to conventional pots

A good smart garden bag but I would like to see more colors

These look like the perfect size for the "trees" I'll be growing next year. I worry a little that they might not be heavy enough to hold up to the hot summer sun. We'll see! :-)

I bought the 15 bags for the tomato plants I started from seeds. Added organic garden soil and waited for action! I am not disappointed. Plants are so healthy and big! Lots of blooms and little tomatoes. So far, so good. 😎

Worth it, monster plants grow in these!

I have been using them for several months now. They are placed on my terrace, in full sun and so far, they have held up very well. Overall happy and satisfied. Only concern is if the stitching at the bottom will unravel over time after long term use.

The soil is very good in it, the soil also remains well, while giving water, the soil does not come out and the water slowly touches, if the water becomes too much, it gets out, which is a weak thing, it can grow in it. And can do good farming, it is the best thing for terraced farming and in it only specials can be garlic and onion coriander.

Good quality bags at first sight. But now I'm sure that bags are not strong enough.

I LOVE these garden bags. Have always had a garden. Now live somewhere with no backyard. These Grow Bags are SO much better than using the plastic pots! I highly recommend them!

This is a great product for lady/gentleman farmers with small areas to farm. I only wish that saucers were provided with them, even knowing the price would be increased. Using them without saucers is impossible because water runs out before you can totally hydrate the soil. I purchased saucers at Lowe's that fit the bags perfectly. I should add that the bags arrived ahead of the anticipaed time and in great shape.

Great idea and easy to use. Needs a lot of soil, but light to carry. I added a stiff piece of styrofoam to the inside bottom because I move my plants to maximize all sides of plant to spend time in full light. So far, no ruined roots from moving bag.

I used these for my tomato plants this year, where I live in an apartment and need to do container gardening, and I've never had container tomatoes end up so big! My plants were healthier and larger than they've ever been before. I'm so pleased! They do dry out faster than plastic pots, so you have to stay on top of watering and can't afford to be lazy!

These planting containers are a brilliant concept.

I recommend every garden lover to buy this. Currently no flaws've been found

Great product. Grew tomatoes in a couple over the summer but used the rest to organize things in the car, beach towel tote, etc. They look nice and are very durable!

Loved this product! So much more affordable buying through here than at the local greenhouses. The quality is excellent and I will have these for many years to come!

I cannot speak about durability but it's good value for the price.

I am a fairly new gardener ao I've been acquiring necessary gardening tools. These grow bags are really handy for plants that you don't put in the ground. This is great for people who rent or for people with rough winters so you can transport the plant easily. I use these for things like potatoes and they work great. We inserted these containers in our old patio pots. The new containers help hold water so our tomato plants are growing much better this year. I'm very satisfied!